VA Delays Major IT Programs to Focus on COVID-19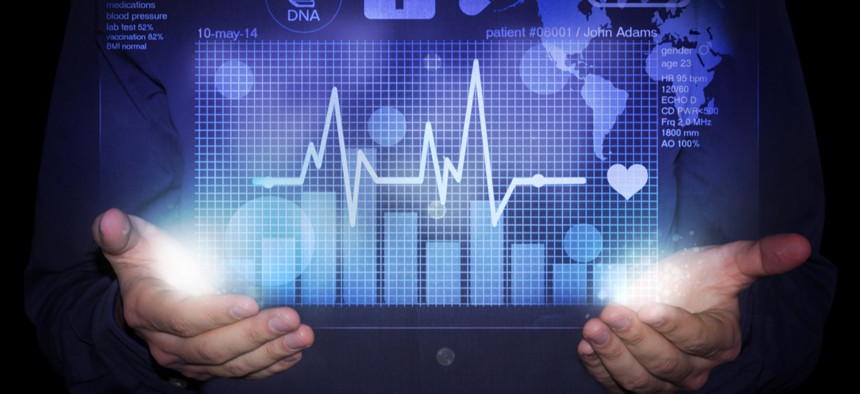 The initial rollout of the new electronic health records system will be pushed out—again—as well as pilots for the new scheduling system. A third, integral effort remains on track.
The coronavirus outbreak has hit during a precarious time for the Veterans Affairs Department, as the health agency was preparing to start a nationwide rollout of its new electronic health records system—a harrowing trial in the best of times.
VA has been working on the latest EHR program since 2018, when then-acting VA Secretary Robert Wilkie signed a contract with Cerner to provide its commercial records management software to the department. The procurement followed a similar move by the Defense Department in 2015 to contract with the Leidos Partnership for Defense Health, which includes Cerner's EHR product.
VA officials originally planned to launch the first instance of the Cerner Millennium platform at Mann-Grandstaff VA Medical Center in Spokane, Washington on March 28, however training issues raised by staff at that location prompted leadership in February to make the call to push that date to sometime in July. Now, as the coronavirus upends schedules across sectors, VA is opting to pause the rollout until the crisis passes.
"The worldwide pandemic created by the coronavirus disease has shifted the overall priorities of the Department of Veterans Affairs," Wilkie wrote in a letter to House appropriators last week. "Our priority is the care of veterans and providing surge capabilities for civilian health care systems."
The ongoing DOD rollout of its EHR program has been paused due to COVID-19, as well.
"As we've said many times before, if VA is not ready, the Electronic Health Record Modernization project should be delayed," Reps. Mark Takano, D-Calif., and Susie Lee, D-Nev., chairs of the House Committee on Veterans' Affairs and Subcommittee on Technology Modernization, respectively, said in a statement Wednesday. "The COVID-19 pandemic is a clear reason to postpone given the critical need to have EHRM staff on the frontlines in the fight against coronavirus."
In the letter, Wilkie said the department was on track to meet the new July timeline, with more than 99% of core EHR software installed at Mann-Grandstaff. That includes "all 72 interfaces required to support go-live for VA's new EHR solution," with one additional user interface still pending.
While the system is closer to ready than ever before, Wilkie said VA clinicians have to focus on the crisis at hand and cannot make time to be properly trained on the system—one of the main reasons for the four-month delay.
As of Tuesday, VA has reported more than 3,000 cases of COVID-19 among veterans, including 144 deaths. Agency medical staff are not immune; at least 776 employees had tested positive for COVID-19 as of Monday, leading to at least three deaths.
The department is also on call as the nation's primary backup health care network. In times of crisis, VA can be tapped to open its medical centers to civilians, as well, enlisting the country's largest single health care network.
VA started providing that assistance on March 30, after the state of New York requested assistance through the Federal Emergency Management Agency.
In the letter to Congress, Wilkie was not able to provide an updated timeline for rollout.
While the latest update "reflects substantial progress since last correspondence and are consistent with schedule updates provided to Congress in early March," Wilkie said, "due to COVID-19, analysis is extremely fluid at this juncture."
Takano and Lee said that's fine, so long as VA refocuses on the users once the crisis is over.
"As this emergency passes, we must make sure that VA does not lose sight of the need for strong employee engagement," they said. "Failure to communicate with these employees was a significant factor that contributed to the initial implementation delay. Congress stands ready to support VA throughout this crisis and the delays in EHRM implementation.
However, the secretary said some work continues, including ongoing "interface development, infrastructure upgrades, clinical workflow design and integrated testing."
Likewise, work on development of the VA-DOD Joint Health Care Exchange—an integral part of meeting a main goal of the program by ensuring the two EHR systems are interoperable—"remains on track for activation and delivery at the end of April 2020," Wilkie said.
While the joint information exchange is on track, another major IT rollout—the agency's new centralized scheduling system—will also be delayed, Wilkie told Congress.
Since the agency's scheduling system issues made national news in 2014, VA has partially launched and scrapped two replacement programs. After signing the contract for Cerner's EHR system, VA opted to suspend its latest pilot program—the Medical Appointment Scheduling System, or MASS, developed by Epic and Lockheed Martin subsidiary Systems Made Simple—and shift to the Cerner Scheduling System.
That system was slated for initial testing at the Chalmers P. Wylie Ambulatory Care Center in Columbus, Ohio in June. In the letter, Wilkie said that timetable has been "pushed right due to COVID-19," as well. He did not offer a revised schedule.
"VA will provide future updates when we have better visibility on when our health care personnel can resume working on the [EHR management] program regionally and nationally," he wrote.
Help us understand the situation better. Are you a federal employee or contractor with information about how your agency is handling the coronavirus? Email us at newstips@nextgov.com.