Author Archive
Aaron Boyd
Senior Editor, Nextgov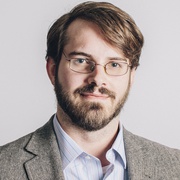 Aaron Boyd is an award-winning journalist currently serving as senior editor for technology and events at Nextgov. He primarily covers federal government IT contracting and cybersecurity issues affecting both civilian and defense agencies. As a lifelong nerd and policy wonk, he feels right at home covering the intersection of technology and policy in the nation's capital.
CIO Briefing
Every organization doing business with the government will have to name a real person as account administrator and go through a three-point ID proofing process.
Emerging Tech
The agency is piloting a new Pedestrian Detection-at-Range system to identify illegal or dangerous items being smuggled through ports of entry.
CIO Briefing
The Defense Digital Service's automated investigations tool turns to the dark side of insider threat hunting and gets rebranded to match.
---
Emerging Tech
The biometric tech will be used to help employees manage physical and mental health in high-stress mission areas.
CIO Briefing
Unique Entity IDs are being issued now and the General Services Administration team wants help testing the system that assigns and manages the new identifier.
CIO Briefing
Nextgov and Government Executive's BOLD Gov showcases excellence in government—and nominations are open.
Emerging Tech
A request for comments is polling governments and the private sector on the full breadth of uses, whether it's IDing faces or predicting malintent.
Cybersecurity
The latest guidance is the third of four use cases to be released as part of the Trusted Internet Connection 3.0 initiative.
Data
Republicans worried collection of religious, sexual and gender information would violate veterans' privacy; agency officials said they already collect that data. 
IT Modernization
The first releases did not include functionality end-users were expecting and failed to meet Section 508 accessibility standards.
CIO Briefing
The long-awaited change to the background investigations process will flag concerning information for further investigation.
Cybersecurity
Half of the awards announced publicly went to zero trust cybersecurity projects, with no funding going directly to pandemic response tech. One project remains classified.
Data
The inspector general attributed the delays in the agency's data at rest encryption program to additional mandates and poor adherence to program management best practices.
IT Modernization
The federal CIO offered a few details of the project proposals received and upcoming award announcements.
CIO Briefing
The new draft request for proposals also makes significant changes to past performance requirements.
CIO Briefing
The marketplace is getting set to launch with a suite of tools from other federal offices, like GrantSolutions.gov's automated risk management tool.
CIO Briefing
The document covers technical requirements for using the new internet protocol, as well as security considerations for the new format.
CIO Briefing
The Office of the National Coordinator for Health IT announced $73 million in grants to support career training and job placement for 4,000 new health IT workers.
IT Modernization
The agency seeks an enterprisewide view of records and whether facilities meet health and safety standards. 
Emerging Tech
The agency has yet to pick a vendor off the Enterprise Infrastructure Solutions contract but has built-in key modernization goals for remote work, according to the inspector general.