Author Archive
Aaron Boyd
Senior Editor, Nextgov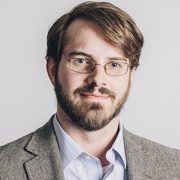 Aaron Boyd is an award-winning journalist currently serving as senior editor for technology and events at Nextgov. He primarily covers federal government IT contracting and cybersecurity issues affecting both civilian and defense agencies. As a lifelong nerd and policy wonk, he feels right at home covering the intersection of technology and policy in the nation's capital.
Emerging Tech
More than 100 more airports have joined the beta test of a program that authorizes drone flights in controlled airspace in near-real time.
Cybersecurity
One EPA employee said their office was tracking vulnerabilities on their own to avoid oversight from other agency components.
Policy
The administration's updated identity, credential and access management policy extends physical credentials to the digital world.
---
Emerging Tech
Immigration and Customs Enforcement is soliciting for a cloud-based system that can geolocate devices using multiple sources, including apps.
IT Modernization
The Defense Security Service penned an OTA contract with Perspecta and several non-traditional vendors to build advanced capabilities and a secure DevOps environment.
Podcasts
U.S. Digital Service Administrator Matt Cutts joins the podcast to talk about the current state—and future of—one of the most wide-reaching innovation programs in government.
Emerging Tech
The National Reconnaissance Office revealed six areas for the 2019 cohort of the Director's Innovation Initiative.
IT Modernization
The need to consider ease, effectiveness and emotion in all decisions will become part of the department's Code of Federal Regulations.
Cybersecurity
The Chinese telecom company can no longer buy U.S. tech without a waiver, Commerce Secretary Wilbur Ross announced Thursday.
Data
The final action plan is set to be released in August, with deliverables for agencies to meet within one year.
Cybersecurity
The tools would likely be used by the HHS Office of the Inspector General for investigations into multimillion-dollar frauds and serious organized crime related to health benefits.
IT Modernization
The agency is looking to buy a holistic financial management system to manage as much as $445 million in telecom spending a year.
Emerging Tech
Before researchers can test the latest video analytics, they need a variety of footage from different angles, conditions and recording quality.
Cybersecurity
Digital tax fraud schemes are on the rise but the IRS can only do so much to regulate third-party providers without more authority.
Emerging Tech
The Artificial Intelligence in Government Act would create a center of excellence, a governance board and require agencies to develop plans to ensure the ethical use of advanced algorithms.
Cybersecurity
"Government incident responders must either be cape-and-tights-wearing superheroes, or so stressed they're barely hanging on by their fingernails."
CIO Briefing
Happier, more productive employees lead to better citizen services and customer experiences, officials said.
IT Modernization
Department IT leadership was given significant budgetary authority under FITARA, but the government's human resources department hasn't been applying them properly, according to the inspector general.
IT Modernization
Contracting officials made some small but significant changes to the latest draft solicitation for ITECS.
Policy
The move also establishes the Defense Department as a petri dish for OPM to obtain more data on how employees learn and where more training is needed.