Interior Wants a Fleet of Drones 'On Call' to Help With Wildfires, Other Emergencies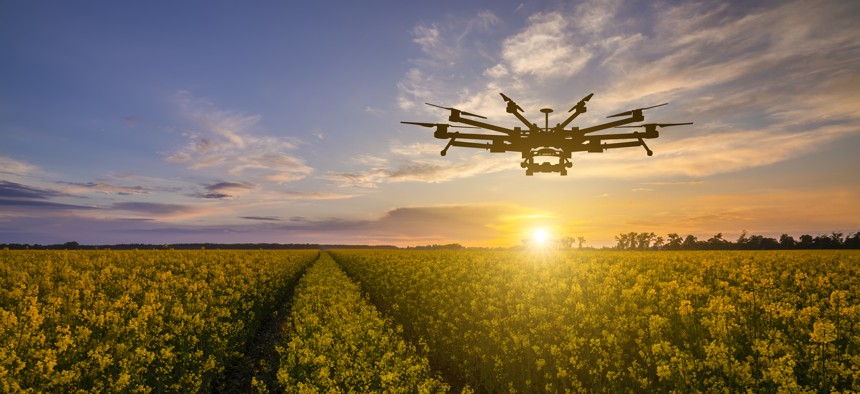 The department is awarding multiple spots on a $7.2 million contract for unmanned aerial systems-as-a-service.
The Interior Department seeks access to fleets of drones on a moment's notice throughout the lower 48 states and—as with many government IT buys these days—is looking to purchase access to such a fleet as-a-service.
The department issued a solicitation for on call/call when needed unmanned aircraft systems—or UAS, better known as drones—to assist with wildfires, emergency response and search and rescues, among other tasks.
While the program will be used any time additional drone support is necessary, the primary use will be fighting wildfires, according to the request for proposals.
"UAS will supplement the manned fleet by providing the capability to operate during dense smoke/inversion situations," the document states. "Infrared/thermal camera technology will be utilized to penetrate smoke and gather/disseminate information to increase strategic and tactical situational awareness."
Operators will be on-call 14 hours a day, 365 days a year, including some holidays and weekends.
"For each mission, the contactor shall provide the government a single point of contact that shall be responsible for coordinating operations with the Government Flight Representative (GFR)/UAS Manager (UASM) and this POC shall be technically and administratively authorized to determine the safe integration of operations with the UAS," the solicitation states.
The indefinite-delivery, indefinite-quantity contract will be awarded to multiple drone operators throughout the continental U.S., with a total ceiling of $7.2 million over three years. While none of the contract holders will be guaranteed to receive task orders, all awardees will get at least $550 before the contract expires.
The solicitation notes the contractors will be fully responsible for owning, maintaining and operating the drones.
"Contractor services include provisions of a minimum of two complete UAS, necessary spare parts, personnel, servicing vehicles, fuel, and all other associated equipment," the document states.
Along with mechanical and operational requirements, the contract also calls for operators to have video capabilities—including infrared cameras for nighttime video—with the ability to record as well as stream live to ground terminals.
The contract also requires other data, including location data, which will be owned by the government and cannot be disseminated by any contractors.