Author Archive
Aaron Boyd
Senior Editor, Nextgov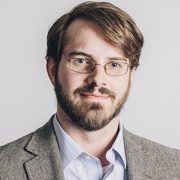 Aaron Boyd is an award-winning journalist currently serving as senior editor for technology and events at Nextgov. He primarily covers federal government IT contracting and cybersecurity issues affecting both civilian and defense agencies. As a lifelong nerd and policy wonk, he feels right at home covering the intersection of technology and policy in the nation's capital.
Emerging Tech
The 21st Century Jobs Package would create a federal agency for training the workforce of the future and incentivize federal contracting officials to buy from vendors who hire rural American workers.
IT Modernization
Nature seemed to be against the Veterans Affairs Department's new EHR system. But officials are reporting a "flawless" cutover for the first deployment.
Emerging Tech
The tool has been in development since the spring and is now being piloted ahead of a larger rollout, VA officials said.
---
CIO Briefing
The agency will need funding, a skilled staff, consistent leadership and more funding to successfully implement the CIO's latest plan, according to the inspector general.
IT Modernization
The move means at least two of the government's biggest biometrics databases will live in AWS clouds.
CIO Briefing
GSA shuttered the reporting functions on FPDS.gov, making the beta.SAM.gov Data Bank tool the definitive source for contract awards data.
IT Modernization
The CommonWell Health Alliance officially joined the joint health information exchange, broadening the government's ability to digitally share patient data with private health care providers.
Emerging Tech
As part of the strategy, the administration is encouraging government agencies to research, develop and buy more emerging technologies.
CIO Briefing
Employees gave their agency very high marks but asked for clarity about essential onsite work and use of personal IT equipment.
CIO Briefing
A former procurement official overseeing contracts on IT Schedule 70 was sentenced to almost two years in prison on federal bribery charges.
CIO Briefing
Officials are working on the proposed replacement to Alliant 2 Small Business and put forth several ways for stakeholders to provide feedback.
Emerging Tech
Major cities could be excluded from receiving grants for "permitting anarchy, violence, and destruction," per a presidential memo cited in the funding opportunity. 
Emerging Tech
The Office of Governmentwide Policy wants to know the cost and capabilities of platforms that can help manage questions on acquisition, public buildings and government travel.
Cybersecurity
The agency will be allowed to collect large amounts of data without having to follow several provisions regarding disclosure, relevance and the sharing of that information.
Cybersecurity
The short guide offers quick tips and links to deeper resources for employees at every level.
Data
The agency is putting up cash prizes for new differential privacy algorithms, as well as methods for testing the quality of those solutions and using open source code.
IT Modernization
Despite numerous obstacles, the Veterans Affairs Department expects to be ready for the October 24 deployment date its new electronic health records system.
Data
The Air Force Research Lab wants tools, techniques and innovative ideas for shortening the OODA Loop.
Cybersecurity
The criminal ring used phishing emails and fake websites to get almost $1 million worth of printer toner to sell on black markets.
CIO Briefing
Testing will cover approximately 10% of Americans within the next eight weeks, with an option to expand that to 30% within another nine weeks.