Author Archive
Aaron Boyd
Senior Editor, Nextgov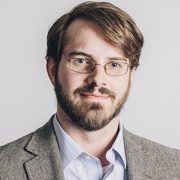 Aaron Boyd is an award-winning journalist currently serving as senior editor for technology and events at Nextgov. He primarily covers federal government IT contracting and cybersecurity issues affecting both civilian and defense agencies. As a lifelong nerd and policy wonk, he feels right at home covering the intersection of technology and policy in the nation's capital.
CIO Briefing
Analysts disagreed with the assessment, calling the EU white paper a good start for developing a risk-based approach to regulating artificial intelligence.
Emerging Tech
Homeland Security is looking for a technical solution to give border agents situational awareness about illegal watercraft and the potential risks of interdiction.
IT Modernization
The draft policy creates a new framework for secure network boundaries at a time when the tech sector is moving away from boundaries altogether. 
---
Emerging Tech
Labor becomes the sixth agency to join the Centers of Excellence program and the first of 2020.
Emerging Tech
Travelers passing through the Progreso port of entry on foot will see a new crossing protocol.
IT Modernization
The "light touch" legislation was introduced by Reps. Ro Khanna, D-Calif., and Mark Meadows, R-N.C.
IT Modernization
"If this had the same notoriety as Healthcare.gov, people would have been fired."
CIO Briefing
The budget calls for reskilling 400,000 federal employees using OMB's Reskilling Academy as a model.
IT Modernization
Training was supposed to start this week ahead of deployment in March, but Veterans Affairs officials said that timeline has been pushed out.
CIO Briefing
The Trump administration puts a priority on working capital funds, while proposed tech spending inches upward.
IT Modernization
The FedRAMP Authorization Act includes $100 million in additional funding and a requirement to automate the process and force agencies to reuse ATOs.
Emerging Tech
The agency also signed an agreement with NIST to test the algorithm and its operational environment for accuracy and potential biases.
CIO Briefing
A court approved a preliminary injunction pending a full trial.
IT Modernization
GSA is moving the central reporting function of the Federal Procurement Data System to beta.SAM while Treasury works to improve the quality of data reported through the site.
Cybersecurity
The single sign-on platform needs improved security, scalability and availability as the program pushes for broader use across government.
Emerging Tech
As with the High Performance Computing initiative in the past, industry and academic advisers told the administration they need facilities and a network to get from bits to neurons and qubits.
Data
As agencies share more data between departments, the administration will develop a framework and tools for citizens to manage how their personal information is used.
IT Modernization
The General Services Administration took over management of the eRulemaking portal last year with a mandate to crack down on fraudulent commenting.
Emerging Tech
Unless agencies start thinking differently, the security process will continue to stand in the way of new companies getting access to the real-world data required to develop artificial intelligence and machine learning tools.
IT Modernization
The shift to cloud computing and agile development hit the State Department's "sweet spot," says CIO Stuart McGuigan.