Author Archive
Aaron Boyd
Senior Editor, Nextgov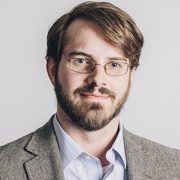 Aaron Boyd is an award-winning journalist currently serving as senior editor for technology and events at Nextgov. He primarily covers federal government IT contracting and cybersecurity issues affecting both civilian and defense agencies. As a lifelong nerd and policy wonk, he feels right at home covering the intersection of technology and policy in the nation's capital.
Data
The position will lead the watchdog's new Innovation Lab, soliciting new ideas and using data to help GAO better inform agencies and Congress.
IT Modernization
Agencies are still figuring out the best way to establish and govern IT working capital funds two years after passage of the MGT Act.
IT Modernization
The federal RPA Community of Practice is getting ready to release its first playbook before the end of the year.
---
Cybersecurity
The department is working to digitize the process for issuing, verifying and managing credentials like travel documents and employment authorizations.
CIO Briefing
The current executive director will be leaving by February.
IT Modernization
Three of the four initial focus areas are ready to move beyond the standards-setting phase to implementation, with GSA's payroll program leading the way.
Emerging Tech
The low-powered presentation tool/dangerous children's toy is becoming a weapon of choice for protesters around the world trying to take down or disable surveillance tech.
CIO Briefing
FedBizOpps migrated to SAM.gov Contract Opportunities over the weekend but a slow site and data migration issues made for some disgruntled users.
Data
Confusion over data standards, process and transparency remain.
IT Modernization
One year in, the relaunch of VA.gov seems to have resulted in more veterans access digital services.
IT Modernization
Lawmakers eager to see Customs and Border Protection digitize its health care system are pushing a bill that would give the agency three months to go from paper to electronic records.
IT Modernization
Apple's Health app now integrates with Veterans Affairs' patient data API, giving veterans access to their medical information on their phones.
IT Modernization
The General Services Administration announced 75 awards on the 2GIT contract, which is open to all federal buyers.
CIO Briefing
The agency also answered some pressing questions, such as whether vendors need to have an online store up and running before they bid.
Emerging Tech
The bureau has taken its time crafting the next central IT services contract. But contracting officers say the process is moving toward the finish.
Cybersecurity
The agency's annual FISMA audit showed significant, recurring weaknesses in every area.
CIO Briefing
Shifting to a new platform with new data structures is difficult, and not all contracting offices will be able to make the change by Nov. 12.
CIO Briefing
A review showed most federal agencies are implementing parts of GAO's workforce planning framework while others are ignored due to competing priorities and leadership turnover.
Cybersecurity
A civilian counterpart to the Pentagon's Cybersecurity Maturity Model Certification would need to suit the varying missions across government, according to federal deputy CIO Margie Graves.
Emerging Tech
The Office of the CIO and Joint AI Center are focused on getting AI deployed throughout the military, which will require some significant culture change.