Author Archive
Aaron Boyd
Senior Editor, Nextgov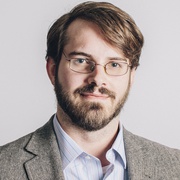 Aaron Boyd is an award-winning journalist currently serving as senior editor for technology and events at Nextgov. He primarily covers federal government IT contracting and cybersecurity issues affecting both civilian and defense agencies. As a lifelong nerd and policy wonk, he feels right at home covering the intersection of technology and policy in the nation's capital.
IT Modernization
Judith Zawatsky talks to Nextgov about her time at the General Services Administration and how building government services has changed over the years.
CIO Briefing
Judith Zawatsky will retire from public service after 15 years to take on a new role in the private sector.
CIO Briefing
As other infrastructure needs improve—from cloud to 5G networks—agencies are looking at what can be done at the edge, from warehouses to low-Earth orbit.
By

Aaron Boyd and Brandi Vincent
---
Podcasts
Clare Martorana joined the podcast to talk about improving customer experience and the underlying technology that makes good services better.
CIO Briefing
To deliver better citizen services, the government will need a skilled workforce and the technology to support it, management officials said.
CIO Briefing
The $1.9 trillion American Rescue Plan enacted at the start of the Biden administration included $150 million to support digital services improvements.
IT Modernization
A survey of staff at Mann-Grandstaff VA Medical Center shows plummeting morale tied directly to the Cerner Millennium electronic health record platform.
Emerging Tech
The new program looks to educate employers and employees about how algorithms are used in hiring and other employment decisions.
Data
The 2021 Action Plan focuses on finalizing and building on action items from the original 2020 Action Plan.
CIO Briefing
Every organization doing business with the government will have to name a real person as account administrator and go through a three-point ID proofing process.
Emerging Tech
The agency is piloting a new Pedestrian Detection-at-Range system to identify illegal or dangerous items being smuggled through ports of entry.
CIO Briefing
The Defense Digital Service's automated investigations tool turns to the dark side of insider threat hunting and gets rebranded to match.
Emerging Tech
The biometric tech will be used to help employees manage physical and mental health in high-stress mission areas.
CIO Briefing
Unique Entity IDs are being issued now and the General Services Administration team wants help testing the system that assigns and manages the new identifier.
CIO Briefing
Nextgov and Government Executive's BOLD Gov showcases excellence in government—and nominations are open.
Emerging Tech
A request for comments is polling governments and the private sector on the full breadth of uses, whether it's IDing faces or predicting malintent.
Cybersecurity
The latest guidance is the third of four use cases to be released as part of the Trusted Internet Connection 3.0 initiative.
Data
Republicans worried collection of religious, sexual and gender information would violate veterans' privacy; agency officials said they already collect that data. 
IT Modernization
The first releases did not include functionality end-users were expecting and failed to meet Section 508 accessibility standards.
CIO Briefing
The long-awaited change to the background investigations process will flag concerning information for further investigation.