IBM Announces Cloud Marketplace For Secure Chip Design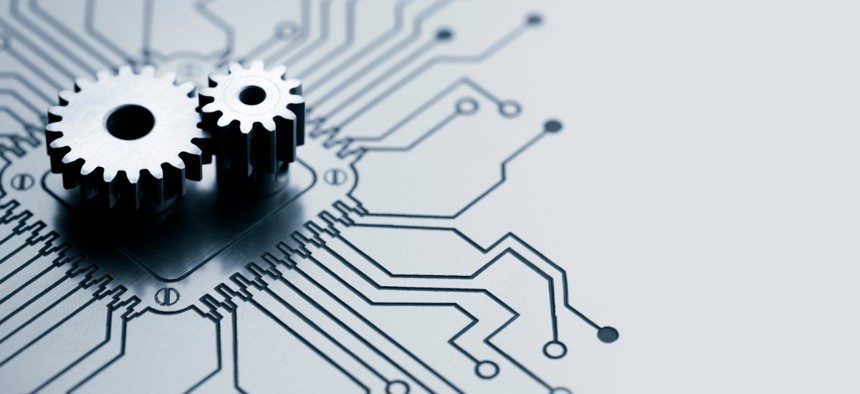 The marketplace was built as part of a recent Defense Department initiative aimed at advancing microelectronics technologies. 
IBM announced the establishment of a new marketplace inside a hybrid cloud environment for the secure development of dual-use microelectronics for commercial industry and the Defense Department. 
The Marketplace for Advanced, Rapid, Quantifiably-assured, Trusted Semiconductors, or MARQTS, is a solution that goes "well beyond just moving these critical workloads to the cloud," according to a Wednesday press release. MARQTS was created in support of a recent DOD initiative for advancing design methods with measurable security through an other transaction award, or OTA. IBM is splitting the $24.5 million award with Microsoft. 
The MARQTS announcement comes as concerns over the microelectronics supply chain grow. The House Armed Services Committee last week announced the creation of a new defense supply chain task force; the co-chairs of the task force pointed to chips as a critical supply chain weakness. President Joe Biden also signed an executive order Feb. 24 instructing federal agencies to conduct supply chain reviews of four key products—including semiconductors. 
IBM created MARQTS in partnership with several companies including Boeing, Lockheed Martin, Northrop Grumman, Raytheon Intelligence & Space, Nimbis Services Inc., Marvell Government Solutions, Intrinsix, Cadence, Colvin Run Networks and PDF Solutions, according to the press release. Zachary Lemnios, vice president for IBM Research and former assistant secretary of defense for research and engineering, told Nextgov in a recent interview that IBM built a platform in the cloud that would allow many different types of companies to work together in harmony. 
"Most importantly, we had to put all of this on a blockchain that would allow us to validate the security of the design as it was progressing through the supply chain," Lemnios said. 
Lemnios explained the MARQTS ecosystem grants designers full access to a set of tools they need to build chips with the knowledge that using those tools will ensure their design is secure—that nothing gets added to the chip in the production process that would compromise it. 
"At the end of the day, from our perspective, it's not about just moving workloads to cloud," Lemnios said. "That's interesting, but that's not the problem. The problem is helping the defense industrial base, understand how to operate in a very complex environment, and do so in a secure way. Part of that is cloud, but the other part that's really important to watch is really the understanding of that entire supply chain."
The plan is for MARQTS to be operational and available for the entire defense sector in less than two years, according to the press release.