FAA, Choctaw Nation to Conduct Drone Studies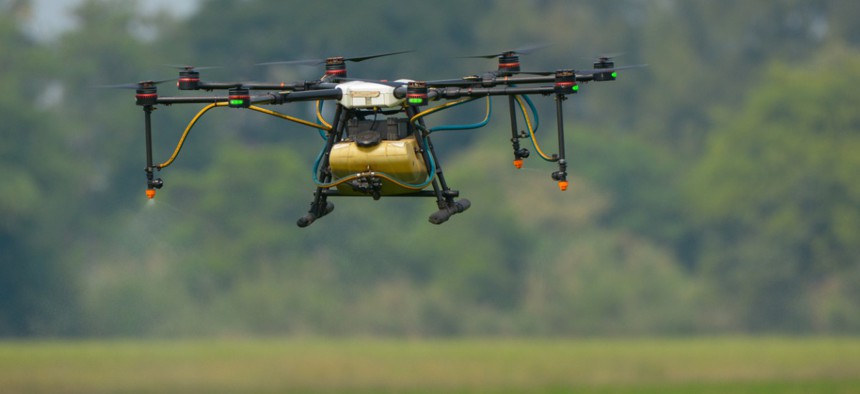 The partnership will investigate moving goods at low altitudes and traits of human operators.
The Federal Aviation Administration recently teamed up with the Choctaw Nation to investigate how drones can move goods at lower altitudes.
A three-year memorandum of understanding was recently signed by FAA's Mike Monroney Aeronautical Center, or MMAC, and the Choctaw Nation of Oklahoma. Through it, the partners will conduct unique, drone-driven research and simultaneously support students looking to pursue careers in this arena. 
"A best-case outcome would be the demonstration of government-to-government collaboration, where a federal agency and tribal government can collaborate to promote technology," an FAA spokesperson told Nextgov over email Thursday. "We expect this collaboration to have real impacts on emerging aviation industries, including advanced aerial mobility." 
As part of the research, the two will virtually simulate an array of conditions. 
More than 44,000 acres of tribally-owned land make up the Choctaw Nation's emerging aviation test range, the agency official confirmed. The property encompasses flat land, hills and valleys—enabling those involved to stage operations on versatile landscapes. 
"By overlaying virtual features, like virtual buildings or obstacles, it will be possible to simulate operations in complex urban and rural environments," the spokesperson said.
Through the agreement, the FAA will work with industry partners to also perform parallel research to the Choctaw Nation's testing. For instance, according to the official, researchers intend to explore visual acuity in people who participate in the operations. "We'll look at a range of human factors that must be addressed prior to wide-scale advanced aerial mobility operations," they noted.  
Science, Technology, Engineering, and Math- or STEM-aligned workforce development efforts will also be pursued. 
"We anticipate that our work will help stimulate interest in STEM in the tribal communities, leading to the next generation of STEM employment opportunities," the spokesperson explained. At its core, they added, this partnership "is focused on safety and a shared sense of optimism for the future."
Leading up to this announcement, MMAC and the Choctaw Nation had been in discussions for more than two years. The latter was the first and only tribal government participant on the FAA's drone-centered Integration Pilot Program—and the first recognized by the FAA as a public aircraft operator, under the IPP. 
"The Choctaw Nation is a good fit as a result of the multiple historic firsts it has accomplished," the spokesperson said.