Author Archive
Brandi Vincent
Staff Correspondent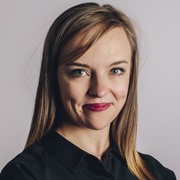 Brandi Vincent reports on the federal government's use of and policies for emerging technologies—including but not limited to supercomputing, artificial intelligence, biometrics, and the internet of things. Before joining Nextgov, Brandi helped create news for millennials at Snapchat and mixed media at NBC News. She grew up in south Louisiana and received a master's in journalism from the University of Maryland.
Emerging Tech
The department's chief AI officer shed light on what went into a new guiding document—and what's next.
CIO Briefing
Federal departments continue to roll out their rosters of officials tapped by the new administration.
CIO Briefing
Those are among 500 terabytes of records from the former president that the agency's curating.
---
Emerging Tech
After steering several AI policies in 2020, the nascent group is embarking on a new agenda.
CIO Briefing
Posts highlighting the former and present administrations' moves spanned online platforms Wednesday.
Emerging Tech
The aim is to promote international collaboration and push forward new and needed technological developments.
Emerging Tech
It marks the agency's recognition of the emerging technology's importance.
Data
It's all part of a new partnership the agency is embarking on with Syntegra, and the Bill and Melinda Gates Foundation.
Emerging Tech
It marks America's latest international commitment in support of its Artemis missions.
Emerging Tech
The establishment of the new office is in accordance with the recently passed defense authorization act.
Emerging Tech
Certain provisions in the NDAA could promote this work.
Emerging Tech
The aim would be to accelerate the production of an "open 5G stack ecosystem."
CIO Briefing
Some lawmakers said tech companies did too little, too late.
CIO Briefing
Tech executives also called for Congress to move forward with certifying the election.
Emerging Tech
The early quantum adopter is making strategic moves to develop on-the-rise capabilities—and manage the hype around them.
Data
Matthew Graviss previously served as USCIS' first CDO and will report to Janice deGarmo, who was recently promoted at State.
Emerging Tech
Years of basic research and speedy, strategic coordination helped to catalyze new and needed treatments.
Emerging Tech
They're named Jean and Kay to celebrate the legacies of two computing pioneers.
Emerging Tech
Unmanned aircraft systems will have to broadcast their "digital license plates" to legally zip around most places in the future. 
Emerging Tech
Companies are invited to apply to present relevant products during a solutions meeting next spring.