Author Archive
Brandi Vincent
Staff Correspondent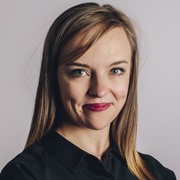 Brandi Vincent reports on the federal government's use of and policies for emerging technologies—including but not limited to supercomputing, artificial intelligence, biometrics, and the internet of things. Before joining Nextgov, Brandi helped create news for millennials at Snapchat and mixed media at NBC News. She grew up in south Louisiana and received a master's in journalism from the University of Maryland.
Emerging Tech
The organization is looking for developed technology it can deploy right now.
Emerging Tech
The center laying the groundwork for public/private partnerships to accelerate budding projects.
Emerging Tech
An executive agency conducting a comprehensive assessment of the technology's use in aviation security detailed its recent review of America's first fully biometric terminal—and the service it runs on.
---
Data
The officials question whether Envestnet is violating the FTC Act by not being transparent about its collection and sale of consumers' financial information.
Emerging Tech
Officials said they'll be particularly interested in hearing from members of the software engineering, defense and aerospace communities.
Cybersecurity
Sen. Mark Warner wants to know what the Defense Health Agency is doing to secure "a significant number" of medical images.
Emerging Tech
The Future of Work Caucus' ultimate goal is to develop a comprehensive policy strategy to proactively address emerging technologies' impact on jobs and workers across the U.S.
Emerging Tech
Billions of connected devices could offer new economic opportunities—and security challenges—over the course of the next decade.
Emerging Tech
Pam Melroy also explained how commercial space flights could pave the way for an entirely new tourism paradigm.
IT Modernization
The National Institutes of Health managed the original platform since 1995.
Emerging Tech
The agency will coordinate a range of research and development funding opportunities, prizes, partnerships and other activities to meet a set of strategic goals by 2030.
Emerging Tech
Following a 2018 mandate from President Trump, the department will help build a more comprehensive ecosystem to spark quantum advancements.
Emerging Tech
Together, the measures aim to promote a safer rollout of the highly-anticipated, next-generation mobile networks.
Emerging Tech
The Pentagon's research arm is looking to produce technologies for a new class of long-distance unmanned surface vessels.  
Policy
At Facebook's first congressional testimony of the 2020s, experts said agencies' jurisdiction should include the digital spaces.
Cybersecurity
The request for information stems from an executive order issued in 2011.
Emerging Tech
The guidelines are intended to help govern the FDA's approval process for AI-powered medical devices, and other regulations around private sector AI-use.
Policy
The law calls for more research and grants to expand existing National Science Foundation initiatives. 
Emerging Tech
The agency plans to award up to $5 million in prizes.
Emerging Tech
The Pentagon's research agency launched a new program and solicitation to develop cutting-edge devices that troops can use to capture potable water straight from the atmosphere.