Author Archive
Brandi Vincent
Staff Correspondent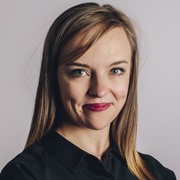 Brandi Vincent reports on the federal government's use of and policies for emerging technologies—including but not limited to supercomputing, artificial intelligence, biometrics, and the internet of things. Before joining Nextgov, Brandi helped create news for millennials at Snapchat and mixed media at NBC News. She grew up in south Louisiana and received a master's in journalism from the University of Maryland.
Emerging Tech
The agency outlined its goals to accelerate the use of artificial intelligence across the enterprise.
CIO Briefing
The new site's host company, Contegix, is still working to resolve the technical difficulties, a GAO official said.
Emerging Tech
The space agency announced several health and biotech technology transfer opportunities.
---
Emerging Tech
The agency is replacing existing systems with two new, more powerful Cray computers.
Data
National Institute of Standards and Technology Director Walter Copan offered insights in how the agency's privacy framework came together and its future.
IT Modernization
Agency officials hope it'll increase users' access to the watchdog's work.
Emerging Tech
The technology will help researchers determine ice seals from rocks and free up scientists from data notation.
Emerging Tech
The research agency is asking for insight and novel approaches to spark organ regeneration in mammals.
Emerging Tech
Through early adoption, the Veterans Affairs Department aims to help the entire health care industry visualize, access and co-develop 5G's full potential.
Emerging Tech
It's the first time the Marine Corps Recruiting Command ever explored procuring VR flight simulators on an enterprise level.
Emerging Tech
Some say it's a step in the right direction but limitations remain.
Data
Sen. Ed Markey wants details on the reported program, including its security practices.
CIO Briefing
New candidates will likely be selected in mid-2021.
Emerging Tech
Building and scaling a suite of new drone capabilities is one of the Defense Department's top priorities, officials said.
Emerging Tech
Most agencies saw cuts in general federal research and development funding in the 2021 budget request, but several saw an uptick in quantum-focused dollars.
Emerging Tech
It's all part of what the agency calls "a coordinated approach to explore the lunar surface."
Emerging Tech
Secretary Robert Wilkie said it was the first in the nation and one of the first in the world. 
Emerging Tech
The agency aims to spur innovation through "longer-term, higher risk" research. 
Emerging Tech
The agency launched the center in September to coordinate and streamline its heaps AI-focused efforts.
CIO Briefing
Dorothy Aronson, the National Science Foundation's dual-hatted chief information officer and chief data officer, discusses her role in shaping the data literacy of the agency's workforce.