Author Archive
Brandi Vincent
Defense Technology Correspondent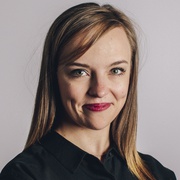 Brandi Vincent reports on national security technologies and policies, and produces the Critical Update podcast. Before joining Nextgov, she produced a long-form documentary and helped create news content at Snapchat and NBC Network. Brandi was named a 2021 Paul Miller Washington Fellow by the National Press Foundation and was awarded SIIA's 2020 Jesse H. Neal Award for Best News Coverage. She grew up in south Louisiana and received a master's in journalism from the University of Maryland.
Emerging Tech
Officials recently shed light on a system that explores "what-ifs" connected to needed assets.
Data
Damien Terry briefed Nextgov on his vision and goals for the new role—including a potential request for information in the pipeline.
Emerging Tech
Verizon's next-gen communications capabilities will enable emerging technologies—and enhanced streaming for personnel.
---
CIO Briefing
New legislation would direct CISA to create a one-stop clearinghouse to help inform such entities.
Emerging Tech
The classification enables the Pentagon to ensure that the "critical mission area remains relevant and viable."
Emerging Tech
Human monitoring devices could support military staff who work in extreme conditions.
CIO Briefing
Vendors were recently selected to push forward military telemedicine experiments.
Cybersecurity
A new consortium aims to enable deeper collaboration on digital challenges.
Emerging Tech
A new announcement marks the "continued evolution" of an ongoing program and aims to promote customer experience.
CIO Briefing
A senior senator continued a back-and-forth with auditors over the Defense Department's now-canceled JEDI contract.
Emerging Tech
A senior airman's creative idea resulted in money saved and capabilities improved at Joint Base Langley-Eustis.
Emerging Tech
The Intelligence Advanced Research Projects Activity wants information to accelerate the design of smart, responsive textiles.
Emerging Tech
Lessons on regulatory guidance and more will be provided through the potential new training.
IT Modernization
National Defense Authorization Act provisions sparked support and skepticism from several experts.
Emerging Tech
A number of new and powerful machines are being built and installed for federal agencies.
Emerging Tech
It will be used to pinpoint new patterns in patient data for precision medicine—and more.
Emerging Tech
Officials would also like to see how drones can be benefitted by nature-inspired material.
IT Modernization
A bit has unfolded since the branch's first chief software officer, Nic Chaillan, left the government earlier this year.
IT Modernization
The agency currently deploys 40 new bots a year—but has big plans to double that.
CIO Briefing
He's poised to steer the Pentagon through a maze of cybersecurity, AI and data challenges.