Author Archive
Brandi Vincent
Staff Correspondent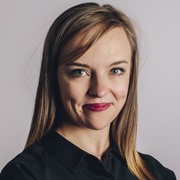 Brandi Vincent reports on the federal government's use of and policies for emerging technologies—including but not limited to supercomputing, artificial intelligence, biometrics, and the internet of things. Before joining Nextgov, Brandi helped create news for millennials at Snapchat and mixed media at NBC News. She grew up in south Louisiana and received a master's in journalism from the University of Maryland.
Data
The bill calls for certain airlines and railroads to track harassment and assault of their workers and passengers and report incidents to the Transportation Department.
Policy
"It's time to put Americans back in charge of their phones," lawmakers said.
IT Modernization
A top official recently reflected on how insiders are transforming old-school approaches to tackle advanced cyber crimes.
---
Emerging Tech
The document refocuses objectives from the country's 2016 computing plan.
Cybersecurity
Lawmakers pressed social media companies on whether they're devoting enough of their resources to stopping romance scams and disinformation. 
Emerging Tech
Focus areas include artificial intelligence, unmanned systems, 'omics, and the cloud.
Emerging Tech
The FAA currently only issues temporary flight restrictions during sporting events, but a bipartisan group of senators wants to protect stadium skies during all types of events.
Emerging Tech
Approximately $24 million will be invested in total.
Emerging Tech
While most mobile users operate on 4G, the country announced two working groups focused on advancing 6G.
IT Modernization
It will serve as a hub for a broad network of public, private and academic stakeholders.
Cybersecurity
The bipartisan HACKED Act offers funding and resources to close the critical gaps.
IT Modernization
The broadband and electric investments aim to benefit more than 1.5 million businesses and residents.
Cybersecurity
A veteran, a scientist and representatives from Facebook and Twitter are all set to testify.
CIO Briefing
Nearly every agency is employing artificial intelligence in some capacity, and soon they'll have more support in their efforts.
Emerging Tech
The agency plans to host a public workshop early next year.
IT Modernization
The agency is collaborating with corporate partners to provide veterans with comfortable, private spaces to have video appointments with their VA providers, much closer to home.
Emerging Tech
Agency and industry officials outlined their approaches to disinformation campaigns ahead of election 2020.
Emerging Tech
Agency officials detailed an important lesson they learned when implementing robotic process automation. 
Emerging Tech
Life-threatening blood loss has accounted for more than 33% of prehospital deaths and 50% of deaths occurring within 24 hours after a traumatic injury.