Author Archive
Brandi Vincent
Staff Correspondent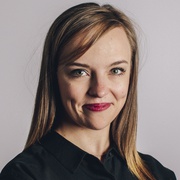 Brandi Vincent reports on the federal government's use of and policies for emerging technologies. Before joining Nextgov, she produced a long-form documentary and helped create news at Snapchat and mixed media at NBC. Brandi was named a 2021 Paul Miller Washington Fellow by the National Press Foundation and was awarded SIIA's 2020 Jesse H. Neal Award for Best News Coverage. She grew up in south Louisiana and received a master's in journalism from the University of Maryland.
Emerging Tech
If the legislation clears the Senate as is, the new office would investigate military reports of unexplained incidents—and whether they're linked to foreign threats.
Emerging Tech
Verizon was recently selected to install capabilities on multiple military bases.
Emerging Tech
Rebellion Defense Founder Chris Lynch discussed the company's recent endeavors and investments. 
---
CIO Briefing
Senior officials shared details and numbers on the department's COVID-19-specific deployments.
Emerging Tech
The new crew will inform the president about crucial AI-centered matters.
CIO Briefing
John Sherman, currently serving in an acting capacity, will step down during the confirmation process.
Emerging Tech
The Defense Department's High Performance Computing Modernization Program is funding the machines.
Cybersecurity
Adversaries take advantage of moments in real time, such as when efforts are focused on withdrawing from Afghanistan.
Emerging Tech
New Centers of Excellence will house an array of future-facing studies.
Data
Scientists are drawing insights via an enclave of patient records from 7.6 million individuals.
Emerging Tech
It could lead to "disruptive new engine designs," an engineer involved said.
Emerging Tech
Congress would put forth millions to fund the newly proposed collaboration.
Emerging Tech
Top officials are also looking into data integration and digital traceability tools to help keep staff healthy.
Emerging Tech
Leader of a Pentagon-wide DevSecOps initiative, Nicolas Chaillan cited lack of support from senior leadership as one reason for his  departure. 
Emerging Tech
Such announcements are made when the need for standards revisions have been confirmed and approved by leadership.  
Emerging Tech
He shared hard numbers to demonstrate how the massive implementation is saving the department time and money.
Emerging Tech
Federal officials are exploring what the next generation of wireless capabilities has to offer.