Author Archive
Brandi Vincent
Staff Correspondent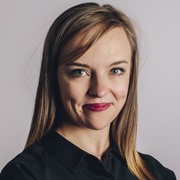 Brandi Vincent reports on the federal government's use of and policies for emerging technologies—including but not limited to supercomputing, artificial intelligence, biometrics, and the internet of things. Before joining Nextgov, Brandi helped create news for millennials at Snapchat and mixed media at NBC News. She grew up in south Louisiana and received a master's in journalism from the University of Maryland.
Emerging Tech
The tools are intended to provide an extra level of disinfection against COVID-19.
Emerging Tech
The roughly $10 million deal will also incorporate new hands-on training opportunities for both entities' personnel.
Emerging Tech
The group will explore the on-the-rise technology's implications within the crucial defense-driven realm.
---
Emerging Tech
The agency intends to figure out whether specific locations can be distinguished using sound-based machine learning methods.
Emerging Tech
Similar capabilities could be applied to the realm of radiology.
Emerging Tech
Officials also offered Nextgov updates on how the buildout of U.S. exascale machines is unfolding.
Emerging Tech
Among the awards is a proposal to bring 4G connectivity to space.
Emerging Tech
The agency funded five projects through its global MagQuest competition.
Emerging Tech
The move builds on several others the agency recently made in pursuit of modernization.
Emerging Tech
It's only the beginning of an ambitious effort to test and scale the technology's potential to strengthen the department's capabilities. 
Emerging Tech
And boosts to other U.S. supercomputing systems are likely on the horizon. 
Emerging Tech
It marks the latest of several other acts recently introduced that hone in on the emerging technology.
Emerging Tech
Sights are set on tapping new technology to help better protect soldiers and the canines they guide.
Emerging Tech
It accompanies the release of a new report highlighting key areas to focus quantum research.
Emerging Tech
Worth more than $100 million, Crossroads will support predictive weapons calculations and replace an aging system.
Emerging Tech
Potentially worth hundreds of millions of dollars, the contracts continue the Defense Department's plans to beef up space operations.
IT Modernization
It's all part of the Bureau of the Fiscal Service's aim to reimagine how agency officials tap into relevant financial information.
CIO Briefing
Lawmakers introduced legislation to enhance transparency across the facilities.
Emerging Tech
Here are a few projects that received a financial boost through the Small Business Innovation Research program.
IT Modernization
The Federal Communications Commission-provided funds have historically been distributed to institutions instead of people.