Author Archive
Brandi Vincent
Staff Correspondent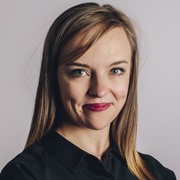 Brandi Vincent reports on the federal government's use of and policies for emerging technologies—including but not limited to supercomputing, artificial intelligence, biometrics, and the internet of things. Before joining Nextgov, Brandi helped create news for millennials at Snapchat and mixed media at NBC News. She grew up in south Louisiana and received a master's in journalism from the University of Maryland.
Emerging Tech
The anticipated challenges aim to spur innovations in space technology and produce a base of the future.
CIO Briefing
The agency developed the master question list as a reference for government decision-makers.
Emerging Tech
The strategy focuses on four lines of effort and will guide how the government approaches 5G for the near future.
---
CIO Briefing
During a virtual town hall, Mark Esper warned employees to be vigilant for phishing attempts and practice good cyber hygiene.
Emerging Tech
Scientists are tapping supercomputers to learn more about the novel coronavirus.
Emerging Tech
The Coronavirus Self-Checker, a Microsoft-powered health care tool, was built to alleviate some of the initial screening strains health care providers are experiencing.
Emerging Tech
The smuggled goods included drugs, phones, saw blades, syringes and Just for Men hair color.
Emerging Tech
The Defense Department released the third of four requests for 5G prototypes to test at military bases.
Policy
William Barr directed federal attorneys to go after people behind phony cures and phishing schemes. 
Emerging Tech
One or more requests for project proposals could be on the horizon.
CIO Briefing
For the next 60 days, companies will work to help ensure communities across the U.S. have reliable connectivity.
Emerging Tech
It marks the first deployment of fifth generation wireless technology at a national lab.
CIO Briefing
The standards agency updated lawmakers on its artificial intelligence and quantum computing efforts and it's $775 million deferred maintenance backlog.
Emerging Tech
The efforts may eventually support scientists on their quest for the cure.
IT Modernization
Officials said it's part of a push to give Americans more control over their personal data. 
Data
Officials told the Office of Science and Technology where data collection and sharing could improve.
Emerging Tech
The agency is accepting applications through April 30.
Cybersecurity
Because government-related scam calls and texts are only getting worse.