Author Archive
Brandi Vincent
Staff Correspondent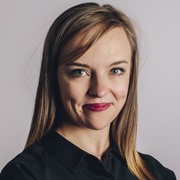 Brandi Vincent reports on the federal government's use of and policies for emerging technologies—including but not limited to supercomputing, artificial intelligence, biometrics, and the internet of things. Before joining Nextgov, Brandi helped create news for millennials at Snapchat and mixed media at NBC News. She grew up in south Louisiana and received a master's in journalism from the University of Maryland.
Data
The agency turned to data-focused teams and products to help decision-makers prioritize options.
Podcasts
Federal insiders offer a glimpse of how the global health care crisis sparked a new wave of multi-sector collaboration.
Emerging Tech
Teleworking can make it tough for agencies to keep a pulse on their personnel, but bots can help.
---
Emerging Tech
Thousands of users accessed the new calculator on its initial day of launch.
Data
Two of the agency's institutes seek new technical tools and data to inform re-entry risks.
Data
A pair of bills seek to limit how political campaigns can use data to reach voters.
Emerging Tech
As part of the Underminer program, General Electric's innovation arm is perfecting a soft robot to boost battlefield operations.
Emerging Tech
The space agency is hosting a range of global "NASA Social" events.
Emerging Tech
If passed, the legislation would mandate Commerce to conduct four in-depth surveys.
Emerging Tech
The bot was developed and deployed via Microsoft's Healthcare Bot platform.
IT Modernization
U.S. tech chief Suzette Kent detailed how COVID-19 response efforts offer agencies a new vantage point into their past operations.
Emerging Tech
The material shields wearers from chemical and biological agents and could pave the way to smart uniforms for troops and first responders.
Emerging Tech
The national laboratory received NVIDIA nodes to boost performance as researchers work on new methods of testing, treating and monitoring coronavirus patients.
Policy
If passed, the bill would also make cash reimbursements retroactive, enabling refunds for existing vouchers that date back to March 1.
Emerging Tech
Robotic process automation is accelerating across the National Institutes of Health, Internal Revenue Service and Housing and Urban Development Department.
Emerging Tech
General Dynamics Information Technology joins at least 12 companies on the Patent and Trademark Office's future-facing blanket purchase agreement.
Data
The group aims to determine potential risks to the Defense Department and mission readiness through quality data and models. 
Emerging Tech
The agency is looking for a contractor to help run a possible multi-phase competition, including outreach and potentially raising private-sector funds for the prizes. 
Emerging Tech
Using CRISPR, Sandia National Lab researchers are genetically engineering antiviral countermeasures to fight the coronavirus—and potentially future outbreaks.