Author Archive
Brandi Vincent
Staff Correspondent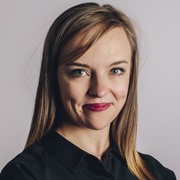 Brandi Vincent reports on the federal government's use of and policies for emerging technologies—including but not limited to supercomputing, artificial intelligence, biometrics, and the internet of things. Before joining Nextgov, Brandi helped create news for millennials at Snapchat and mixed media at NBC News. She grew up in south Louisiana and received a master's in journalism from the University of Maryland.
Data
The agency plans to use the data to make sure everyone in the country has affordable access to healthy food.
CIO Briefing
The Texas congressman laid out his priorities with humor and passion at a summit in Washington this week.
---
IT Modernization
The technology can boost partnerships and lead to new solutions across federal agencies.
IT Modernization
Designing with users—not for them—has been a key to the agency's innovative success.
Cybersecurity
The new committee will address critical security issues that trouble the open skies.
Emerging Tech
But industry experts warned it might not be enough.
Emerging Tech
The new office will synchronize all departmentwide AI activities, facilitate partnerships and accelerate the delivery of AI capabilities. 
Cybersecurity
But the agency needs a special clearance from OMB to meet all relevant deadlines.
Emerging Tech
Inside officials shared their lessons learned and concerns around the evolving connectivity.
Cybersecurity
Federal officials and executives shared how they're rethinking the credentials and experience of cyber recruits.
Emerging Tech
The agency wants the public to weigh in on its plan to change its data gathering practices.
Emerging Tech
It's all part of a continuing initiative to sustain American leadership in the quantum space.
CIO Briefing
The agency is specifically interested in how building failures contributed to the fatalities.
Emerging Tech
The new system will power new discoveries for researchers from across the U.S. and world.
Emerging Tech
The Archinaut One could support NASA's efforts to reach the moon and Mars—and one day, potentially defend itself in outer space.
Emerging Tech
Individuals interested in participating in a field test to assess the new platform can apply to do so online.
Emerging Tech
The outcomes could inform the city's future procurement decisions.
Cybersecurity
The agency aims to ensure remote monitoring setups are secure. 
Emerging Tech
The agency will assess how the tech verifies travelers' live facial images against pictures taken from travelers' identity documents.