Author Archive
Brandi Vincent
Staff Correspondent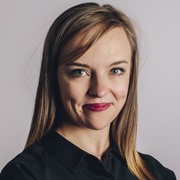 Brandi Vincent reports on the federal government's use of and policies for emerging technologies—including but not limited to supercomputing, artificial intelligence, biometrics, and the internet of things. Before joining Nextgov, Brandi helped create news for millennials at Snapchat and mixed media at NBC News. She grew up in south Louisiana and received a master's in journalism from the University of Maryland.
CIO Briefing
The social media giant must more aggressively enforce rules that it already has in place, they said.
Emerging Tech
Prior to the pandemic, hundreds of travelers would attempt to pass through security checkpoints each day without identification.
Emerging Tech
Founding members from industry weighed in on how they aim to contribute.
---
Policy
The president's directive also targets improvements to rural health care.
Data
They warn consumers' bidstream data can be used to "compile exhaustive dossiers about them."
Emerging Tech
Undersecretary for Science Paul Dabbar offered a glimpse into the agency's efforts beyond Earth.
Data
The ultimate hope is to help advance quantitative and qualitative research and health on the continent.
Data
The Housing and Urban Development Department would be required to set up and secure a new, central resource. 
IT Modernization
Permission to fail on smaller projects can help pave the way to successful deployments.
Emerging Tech
Both aim to help strengthen the pipeline for America's future tech workforce.
Emerging Tech
Officials will explore defense applications of the maturing technology on a military base in California.
Emerging Tech
Each center will focus on innovating a different area of quantum information science and all will aim to help develop a talent pipeline.
Emerging Tech
The service aims to reduce delays due to injury and disability costs.
Emerging Tech
Lawmakers aim to spur a fever-finding pilot program to measure the impacts.
Emerging Tech
The space agency is seeking additional feedback on the insurance and accountability issues that accompany bringing commercial astronauts to the International Space Station.
IT Modernization
U.S. Patent and Trademark Office Chief Information Officer Jamie Holcombe shared new details about the agency's increased productivity.
Emerging Tech
Officials are looking to launch a proximity tracking program.
IT Modernization
RumbleUp, an app previously tapped by Republican campaigns, is now available through FirstNet.
Emerging Tech
The Criminal Investigation Command aims to tap into an existing, web-based service.