Author Archive
Brandi Vincent
Staff Correspondent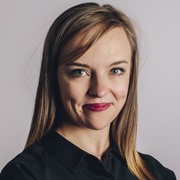 Brandi Vincent reports on the federal government's use of and policies for emerging technologies—including but not limited to supercomputing, artificial intelligence, biometrics, and the internet of things. Before joining Nextgov, Brandi helped create news for millennials at Snapchat and mixed media at NBC News. She grew up in south Louisiana and received a master's in journalism from the University of Maryland.
CIO Briefing
LaFondra Lynch, chief of staff for GSA's Public Buildings Service, took the position July 8.
IT Modernization
The office is turning its attention to finding secure identification systems.
Data
Artificial intelligence runs best on strong datasets and the White House wants the public to weigh in to improve both.
---
IT Modernization
Acquiring records management software may change in a hurry for agencies.
Emerging Tech
American companies may not be Huawei, but they're innovating 5G in their own ways.
Cybersecurity
The agency has some new tips to share around securing personal devices.
Emerging Tech
Tom Wheeler wants to bust the misrepresentations about the next-gen network.
IT Modernization
The department's barebones SoilWeb app grew a following until app stores changed their rules in 2017. Now it's back.
Emerging Tech
The agency is asking for quotes from companies that offer a window into what's happening on blockchain ledgers.
CIO Briefing
The Federal Trade Commission warns that criminals' "favorite ruse" is pretending to be from a government agency.
Emerging Tech
The agency detailed them all in its annual Technology Transfer Report.
Emerging Tech
Bills introduced in the House and Senate aim to combat the forged media through comprehensive research and technological assessments. 
Cybersecurity
The Food and Drug Administration warned that some Medtronic insulin pumps could be manipulated by bad actors. 
Data
It's not just about posting products for the public, it's about sharing how an agency got there, federal officials said.
Emerging Tech
Interdisciplinary teams that include social scientists can help curb bias, experts told Congress. 
Policy
The Office of Science and Technology Policy is asking for the public to weigh in on its veteran suicide prevention strategy.
CIO Briefing
Human capital strategies should be baked into long-term strategic plans, a GAO executive said.
Podcasts
Work doesn't have to feel like work. 
Policy
First responders don't have an easy replacement.
Emerging Tech
Though some think it's invasive, a new survey suggests attitudes about the emerging tech might be improving.