Author Archive
Brandi Vincent
Staff Correspondent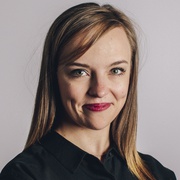 Brandi Vincent reports on the federal government's use of and policies for emerging technologies—including but not limited to supercomputing, artificial intelligence, biometrics, and the internet of things. Before joining Nextgov, Brandi helped create news for millennials at Snapchat and mixed media at NBC News. She grew up in south Louisiana and received a master's in journalism from the University of Maryland.
Emerging Tech
If passed, a new bill could increase telehealth and remote patient monitoring in places with limited broadband access.
Emerging Tech
The agency is also launching a new pilot program across multiple facilities.
Emerging Tech
Blockchain, digital tokens and artificial intelligence are of interest.
---
Emerging Tech
Officials also previewed another in-the-pipeline, AI-aligned pursuit.
CIO Briefing
The legislation is long and its details remain murky—but here's what we know.
Emerging Tech
They intend to promote the development of resilient and intelligent next-gen networks.
CIO Briefing
Together, the agencies could make better use of data to close connectivity gaps, they argue.
Emerging Tech
The request includes spending that could considerably impact America's scientific enterprise—and stakeholders are feeling cautiously optimistic. 
Emerging Tech
The real-world testing will provide new insight into varying emerging technologies.
Emerging Tech
The joint effort will aim to advance multiple projects focused on AI, autonomy, and modeling and simulation.
Podcasts
The Energy Department will soon launch machines capable of completing a quintillion calculations a second.
Emerging Tech
Officials said it should lead the Top500 list ranking the world's most powerful machines.
Emerging Tech
This isn't the first time such an office has been called for.
Emerging Tech
Small businesses will be able to pilot and scale their technologies to various countries' needs in energy, agriculture and other sectors.
Emerging Tech
Provisions promoting workforce development and energy efficient operations, among others, are included in the legislation.
Emerging Tech
They expressed aims to continue to prioritize people and partnerships.
Emerging Tech
Modern systems are getting good at verifying people who are wearing face masks—and DHS wants to make them better.
Emerging Tech
The agency's CDO reflected on how AI, machine learning and automation are being increasingly operationalized.
Emerging Tech
An official explained how "there are at least a couple of things in play" that are contributing to the highs.
Emerging Tech
Lawmakers moved to operationalize suggestions made by a Congressionally-mandated AI commission.