Author Archive
Brandi Vincent
Staff Correspondent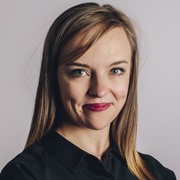 Brandi Vincent reports on the federal government's use of and policies for emerging technologies—including but not limited to supercomputing, artificial intelligence, biometrics, and the internet of things. Before joining Nextgov, Brandi helped create news for millennials at Snapchat and mixed media at NBC News. She grew up in south Louisiana and received a master's in journalism from the University of Maryland.
Emerging Tech
New legislation would launch a $10 million grant program to set the scene for what's to come on the EV-use landscape. 
Emerging Tech
The JAIC's new director recently offered fresh details on the joint common foundation.
Emerging Tech
The work will hone in on military-centered machine learning application development, research into trustworthy AI tech—and could help boost DOD's talent pipeline.
---
Emerging Tech
Defense Department-led pursuits of next-generation connectivity will hone in on survivability, security, and innovation.
Data
The hope is to ready them up to face future weather threats.
Emerging Tech
One of the agency's senior innovators shed light on what's to come—and how existing 5G pursuits have paid off in the pandemic. 
CIO Briefing
The pair asked Commerce Secretary Wilbur Ross for details about the creation of a deputy undersecretary position and why Congress was not informed. 
Emerging Tech
Major supercomputing players—both old and new—made it onto the latest Top500 list.
Emerging Tech
In its second phase, the supercomputing group will prioritize projects that offer to help coronavirus patients in the near future.
Emerging Tech
The agencies are set to tap into BetterUp's mobile platform, which uses AI algorithms to match employees with the right coaches for their needs.
Cybersecurity
A new audit will hone in on the security controls of systems being used at the Federal Transportation Department. 
Emerging Tech
The innovation unit is interested in accessing them in as quick as 60 days.
Emerging Tech
One of the agency's senior innovation-focused officials also shed light on how additive manufacturing might disrupt modern health care.
Cybersecurity
Bitcoins valued at more than $1 billion were traced back to a hacker who took them from the notorious criminal marketplace, Silk Road.
CIO Briefing
Microsoft, IBM and other companies urged the president-elect to consider policies for boosting workforce development, solving the pandemic and addressing biometrics in surveillance.
Emerging Tech
The branch aims to pilot video surveillance and machine learning algorithms to see how they can help keep an eye on kids' well-being in its child development centers.
Emerging Tech
Just as the technology can be used to help deliberately spread falsities online, it can also be tapped to stop that spread.
Emerging Tech
The space agency wants virtual reality and other emerging tech to help share its story of lunar exploration.
Emerging Tech
A newly unveiled effort will expand collaboration that was sparked by COVID-19.
Emerging Tech
The agency is offering up to $32 million for open-source chemical sciences-centered codes.