Author Archive
Brandi Vincent
Staff Correspondent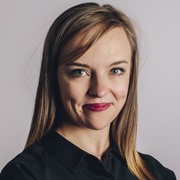 Brandi Vincent reports on the federal government's use of and policies for emerging technologies—including but not limited to supercomputing, artificial intelligence, biometrics, and the internet of things. Before joining Nextgov, Brandi helped create news for millennials at Snapchat and mixed media at NBC News. She grew up in south Louisiana and received a master's in journalism from the University of Maryland.
Emerging Tech
In particular, they'd like to know more about foreign and domestic sources propagating false information.
Emerging Tech
The agency is investing in cutting-edge technology and offering officials a chance to profit off their developments.
Emerging Tech
After learning from other blockchain proof of concepts, officials will see if the technology can increase transparency into payment tracking. 
---
Emerging Tech
Answers to a new request for comments will inform the group's final report.
Emerging Tech
Officials pushed agencies to examine the trade-offs—both positive and negative—as they adopt emerging technologies. 
IT Modernization
The Federal Communications Commission is laying the groundwork to launch by mid-2022.
Emerging Tech
The legislation would establish an Energy Department-led "research, development and demonstration program."
Cybersecurity
Researchers are looking to pool more data from outside organizations to further refine it.
Emerging Tech
The innovation also sparked a new startup to bring the technology to market.
Emerging Tech
The announcement also follows the group's establishment of a new, more formal membership structure.
Policy
The legislation comes amid reports of Americans receiving and planting unsolicited "mystery seeds" reportedly arriving from China.
Emerging Tech
Senior Energy officials briefed Nextgov on a range of areas that present potential opportunities for the agencies to advance each other's missions. 
IT Modernization
Lawmakers aim to help confront and curb identity theft through strategic modernization.
Emerging Tech
The agriculture-focused agency wants public input on potentially disruptive, existing assets to consider.
Emerging Tech
Joint Artificial Intelligence Center officials stay connected with stakeholders through an executive steering group and other working groups. 
Emerging Tech
The proposed studies could pave the way for new legislation regulating the tech. 
Emerging Tech
The agency's criminal investigation group is increasingly encountering anonymous and privacy-focused online payments methods.
Emerging Tech
Agency charge cards could soon be used for more than refueling gas-powered automobiles.
Podcasts
It's a new era of spaceflight for America's space agency.
Emerging Tech
The work builds on a prior test of the credential authentication technology.