Author Archive
Brandi Vincent
Staff Correspondent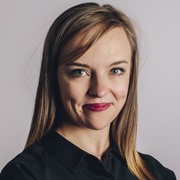 Brandi Vincent reports on the federal government's use of and policies for emerging technologies—including but not limited to supercomputing, artificial intelligence, biometrics, and the internet of things. Before joining Nextgov, Brandi helped create news for millennials at Snapchat and mixed media at NBC News. She grew up in south Louisiana and received a master's in journalism from the University of Maryland.
Emerging Tech
Legislation launched in early June received new attention and support this week.
Emerging Tech
The request comes four months before Americans head to the polls.
Data
While some agencies have yet to reveal a chief data officer, others are spinning up new teams, tools and projects to address the global health crisis.
---
Podcasts
Chief Technology Officer Charles Worthington discusses how the agency rolled out new digital tools to help respond to the novel coronavirus pandemic.
Emerging Tech
The Deepfake Report Act would require the Homeland Security Department to study the threats posed by manipulated and synthetic media—including text. 
IT Modernization
Amazon Business, Fisher Scientific and Overstock.com will test out the new approach.
Data
A new dashboard—created by NASA and international partners—enables users to see changes in air and water quality, greenhouse gases, city nightlights, economic indicators and agricultural production.
Emerging Tech
The legislation would authorize millions to underpin the efforts it mandates.
Emerging Tech
The agency's Science and Tech Directorate continues to focus its efforts on pandemic-fighting experiments. 
Emerging Tech
The DoD 5G Act would direct the launch of a Defense Secretary-led telecommunications security program.
Emerging Tech
The Office of Mission Assurance details the agency's needs in a new RFI.
Emerging Tech
The company aims to further develop technology to scan containers for malware and viruses.
Emerging Tech
The ultimate aim is to garner new, evidence-based insights to support the fight against the novel coronavirus.
CIO Briefing
Several solicitations have been launched for inclusivity-centered services in recent weeks.
Emerging Tech
Both territories' communications infrastructures were ravaged by hurricanes in recent years. 
Data
Insiders hope it will "serve as the foundation for addressing future public health emergencies."
Emerging Tech
Insiders offered a look at what the forthcoming missions aim to accomplish.
Emerging Tech
The department's new AI-focused office highlighted its intent to "push the frontiers" of AI development.
IT Modernization
The automated calls misled those who answered into thinking they were from major health insurance providers.
Emerging Tech
CIO Jamie Holcombe said the official will support efforts to scale artificial intelligence, robotic process automation and more.