Author Archive
Brandi Vincent
Staff Correspondent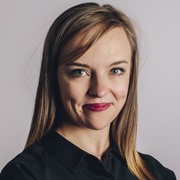 Brandi Vincent reports on the federal government's use of and policies for emerging technologies—including but not limited to supercomputing, artificial intelligence, biometrics, and the internet of things. Before joining Nextgov, Brandi helped create news for millennials at Snapchat and mixed media at NBC News. She grew up in south Louisiana and received a master's in journalism from the University of Maryland.
Emerging Tech
Open-source software—developed abroad—supports a new tool that allows the agency to send confirmations and other details through email or text.
Emerging Tech
The often-overlooked illness radically disrupts hundreds of thousands of lives each year.
Emerging Tech
The ultimate aim is to create national airport standards for drone detection and mitigation.
---
Cybersecurity
The Homeland Security Department warns it never solicits money over the phone.
IT Modernization
Rep. Ro Khanna detailed efforts to ensure agencies have resources for legally mandated updates.
Emerging Tech
The agency's latest next-generation wireless network was recently deployed by T-Mobile.
Emerging Tech
High performance computing systems are increasingly at risk.
Emerging Tech
It's all part of collaborative research leveraging military-centered, biometric data.
Emerging Tech
The audio was collected via the Perseverance rover.
Emerging Tech
A new document details military considerations regarding future means to transport data.
Emerging Tech
Researchers aim to better understand how the self-moving machines respond to real-world challenges.
CIO Briefing
Millions are without power due to the extreme freeze.
Emerging Tech
An agency official shared an update on the Program on Fairness in AI.
Emerging Tech
An initial demonstration should occur this summer, an official said.
Data
The nascent group shared details via its first report to Congress—and on a new public website.
Emerging Tech
The Internet of Things Readiness Act calls for comprehensive, Federal Communications Commission-steered studies.
Emerging Tech
The goal is to proactively prevent COVID-19 outbreaks within its facilities.
Emerging Tech
Built by HPE, the tool is housed at Oak Ridge National Lab.
Emerging Tech
The device can sample the complete radio spectrum—and fits into the Army's vision for high-tech modernization.