Senate Republicans Urge Biden Administration to Share More Intel with Ukraine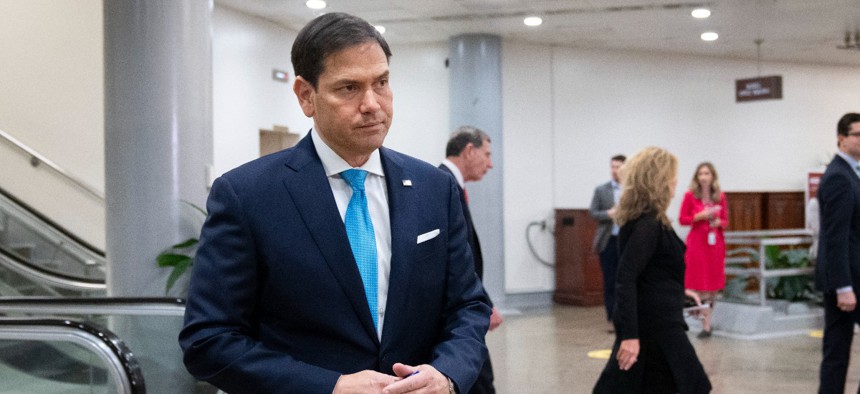 Notably, their request explicitly mentions the threat to Crimea.
Republicans on the Senate Intelligence Committee collectively pressed for the Intelligence Community to exchange more information and data with Ukraine to support its military operations amid Russia's violent invasion of that smaller, neighboring nation. 
In a two-page letter to Director of National Intelligence Avril Haines on Monday, the committee's 8 Republicans—led by its Vice Chairman Marco Rubio, R-Fla.—expressed deep concerns "that not enough is being done to share critical intelligence that would assist the Ukrainians as Russian forces move to secure territory" around the South and East.
Defense Secretary Lloyd Austin publicly confirmed last week that the United States is providing Ukraine's senior officials with intelligence associated with conducting operations in the east, including the Donbas region. 
In pushing for an expansion of existing intelligence-sharing, the senators explicitly mention that coal-rich region, and Crimea, which was invaded then annexed by Russia in 2014. 
"As we watch Russia turn its focus to southern and eastern Ukraine, we urge you to ensure that our intelligence agencies proactively share intelligence with the Ukrainians to help them protect, defend and retake every inch of Ukraine's sovereign territory, which includes Crimea and the Donbas," they wrote. 
This isn't the first time Rubio and some of the others who signed the letter have urged President Joe Biden's administration to boost intelligence-sharing in this modern conflict. But, as they suggest, their request comes as Russia is reportedly preparing for what could be potentially "bloody" attacks against eastern Ukraine in the conflict's next phase. 
"The people of Ukraine are inspiring the world by their bravery and courage in the face of increasing cruelty and mounting evidence of atrocities and crimes against humanity committed by Putin's military," the senators wrote. "We must stand with them in their darkest hour and provide them with as much information as quickly as possible."