Microsoft Partnership Will Bring New Cloud Service to DOD Microelectronics Project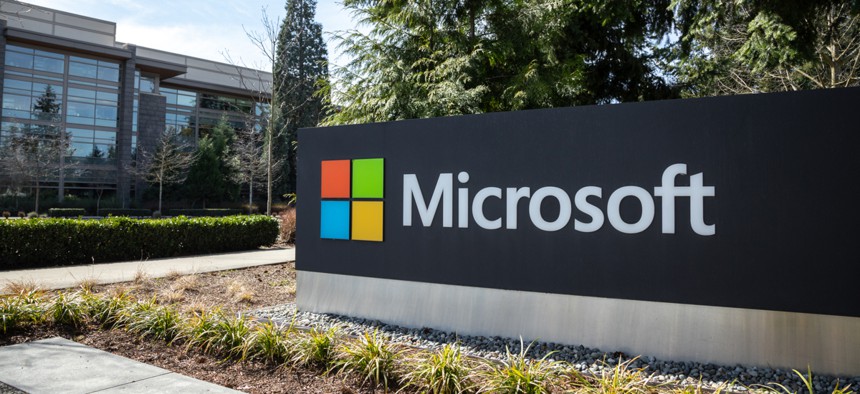 Microsoft announced new partnerships Thursday that will support two major Defense Department projects using the tech giant's Azure cloud services.
Microsoft is working with ten companies on a technology solution for the secure design of microelectronics using a new service in the Azure Government cloud region in support of a Defense Department program, according to a blog post. 
DOD announced Microsoft and IBM as the winners of a $24.5 million other transaction authority contract in October for a program called the Rapid Assured Microelectronics Prototype (RAMP) using Advanced Commercial Capabilities Project. The contract is part of a Defense Department effort to catalyze the U.S. microelectronics manufacturing base in order to undergird Pentagon emerging technology priorities like artificial intelligence, 5G communications, quantum computing and driverless vehicles, according to an October DOD press release. 
In the blog post, Mujtaba Hamid, Azure's principal program manager, elaborated on Microsoft's RAMP work. The new cloud service addresses "Confidential and Secure Cloud Accessible Design Environment (CASCADE) such as, a secure, scalable, collaborative design, and manufacturing environment for Silicon and Microelectronics on Azure."
The partner companies—Applied Materials, Inc.; BAE Systems.; Battelle Memorial Institute; Cadence  Design Systems; GlobalFoundries; Intel Corporation; Nimbis Services, Inc.; Northrop Grumman; Siemens EDA, Synopsys, Inc.; and Zero ASIC Corporation—will be able to use Azure Government cloud services to develop a solution for the microelectronic supply chain.
"The RAMP solution will be hosted in Azure Government regions, ensuring compliance with DoD supply chain requirements," the blog post reads. 
Microsoft's RAMP news comes as DOD is working to add a new component to its effort to drive semiconductor manufacturing in the U.S. According to a posting on beta.SAM.gov, DOD is developing a program called RAMP-Commercial, known as RAMP-C. While RAMP is for development of a secure design solution, where security can be measured during the commercial manufacturing process, RAMP-C is for incentivizing creation of U.S. foundries. 
Another DOD program—State of the Art Heterogeneous Integrated Packaging, or SHIP—is for integration and testing of RAMP solutions. SHIP was awarded to Intel Federal and Qorvo in October. 
A nonprofit group called the National Security Technology Accelerator, or NSTXL, is coordinating the RAMP-C program, according to the beta.SAM post and NSTXL's website. NSTXL's website also lists RAMP as a current opportunity. NSTXL recently had a Space Force contract put on pause after a legal controversy it faced related to a prior contract was revealed; that contract has since been approved to move forward. 
A second phase of RAMP is also set to get underway, according to documents on NSTXL's website. While the first phase—which lasts through April 30—was targeted to establish secure design capabilities, ensure the confidentiality and integrity of circuits while they're being built, and defining a DOD supply chain standard "that leverages commercial microelectronics supply chain security methods to meet DOD needs," Phase 2 is geared toward actually implementing those capabilities. 
Responses to a Phase 2 request for design are due to NSTXL by March 5, while questions on the request can be submitted through February 12. 
Microsoft, GDIT Sign Agreement
Microsoft announced another major partnership Thursday as well: General Dynamics Information Technology signed an agreement with Microsoft for providing federal customers access to Azure services, according to a GDIT press release. The agreement covers classified and unclassified work across the federal government. 
The agreement enables GDIT, under the Defense Enterprise Office Solution contract, to provide DOD with business cloud capabilities such as productivity tools, email, collaboration, file sharing and storage via Microsoft Office 365. The General Services Administration and the Pentagon in October re-awarded the DEOS contract, worth up to $4.4 billion over the next ten years, to GDIT's managed affiliate CSRA.