VA Reveals Industry Partners for First 5G-Enabled Hospital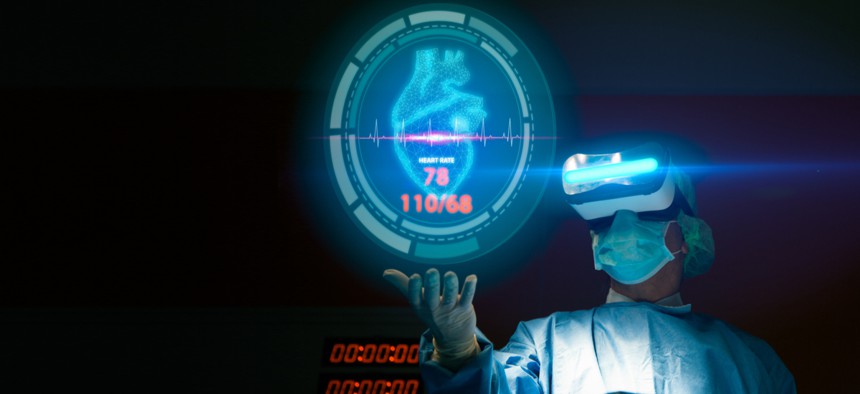 Through early adoption, the Veterans Affairs Department aims to help the entire health care industry visualize, access and co-develop 5G's full potential.
The Veterans Affairs Department announced Tuesday that three companies underpin the recent rollout of its first 5G-enabled hospital: Verizon, Microsoft and Medivis. 
Through a new public-private partnership deemed "Project Convergence," Verizon supplies the agency with a fifth-generation wireless service, while Microsoft and Medivis provide advanced, clinically relevant products and applications that enable medical providers to put the superfast internet to use. 
Only a few weeks in, department officials told Nextgov emerging 5G uses are already making an impact at the Palo Alto facility where it launched, even as the technology's complete capabilities are still unknown. Through early adoption, the VA hopes to help the entire health care industry visualize, access and co-develop 5G's full potential. 
"We didn't turn the network on so that people could connect their individual phones to download a movie faster," Dr. Ryan Vega, executive director of the Veterans Health Administration's Innovation Ecosystem told Nextgov ahead of the latest announcement. "There was a considerable amount of strategy to what the network is going to look like when you first turn it on and then what are you actually doing with the network. So you have 5G, but so what, right? That's what the whole intent was—driving the clinical use cases."
According to Vega, who others call the "dot connector" spearheading the plans, VA was in talks with Verizon for many months ahead of the launch, after the agency initially committed to doing something "transformative" with the tech giant's 5G capabilities. Even early on, the ultimate intent was to eventually create an infrastructure to develop and scale useful 5G applications to bolster veteran care across the agency, though the best approach and applications remained unclear. Then, in mid-2019, Vega and his team learned about Medivis, a medical technology company that uses augmented reality and artificial intelligence to advance surgical visualization. The company recently received a clearance from the Food and Drug Administration to use its advanced computer spatial technologies in the operating room. 
"So when we saw this, and we started to see, OK, this is slowly coming together," Vega said. "The next step was clear." 
Vega connected with Dr. Thomas Osborne, who serves as the chief medical informatics officer at the VA's Palo Alto Healthcare System and director of the agency's National Center for Collaborative Healthcare Innovation that now leads the partnership, to discuss the potential of operationalizing 5G inside the VA hospital. Osborne shared Vega's enthusiasm and they worked to bring 5G partnerships to fruition. Microsoft, already a VA partner, opted to provide its HoloLens advanced information delivery platform to be used with Medivis' imaging software. According to Osborne, HoloLens is essentially "a supercomputer that you can wear as a pair of glasses that is able to do more than any other computer can do." This allows hospital care providers to clearly view and work with detailed medical images as they treat patients. Medivis' clinical care software system also further transforms complex information into intuitive, interactive 3D models. And Verizon's 5G network is the backbone that allows the applications to work together with very low latency, officials said. 
"It's really a triangulation of three entities," Vega said. "And they're all coming together to really advance this technology."
There are a couple of ways to deliver 5G capabilities, such as laying down physical fibers, or what Verizon has done in this case, offering 5G from a portable unit—a "magic box" as Osborne called it. The telecommunications company views this service as a "network on wheels." VA worked with Verizon to install the technology in the Palo Alto facility's education building in early February, and it's already delivering 5G to a specified area in the hospital. The facility's team also has a roadmap through which they aim to relay that 5G signal across the rest of the hospital's campus by the end of this year, and eventually implement the advanced 5G capabilities directly into surgical care. 
Each of the partners made "a considerable amount of capital investment," according to Vega and Osborne, and VA is providing its industry partners access to America's largest integrated health care system to help advance all partners' common interests. The hope is to transform veteran care simultaneously through testing and co-developing the new 5G solutions on the VA's premises, and over time, to build the next-generation applications that are incorporated directly into VA's existing workflows.  
"We're going to be learning a ton, and so it's important for us to rigorously evaluate the systems and share that information so others can benefit from it," Osborne said.
Officials want the technology to help the agency present complex data in a way that's digestible and useful for treating its patients. Osborne also detailed how all the 5G-enabled features can work together to bolster veteran care. He said this 5G initiative will enable VA to be in a position where a surgeon at the Silicon Valley-based facility could have a three-dimensional image superimposed upon a patient so they can see into that patient before they start cutting and have electronic health record data displayed on the headset at the same time. 
"So if something starts to go wrong, they know exactly what [the patient's] allergies are, and the medications are all at their fingertips without having to waste critical time by scrubbing out or yelling for someone for the answers," Osborne explained. "So this is a completely different paradigm in health care."
After its original unveiling earlier this month, Osborne and his team hosted a hospital-wide demo debuting the technology and enabling personnel to use the capabilities and interact with the tools and three-dimensional models. The first engagement "elevated everybody's morale," Osborne said. Many of the staff members immediately suggested new 5G-enabled medical uses to tap into, such as introducing Microsoft and Medivis visual applications to support medical education not only for inside personnel but also for the patients that they treat. 
"It was such a really exciting, dynamic time for everybody," Osborne said. 
Going forward, VA officials plan to further address initial "bureaucratic hurdles" and hone in on new security vulnerabilities the technology inevitably introduces—ahead of any future hospital-wide deployments. Vega emphasized that security is a "major priority," and the early theoretical model is considered a "no trust network," in that it does not trust any entity that tries to connect to it. 
And though it's the earliest days of implementation, officials are hopeful it'll all eventually lead to applications that resonate across the entire industry. 
"We are trailblazing in a way that's not superficial," Osborne said. "I think all of us … share the same sentiment that the stuff that we do at local levels is intended and designed to be tested so that we can scale it throughout the whole VA with a larger intent that the rest of the country can benefit from it—and perhaps, the rest of the world."