Census' Big Data Innovation Program Infects HHS with Promising Results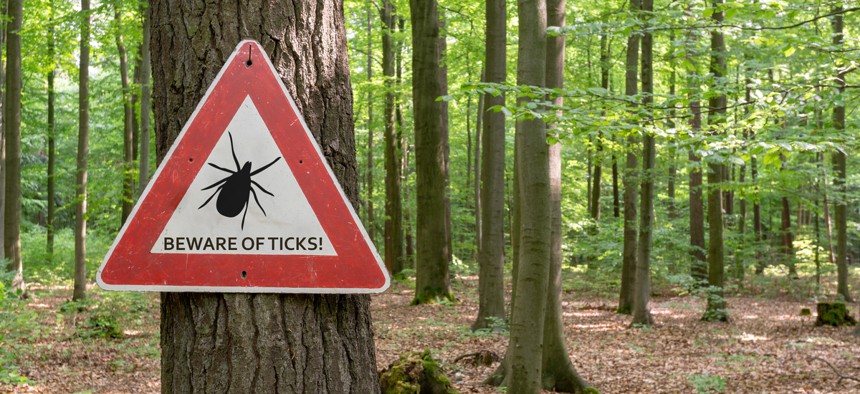 Officials at Health and Human Services took an idea from their colleagues at Census to use big data and public-private collaboration to design systems that can save lives.
One agency's innovative big data program has sparked a revolution in thinking at another federal agency and helped launch life-saving applications from unlikely sources.
Since March 2016, The Opportunity Project, or TOP, housed within the Census Bureau, has been connecting innovators from around the globe with public data and resources to help them make a difference in the world.
"We believe that data matters. Not just because it is interesting but because it solves problems for people in their everyday lives," TOP Director and Cofounder Drew Zachary said during the annual Demo Day, held Friday at Census headquarters in Maryland to showcase accomplishments from the latest cohort. "The Opportunity Project is really a process we use to put data to work for people and solve some of the biggest challenges that we're facing in the country and around the world."
At this year's Demo Day presentations, Ed Simcox, chief technology officer and acting chief information officer at the Health and Human Services Department, announced some results from his agency's spin-off project, TOP Health, which applied the same collaborative process to major health issues.
"At HHS we recognize that government alone cannot fix pressing health problems," Simcox said. "It takes much more than government. It takes partnership with industry, partnership with academia and science institutions; both formal and informal types of partnerships."
"When the TOP program was first introduced to me, it didn't take long to realize the potential for using this methodology inside the four walls of HHS and with our partners across America," he added. "Safe to say the TOP Health project has really exceeded all of my expectations."
HHS officials took the TOP model wholesale and replicated the collaborative sprint mentality to work on serious health issues. The program included 10 teams working on two challenges over a 14-week sprint. The first challenges focused on using artificial intelligence for improving clinical trials and experimental therapies, while the second used data-driven innovations and emerging technologies to advanced research into cures for Lyme- and tick-borne illness, Simcox explained.
Eleven tools were produced out of the sprint, including one team developing a separate solution for each track, Simcox said. He also noted the diversity of backgrounds among the participants, which ranged from grade-school teams to foreign-based billion-dollar corporations. Representatives from two such teams—one from each challenge—joined the Demo Day to present their projects.
AI for Clinical Trials
Using natural language processing and a humanized chatbot interface, a team from the Health Group of the Microsoft Israel Research and Development Center created an easy-to-use program for patients and clinicians to find potentially life-saving programs.
"Our goal is to help physicians, patients and even families of patients to file suitable clinical trials quickly and easily," said Hadas Bitran, head of Microsoft Health Israel.
The system—which Bitran billed as an artificial intelligence engine—uses advanced algorithms to match terminal patients with bleeding-edge clinical trials that could save their lives and the lives of future patients. In turn, the program helps clinicians by identifying patients with the right mix of ailments and circumstances for their trials.
By partnering with the TOP Health program, the Microsoft team got access to the data required to train and evaluate the AI system.
"Our work with TOP included a lot of data sets we've received from them," Bitran said. The project also gave them access to patients and physicians who could test the system and offer valuable user feedback.
"We've learned a lot from the work with the TOP program," she said, namely that "the quality of data is key … and getting to high-quality data is hard."
With the base system developed, Bitran said Microsoft now plans to get it in the hands of those who need it, including publishing parts of the software as open source to encourage its adoption throughout the sector.
Tick Tracker App
From a multinational, multibillion-dollar company, the program transitioned to an independent developer and activist who turned her disease into an impetus to improve awareness of a debilitating condition. She also happens to be just 14 years old.
"Olivia [Goodreau] is one of our youngest innovators," Simcox said, though there were a few younger participants in the K-12 range, including her twin 11-year-old brothers. "Olivia is an amazing example of someone who turns life's lemons into lemonade."
Goodreau was diagnosed with Lyme disease in third grade, an affliction she acquired from a tick bite while on vacation with her family in Missouri more than a year before at just six years old. Rather than let the disease cause her to shrink back, Goodreau instead started the LivLyme Foundation to help low-income families afford treatment and medicine and support research into the disease. The foundation has given grants to 31 families living with the disease and four researcher programs looking for a cure.
As part of the TOP Health project, Goodreau developed the Tick Tracker App that uses public data sources and user inputs to track and share the types of ticks living in any given area and the potential dangers they pose to people and pets.
"We are working on building the world's largest collection of tick data," she said at the Demo Day. "TOP has helped us access valuable government data from the CDC, USDA, Smithsonian and the DOD," as well connecting Goodreau's team with federal research scientists.
Goodreau debuted the app's new heatmap functionality, which would not have been possible without data and assistance from the TOP Health project.
"TOP Health is really a testament to the fact that we never know where innovation is going to come from. Sometimes we have a good idea but we need to open the doors," Simcox said. "We need to open the doors of HHS and face outward and really collaborate."