Congress Moves to Ban Discriminatory Advertising on Social Media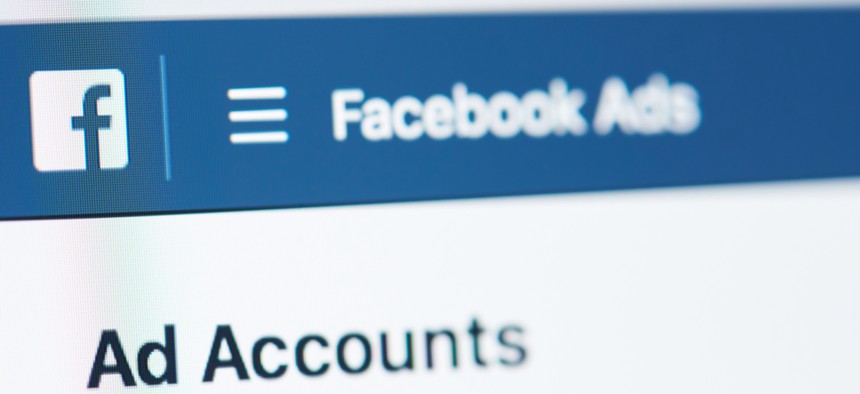 Lawmakers also introduced bills to help both vets and the larger U.S. workforce navigate an increasingly tech-centric job market.
Capitol Hill's latest privacy bill takes aim at social media platforms that host discriminatory targeted ads.
The DATA Privacy Act, introduced by Sen. Catherine Cortez Masto, D-Nev., explicitly bars Facebook, Twitter and other companies from allowing advertisers to use consumer data to discriminate by race, gender or sexual orientation. Under the legislation, the Federal Trade Commission would issue clear guidance on what constitutes online discrimination and gain new powers to penalize organizations that violate the rules.
The bill also includes a number of provisions requiring companies to be more transparent about their data collection practices and take steps to adequately protect consumer data.
In 2016, a ProPublica investigation revealed Facebook permitted companies to block users from viewing ads and other posts based on race, which stood in possible violation of federal housing discrimination laws.
No Cheaters Allowed
Sens. Mark Warner, D-Va., and Marco Rubio, R-Fla., worry the Chinese might be stacking the decks against American companies when setting global standards for 5G.
On Friday, the pair pressed National Intelligence Director Dan Coats to issue an unclassified report on China's influence over international groups responsible for setting principles for 5G networks. The report should detail any attempts by China to sway standards organizations in a way favorable to its domestic companies and discuss the potential impacts if the boards become politicized.
"We believe Chinese influence in our [international standard-setting bodies] is not fully appreciated, and the [intelligence community] can play an essential role in filling the publicly available information gap—a necessary first step to countering this trend," they wrote in a letter to Coats. "We hope that this report will be part of an ongoing effort to share more timely and relevant information with U.S. companies and our allies."
Get Out the Huawei
Intelligence leaders on Capitol Hill are pushing the government to secure the nation's energy infrastructure against threats posed by Huawei products.
Lawmakers last week urged the Energy and Homeland Security departments to ban the U.S. energy industry from using any equipment built by the Chinese company. The Senate recently introduced legislation that would bar Huawei products from the nation's telecommunications infrastructure.
"We urge you to work with all federal, state and local regulators, as well as the hundreds of independent power producers and electricity distributors nation-wide to ensure our systems are protected," the lawmakers wrote in a letter to Homeland Security Secretary Kirstjen Nielsen and Energy Secretary Rick Perry. "We stand ready and willing to provide any assistance you need to secure our critical electricity infrastructure."
Do It For the Kids
A bipartisan group of senators on Tuesday reintroduced a bill that would fund research into the effects of technology on American kids.
The Children and Media Research Advancement Act would allocate $95 million to the National Institutes of Health over the next five years to see how smartphones, computers, social media, video games and other digital products affect bullying, depression and addiction in kids.
Amazon, Google, Apple and Facebook have reportedly come out in support of the bill.
It's the Ethical Thing to Do
House lawmakers want Congress to set basic standards for the ethical development of artificial intelligence.
A group of nine lawmakers on Tuesday introduced a resolution calling on federal leaders to collaborate with industry, academia and civic groups to create guidelines for building trustworthy and robust artificial intelligence. The legislation promotes transparency, privacy protections and explainability in AI, and encourages efforts to build a diverse tech workforce.
"AI is the next phase of the digital revolution," said Rep. Ro Khanna, D-Calif., said in a statement. "The burden falls on Congress to ensure that technology is implemented with thoughtful guidance given the shifting scope of privacy protections in the digital economy."
The Future is Now
Sen. Mark Warner, D-Va., also reintroduced a quartet of bills aimed at supporting U.S. workforce through tech-driven job market changes.
"Changes in the nature of work mean that Americans are more likely to change jobs and be engaged in non-traditional forms of work than they were a generation ago—but our federal policies haven't kept up with those economic shifts," Warner said in a statement.
One bill would create a tax credit for companies that invested in reskilling low- and middle-income workers, and another would give those workers better access to outside job training programs. The other two bills would support gig economy workers by funding state-sponsored benefits programs and helping people with "non-traditional forms of income" receive mortgages.
Calling All Vets
The House unanimously passed a bill that would push veterans to pursue educational opportunities in STEM fields.
The Supporting Veterans in STEM Careers Act would call on the National Science Foundation to build a strategy for bringing more vets into STEM education and research programs. Sponsored by Reps. Conor Lamb, D-Penn., and Neal Dunn, R-Fla., the legislation would also require the White House to stand up a working group to identify obstacles for vets pursuing tech and science careers.
"[Veterans] shouldn't be struggling to find jobs in the civilian workforce, especially not when trade schools and businesses are struggling to fill high-demand, high-paying jobs in STEM-related industries," Lamb said in a statement.
Coming Up
At 10 a.m. on Wednesday, the House Appropriations Committee on Military Construction and Veterans Affairs subpanel will examine the massive. electronic health record overhaul at the Veterans Affairs Department.
At 10:30 a.m., the House Energy and Commerce Consumer Protection subcommittee will discuss the benefits of diversity in the tech industry.
At 2 p.m., the House Science Committee will explore strategies for maintaining U.S. leadership in science and technology.