Author Archive
Jack Corrigan
Staff Correspondent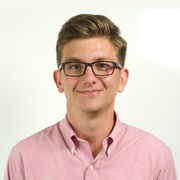 Cybersecurity
Agencies have different definition of what an outage is and that matters.
Emerging Tech
Rooted in DARPA research, the tool shines light on the darkest corners of the internet.
Data
The agency is looking for nationwide information on medical interventions, food safety, wildlife health, travel itineraries and other health-related topics.
Cybersecurity
Agencies should also start taking more tips from each other, according to an Office of Management and Budget cyber expert.
Data
Agency leaders want to embrace information sharing, but right now it's uncharted territory.
CIO Briefing
It was a whirlwind week on the Hill. Here's the Nextgov rundown.
By

Jack Corrigan and Joseph Marks
IT Modernization
Lawmakers are trying to figure out what to do about the lack of accountability within the program's leadership.
Cybersecurity
Without security standards for the internet of things, the government is leaving open billions of "stupid" vulnerabilities, said Sen. Mark Warner.
Data
Descartes Labs is building a platform to let the Pentagon analyze all the geospatial intelligence, all the time.
Cybersecurity
The defense agency awarded a contract to develop a tool that scours the internet for dormant online armies.
CIO Briefing
After 15 years of trying, the Senate may finally allow for candidates to electronically file campaign spending reports.
CIO Briefing
The House passed bills on cyber sanctions, supply chain security and CDM last week.
By

Jack Corrigan and Joseph Marks
Emerging Tech
The massive investment comes as other global powers like China pour significant resources into their own programs.
Cybersecurity
ManTech captures the fifth of six important and lucrative CDM contracts across government.
Emerging Tech
Office of Science and Technology Policy hasn't had a permanent leader since the last administration.
Emerging Tech
Facebook and Twitter executives are open to the government helping them stop foreign influence campaigns, but it's unclear what that would look like.
Emerging Tech
DARPA's latest artificial intelligence project aims to bridge the gap between a machine that learns from data and one that adds new insights.
CIO Briefing
Plus a familiar face gets confirmed as the Energy Department's first assistant secretary for cybersecurity.
By

Jack Corrigan and Joseph Marks
Cybersecurity
The videos offer security tips that could benefit all internet users.
Emerging Tech
The agency wants first responders' clothing to be able to generate and store electricity.