Author Archive
Jack Corrigan
Staff Correspondent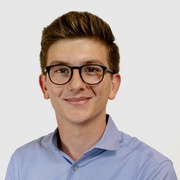 IT Modernization
The panel's responsibilities—which include oversight of FITARA and other federal tech initiatives—will be swept up by the Government Operations subcommittee.
Cybersecurity
The agency is looking for ways to identify citizens with random characters instead of Social Security numbers on agency mail.
IT Modernization
Vendors would work for free, but they'd essentially gain exclusive rights to the materials for up to three years.
---
Emerging Tech
Eric Schmidt will join 14 other tech experts on the National Security Commission on Artificial Intelligence.
CIO Briefing
Congress also took up bills to upgrade the power grid, combat Chinese tech threats and punish robocallers.
IT Modernization
The company is also responsible for migrating between 20 and 30 apps from the existing platform to the new cloud environment.
CIO Briefing
Furloughed agencies are missing out on peak recruiting season for recent and soon-to-be college grads.
CIO Briefing
It's also left some websites vulnerable to cyber threats.
IT Modernization
But the Federal CIO Authorization Act still has no Senate counterpart.
Data
President Trump signed the OPEN Government Data Act into law, requiring agencies to publish machine-readable data and appoint chief data officers.
Emerging Tech
It also wants to research how self-driving vehicles can be manipulated to threaten the public.
CIO Briefing
Congress also cleared a bill to ensure furloughed feds get back pay once the government reopens.
Cybersecurity
The Defense Department has a lot of work to do to remedy some years-old cyber issues.
Cybersecurity
An internal watchdog found 800 new vulnerabilities across the Defense Department's IT infrastructure.
Podcasts
New leaders mean new priorities—and the partial shutdown is affecting some of those decisions.
Emerging Tech
They're small, efficient and capable of basic reasoning, and researchers want artificial intelligence tools to do the same.
CIO Briefing
The contract was recompeted after the previous vendor filed for bankruptcy.
CIO Briefing
And that could be cutting off agencies from valuable new ideas.
Emerging Tech
Justin Herman, who leads GSA's Emerging Citizen Technology Office, is moving to the private sector.
Policy
H.R. 1 would codify many of the security measures lawmakers have pushed for the last two years.