Author Archive
Jack Corrigan
Staff Correspondent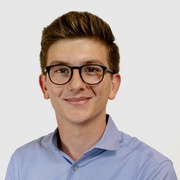 Emerging Tech
A new IARPA program aims to build biometric technology that can identify people using cameras stationed on far off rooftops and unmanned aircraft.
Emerging Tech
Unmanned aircraft offer the department a cheaper, faster and safer way to conduct operations across 500 million acres of federal lands.
IT Modernization
Under the orders, Carahsoft Technology Corporation and Grant Thornton will roll out commercial payroll systems that would be available for all civilian agencies.
---
Data
The White House in 2016 required every agency to make at least 20 percent of its custom software available for reuse across the government, but the Pentagon isn't even halfway there, according to the Government Accountability Office.
Data
The bureau launched a website for dispelling common Census rumors and created a special email address where people can report misinformation and other malicious activities.
Data
The latest version of its privacy framework is meant to help organizations address the risks of holding sensitive data on their customers.
Cybersecurity
The Unified Situational Cyber Awareness capability would help cyber analysts keep tabs on every part of the Department of Defense Information Network.
Cybersecurity
Russia and other actors who try to meddle in the election will be met with a much broader, aggressive and more unified cyber campaign than in years past, according to Lt. Gen. Stephen Fogarty.
Cybersecurity
The agency has historically been slow to share threat intelligence but accelerating that process would help the government get ahead of cyber adversaries, according to Anne Neuberger.
Cybersecurity
Officials are developing a consistent framework for collecting cyber data, which could ultimately help train tools to monitor networks and detect suspicious behavior.
Cybersecurity
Under a forthcoming bill, lawmakers also aim to make it easier for agencies to put the data collected under the program to good use.
IT Modernization
The flaws, some of which date back more than a decade, left first responders scrambling to gather, share and access critical information.
Policy
Agency officials had previously banned the practice.
Cybersecurity
There's still no ideal way to integrate mobile security tools, but that shouldn't stop agencies from using them, according to Homeland Security researchers.
Cybersecurity
The then-deputy assistant attorney general resigned after investigators found a trove of sexually explicit content on their computer.
Cybersecurity
Three companies have already received multimillion-dollar contracts to explore new ways to protect the data flowing through the military's IT systems.
Cybersecurity
Officials plan to create a public form where security researchers can submit weaknesses they uncover in the agency's IT infrastructure.
Cybersecurity
The department is looking for penetration testers, red teams and cyber training to protect its startup incubator from online attacks.
Cybersecurity
Agency officials recently learned of a phishing campaign in which scammers pose as IRS agents to spread malware and scoop up users' sensitive information.
IT Modernization
The "mainframe-as-a-service" model allowed the agency to migrate one of its more resource-intensive processes to the cloud.