Author Archive
Jack Corrigan
Staff Correspondent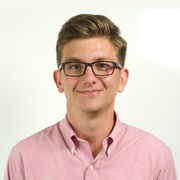 Emerging Tech
The goal isn't to replace DNA analysis but rather add another technology to forensic analysts' toolbox.
CIO Briefing
They also pushed lower taxes for online goods.
By

Jack Corrigan and Joseph Marks
CIO Briefing
Employee turnover could be one of the reasons for an increase in jargon on agency websites.
---
Emerging Tech
It also allows federal agencies to send messages to passengers in real time.
Data
"It gets my blood boiling to think we have all this data. We should be able to do more with it," Margaret Weichert, the administration's management chief, said.
IT Modernization
Both secretaries pledged to re-examine the multibillion-dollar program's organization structure and timelines.
Cybersecurity
Instead of ditching the SSN as an identifier, the government could take steps to modernize it.
CIO Briefing
The Senate also finally passed a bill to change the name of DHS' cybersecurity agency.
By

Jack Corrigan and Joseph Marks
IT Modernization
The Digital Service works side by side with agency employees to tackle some of their most backlogged processes.
IT Modernization
Cerner Corp. announces a lengthy list of subcontractors for the multi-billion dollar project.
Data
The agencies tracking parents and children separated at the border had to email data and compile spreadsheets, an auditor found.
Emerging Tech
The new structure will also keep the office from working on projects that will never see the light of day.
CIO Briefing
At one civilian agency, IT pros over 60 years old outnumber their under 30 colleagues 19 to one.
CIO Briefing
The House passed a slew of tech and cyber bills last week, but Homeland Security's top cyber priority is still waiting in the Senate.
By

Jack Corrigan and Joseph Marks
CIO Briefing
The agency's top tech official weighs in on budget and information security processes but has little role in other mandated responsibilities.
Emerging Tech
Funding AI research is still critical, but experts say there are other things the government can do to speed up innovation.
Emerging Tech
And tariffs won't keep the scales tilted to U.S. interested, they said.
Emerging Tech
The legislation would require the government to bring on more AI experts and map out the technology's implementation.
Emerging Tech
Without heavy investment in AI research, the government risks national security and economic implications, according to a congressional report.