Space Satellite Data Reveals the Pandemic's Effects on Earth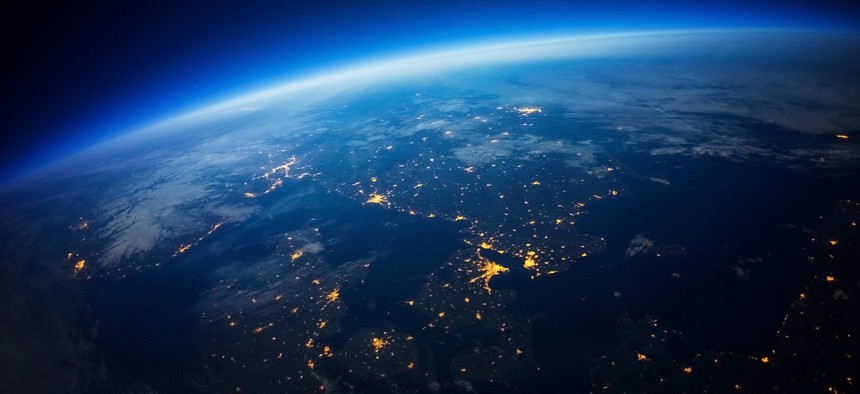 NASA, the European Space Agency (ESA) and Japan Aerospace Exploration Agency (JAXA) teamed up to collectively leverage Earth-observing data captured by their many satellites and sensors to monitor and chronicle planet-wide shifts in socioeconomic activities and the environment as the world responds to the COVID-19 pandemic. 
The space agencies on Thursday jointly launched a public web portal—the COVID-19 Earth Observation Dashboard—that synthesizes their most relevant data and provides users with the capability to interactively view changes across air and water quality, greenhouse gases, city nightlights, economic indicators, agricultural production and more catalyzed by the health crisis.
"As this pandemic spreads across the globe, scientists began to see from space how patterns of human activity were changing and how those changes affected the environment. The pandemic was not only leaving a staggering toll of human suffering—it was having a global impact that we could document from space," Thomas Zurbuchen, associate administrator of NASA's Science Mission Directorate, said among other officials from the agencies on a call with reporters Thursday. "The three agencies realized that if we could combine forces, we could bring a more powerful set of analytical tools to bear on this fast-moving crisis."
The dashboard's producers hope that it will enable city and health officials, policymakers and any others interested to explore and probe the pandemic's short- and long-term impacts on the planet and society. 
Each agency felt an urgent need to harness its available space assets in support of their governments and communities as soon as the pandemic materialized as a critical emergency, reporters heard during the briefing. Upon recognizing that the crisis was global in nature, the three partnered up and formed a task force in April to collaboratively confront the challenge. Together, they pinpointed useful satellite data streams, adapted existing computing infrastructures to make them interoperable, and subsequently produced relevant indicators to highlight changes across a range of areas that might be of interest.  
"It is fair to say that this health crisis also had its positive effect. It's channeled our industry to work full steam on this cooperation and to realize this project," Josef Aschbacher, director of ESA Earth Observation Programmes, said on the call. "It required a lot of effort—with people working day and night, and weekends. Our teams are exhausted now, but they're also very proud to have that work presented to a global audience."
Koji Terada, vice president and director general for the Space Technology Directorate at JAXA, added that the tri-agency collaboration provided each with "an excellent opportunity to maximize the value" of their observation data.
On the call, several officials detailed useful indicators—and the data behind them—included in the dashboard. Space-based radar data, for instance, provides a view into how the density of parked cars in certain parking lots changed throughout periods of required lockdown in China. It also incorporates satellite observations over time of shipping activity in numerous ports, and data from high-resolution images of Earth produced by a NASA-National Oceanic and Atmospheric Administration satellite, which details how San Francisco Medical Center's lights were brighter between January and April than they typically were prior to the pandemic. 
The resource also encompasses satellite observations in water quality across certain areas that typically had a great deal of human activity before the health crisis, changes in agriculture production that could impact food supply, air quality and atmospheric changes in carbon dioxide and nitrogen dioxide—and more. 
Diving into the technical weeds of the dashboard's creation, Anca Anghelea, open data scientist within ESA's Earth observation programmes, said all three agency teams cooperated from concept to system design, development and integration. Enabling technologies included cloud computing and data cubes, she noted, and the various information products involved were exchanged through established protocols and via shared application programming interfaces, or APIs. Officials also used "established scientific methods and new artificial intelligence tools" to analyze various multisensor observation data and to generate the interactive product.
Anghelea and several others on the call also emphasized their obligation to continuously make relevant, helpful such space-captured data available—and highlighted the three agencies' plans to continue to develop and update the new dashboard. 
"We're now presenting the minimum viable product, which will continue to evolve to address requirements from science teams and feedback from the general public," Anghelea said. "With version two of the dashboard, we'll make available new information and further insights on the existing environmental, economic and agriculture indicators."