Agencies Lean Into Automation During the COVID-19 Pandemic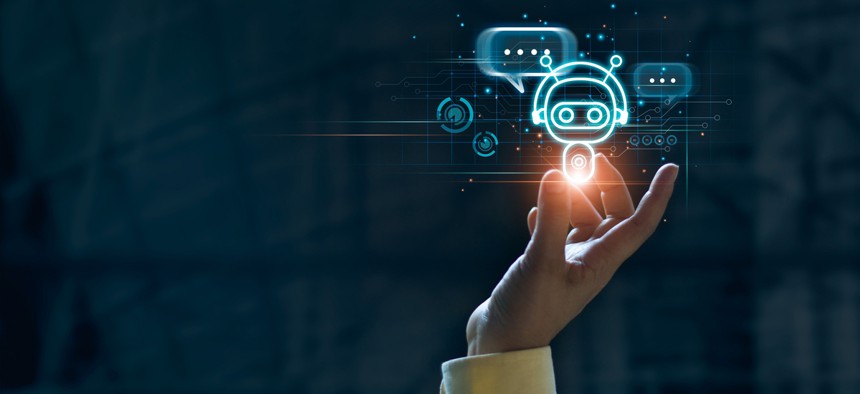 Robotic process automation is accelerating across the National Institutes of Health, Internal Revenue Service and Housing and Urban Development Department.
Amid the COVID-19 pandemic, federal agencies are broadening and expediting robotic process automation efforts to deal with disruptions and drive productivity.
During a virtual ATARC panel Tuesday, officials from three agencies offered a glimpse into automaton use cases that are boosting operations, detailed how they're gaining buy-in from personnel along the way and considered how the present pandemic-induced reality could transform the future of work. The officials were joined by experts with insights into industry and state governments.
"None of our job descriptions said 'you will cut and paste, cut and paste, cut and paste.' So that's what RPA is letting us give up," Stacy Dawn, senior adviser for cybersecurity and privacy at the Housing and Urban Development Department, said. "You don't want to do that work. You want to be able to use your mind and be productive. So it's enabling employees to feel more productive."
RPA is an emerging technology practice that usually incorporates bots or digital assistants and ultimately encompasses automating business processes that generally require tedious, manual work. Having started her civil service journey more than two decades ago, Dawn said she's been impressed to see how, in recent years, automation is increasingly enabling federal insiders to complete tasks that "took so much time before."
Still relatively at the onset of some of its own RPA-deployment and implementation, Dawn said the agency is presently working to implement automation "to help people stay in their homes" during the pandemic. HUD is essentially preparing and setting up the proper infrastructure, she noted "so that automations can run and we can make sure that people have the tools that they need so that they don't get evicted—or if they have late payments, they're not being kicked out." Officials introducing the solutions are making serious considerations around securing the technology, Dawn added, including through continuous monitoring and two-factor and multi-factor authentication to ensure that "unattended bots don't go rogue on us and that somebody can't inject an unattended bot into" the agency's systems.
Housing and Urban Development is standing up the Digital Services Program Management Office to help centrally manage its various RPA solutions. Dawn said officials involved in the effort are pinpointing areas that could be automated to save on costs and boost operational efficiency, and have ignited some efforts. In the Office of the Chief Financial Officer, in particular, the agency has identified some of the "biggest potential savings" through automating processes related to payroll, accounts receivable, accounts payables, invoice processing, inventory management, report creation and data migration," she said. And officials have started to create bots to support these tasks, though they aren't in full production yet. 
Still, according to the agency's tests, "it's looking to save over 50,000 hours of employee time—shifting their time from low-value to high-value work," Dawn said. "Overall RPA has significantly improved the quality and timeliness of work at HUD and the way HUD does and will do business."
As an agency at the forefront of the nation's pandemic response, the National Institutes of Health is also leaning into RPA, according to Deputy Chief Financial Officer and director of its Office of Financial Management Glenda Conroy. In this role, Conroy oversees the accounting functions for the agency's 27 institutes and centers—many of which, she noted—"are sticking their toe in the water and starting to look at what they want to do with [RPA]."
Conroy has served her current role for about the last half-decade, and over the several most recent years, she and other top agency officials have been learning about automation, getting the framework in place across the agency, selecting software, installing proper hardware and working to get the authority to operate RPA.
"It's so critical to any IT solution, but especially to engage this new technology," she said. 
Before the global health emergency disrupted business-as-usual, the agency was preparing to pilot one particular RPA solution, but then as COVID-19 came about, Conroy said the agency switched gears and focused all of that effort on its commercial payments side. NIH has an annual budget of about $40 billion, and much of the funds include grants and commercial payments. The agency must do proper accounting on all related money and ensure that it's getting commercial payments out to vendors on time to help sustain the supply chain during the pandemic. More recently, the institute has been gearing up to move to the Treasury Department's Invoice Processing Platform or IPP electronic solution.
"But in the interim, we needed a short term solution to be able to receive our mail electronically," Conroy said. 
The agency receives thousands of invoices by mail each month, but nationwide stay-at-home orders would likely keep the paper-based documents held up during the pandemic. Conroy and her team rapidly refocused to find a solution and directly engaged with the agency's contract shop and vendors to make the digital switch. 
"And within the month, we're now receiving about two- thirds of our mail via email," Conroy said, "and using RPA to route it to the workforce."
As a part of the implementation, NIH was able to build intelligence into the subject line of emails that come in, to effectively determine which are relevant invoices that pertain to Conroy's office's efforts and then subsequently route them to the right place. After quickly making progress, Conroy said the agency last week also launched a dashboard that enables insiders to confirm "whether a bot is receiving the email and automatically distributing it to the right" endpoint. Along the way, Conroy's team also distributed software training around the automation solution out to the staff, to help personnel "to embrace it, rather than see it as a threat."
"So, we're doing our part in the COVID-19 pandemic to support the supply chain that NIH is responsible for," she said. 
Internal Revenue Service Special Assistant Mitch Winans also noted that his agency's insiders are unleashing automation, "as much as [they] can" in the realm of procurement. According to Winans, officials are working (even remotely) to harness tools that enable employees to spend less time doing data entry and other time-consuming activities that do not entail high-value, strategic work. 
"So we're definitely trying to leverage a few bots that we have for some compliance check processes in the procurement office, also a contract clause review tool that helps us make sure we're staying up to date quickly on regulations and policies, and things like that," Winans said. He added that automation resources are being explored to potentially help the agency identify and correct errors in its data—and more. 
Also serving as government chair of the RPA project team within ATARC's artificial intelligence working group, Winans said he's been looking to history for learnings from crises of the past, to deal with the pandemic today. He noted that "attitudinal shifts" are often catalyzed by catastrophes—and ultimately lead to impactful, tangible changes. For instance, the terrorist attack on 9/11 spawned the creation of the Transportation Security Administration and much stricter aviation security policies. Unprecedented numbers of women joined the workforce after World War II, he added, and after the SARS outbreak in the early 2000s, there was a change in consumption and a jump in ecommerce. 
"So those are some of the things that I think about—and that we're thinking about at the IRS in the procurement space—it's how kind of historically we've seen crises," he explained. "There's a lot of chaos and stress happening in the moment, but think about potentially, there may be some new policies, or some new ways of working, or some new ways of consuming that come out of this in the long run."
RELATED PODCAST