Congress Wants to Confront Facebook, Robocallers and Data-Throttlers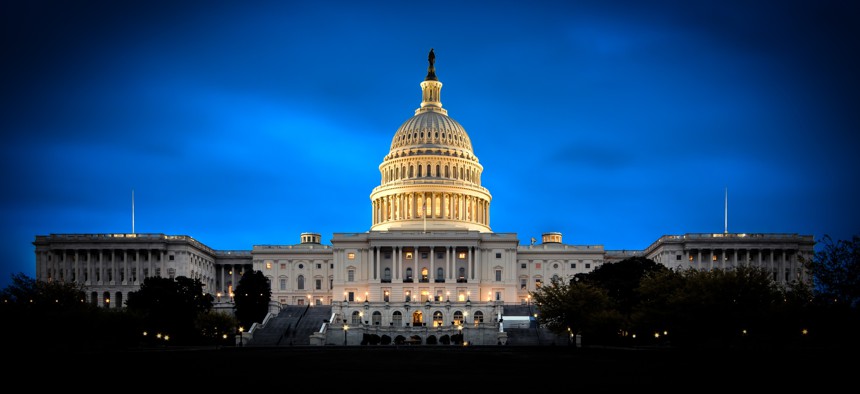 Lawmakers also encouraged the Pentagon to continue helping civilian agencies in cyber matters.
Democratic lawmakers clashed with the tech industry last week while Republicans sought to expand cyber protections for small businesses.
Congress also finally delivered the Homeland Security Department its top legislative priority and pushed the Pentagon to chip in more cyber resources to defend civilian agencies.
Here's a rundown.
Judging a (Face)book by Its Cover(up)
A group of lawmakers pressed the FBI to expand a federal investigation of Facebook to determine whether the social media company withheld information about malicious Russian activity or attacked critics looking to regulate the platform.
The push comes days after the New York Times published a sweeping investigation of the company's actions in the aftermath of 2016 election. When it was revealed Russian actors used the platform to spread misinformation and influence voters, Facebook reportedly downplayed the extent of the influence campaign and recruited outside groups to smear competitors and critics, among other actions.
"Given the staggering amount of data that Facebook has collected on both its users … these allegations raise profound concerns about the company's willingness to protect the public and our democracy," Sens. Amy Klobuchar, D-Minn., Richard Blumenthal, D-Conn., Chris Coons, D-Del., and Mazie Hirono, D-Hawaii, said Thursday in the letter to Deputy Attorney General Rod Rosenstein.
Robo-caught
Lawmakers want to curtail robocalls by increasing the penalties for scammers and telemarketers who knowingly break the law.
The Telephone Robocall Abuse Criminal Enforcement and Deterrence Act, introduced Friday by Sens. John Thune, R-S.D. and Ed Markey, D-Mass., would allow the Federal Communications Commission to fine scammers up to $10,000 per illegal call. The bill also extends the statute of limitations for prosecuting robocallers from one to three years and requires voice providers to use authentication technologies to weed out phony calls.
"As the scourge of spoofed calls and robocalls reaches epidemic levels, the bipartisan TRACED Act will provide every person with a phone much-needed relief," Markey said in a statement.
Lightning in a Throttle
A trio of Democratic senators sounded off Thursday about a study that suggests mobile phone carriers may be throttling the speeds of video streaming services. The study, which used the service Wehe, found that Verizon, Sprint, AT&T and T-Mobile all slowed the speed of at least one video streaming service.
The study follows the repeal of Federal Communications Commission rules, commonly referred to as net neutrality, which barred throttling and other preferential or detrimental treatment of certain internet traffic.  
The letter from Sens. Ron Wyden, D-Ore., Edward Markey, D-Mass., and Richard Blumenthal, D-Conn., demands to know whether the services are throttling some traffic, how they determine which traffic to slow and if consumers are able to opt in or out of throttling.
"All online traffic should be treated equally, and internet service providers should not discriminate against particular content or applications for competitive advantage purposes or otherwise," the senators wrote.
AI, We're Halfway There
The House Armed Services Committee on Wednesday named two top tech industry executives to the National Security Commission on Artificial Intelligence.
The commission, created under the 2019 National Defense Authorization Act, will advise government leaders on the national security implications of artificial intelligence as the technology advances.
Chairman Mac Thornberry, R-Texas, appointed former Alphabet Executive Chairman Eric Schmidt, and Ranking Member Adam Smith, D-Wash., selected Microsoft Research Labs Director Eric Horvitz to join the group. Schmidt also currently chairs the Defense Innovation Board.
Senate Armed Services Chairman James Inhofe, R-Okla., and Ranking Member Jack Reed, D-R.I., will select the group's final two commissioners. They have yet to announce their picks.
Spreading the Post-Equifax Goodies
Credit ratings agencies would be required to notify small businesses about a breach of their information within 30 days, under a bill introduced Thursday by Sens. Marco Rubio, R-Fla., and John Kennedy, R-La.
Congress extended similar protections to individuals after the breach at the credit ratings agency Equifax last year, which compromised information about roughly 45 percent of all Americans.
Rubio and Kennedy's bill also bars ratings agencies from charging small businesses for credit checks for six months after a breach.
CISA Finally Here
This weeks' big cyber news came late Tuesday when the House passed a long-sought bill to rename the Homeland Security Department's cyber division from the National Protection and Programs Directorate to the Cybersecurity and Infrastructure Security Agency.
The Senate passed the bill in October and President Donald Trump signed it Friday.
The division's leader Chris Krebs has joked that the current name, often acronymized to NPPD, sounds like a "Soviet-era intelligence agency." The bill also authorizes the Homeland Security Secretary to move the Federal Protective Service, which manages security for federal buildings, out of the cyber division to another agency.
Two Cyber Missions Beat as One
Top lawmakers on the House Homeland Security and Armed Services Committees' cyber panels want the Defense Department to do more to help out the civilian government and critical infrastructure during major cyber strikes.
During a joint hearing Wednesday, the chairs and ranking members of those committees praised Pentagon preparations to assist the Homeland Security Department in advance of this month's midterm elections. The departments have also signed a memorandum that's not yet public outlining future cooperation, Homeland Security Assistant Secretary Jeanette Manfra told the lawmakers.
Rep. Cedric Richmond, D-La., ranking Democrat on the Homeland Security panel, urged more funding for the civilian department's cyber mission, noting that the Pentagon receives roughly eight times as much cyber funding. Assistant Defense Secretary Kenneth Rapuano noted that much of that funding goes to the Pentagon's offensive cyber mission.
Coming Up
The House and Senate are both out next week for Thanksgiving, and you should probably take some time off as well.