Congress Passes Long-Sought Bill to Rename DHS Cyber Agency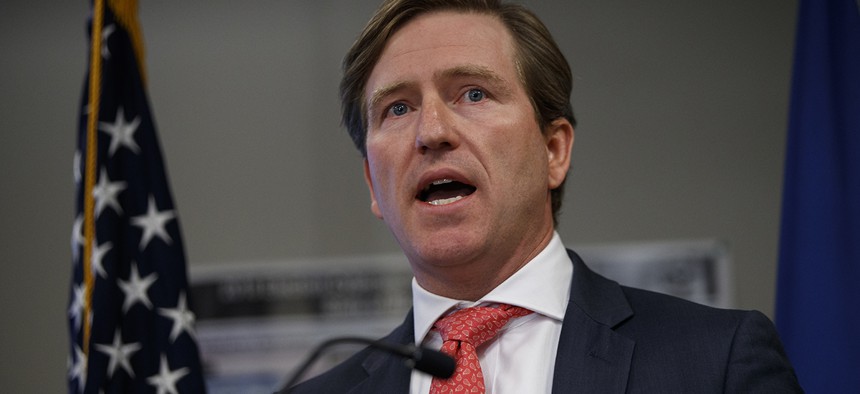 The National Protection and Programs Directorate will soon be called the Cybersecurity and Infrastructure Security Agency.
The Homeland Security Department's long-sought plan to have a cyber division with the word "cybersecurity" in its name was nearly fulfilled Tuesday evening when the House passed a bill approving the re-naming.
The Senate passed the bill in October, so now it only awaits President Donald Trump's signature. The House passed a Senate version of the bill by unanimous consent.
The bill would take the clunkily-titled National Protection and Programs Directorate, or NPPD, and dub it the Cybersecurity and Information Security Agency, or CISA.  
Homeland Security is the lead cyber agency for the civilian government, but the department's cyber officials have struggled under a name that doesn't give a clear indication of what they do.
Chris Krebs, the undersecretary who leads NPPD, has frequently joked that the current name sounds like a "Soviet-era intelligence agency."
Krebs also described a 2017 meeting with top Puerto Rican officials after the island was devastated by Hurricane Maria during which officials were confused about who he was or why he was there. They later struggled to explain who he was in a press conference following the meeting, he said.
By contrast, Homeland Security divisions such as the Transportation Security Administration and the Coast Guard, make clear in their names precisely what they do, he said.
"Elevating the cybersecurity mission within the Department of Homeland Security, streamlining our operations, and giving NPPD a name that reflects what it actually does will help better secure the nation's critical infrastructure and cyber platforms," Krebs said in a statement after Tuesday's House vote.
Homeland Security Sec. Kisrtjen Nielsen also praised passage of the bill, saying "we need to ensure we're properly positioned to defend America's infrastructure from threats digital and physical."
The renamed Cybersecurity and Infrastructure Security Agency will be responsible for overseeing the cybersecurity of federal computer systems and will be a government liaison on cybersecurity issues with critical infrastructure providers, such as banks, hospitals and airports
The bill that passed Tuesday also authorizes Homeland Security to transfer the Federal Protective Service, which is currently part of NPPD, to another location inside the department. The protective service is in charge of guarding federal facilities, devising security plans for those facilities and responding to threats or suspicious activities.