Biden's Top Priorities Offer Few Clues for Technology Policies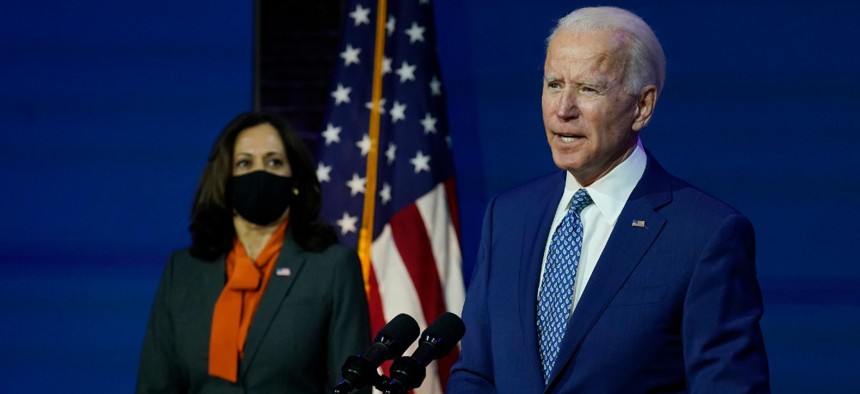 Washington policy experts believe President-elect Joe Biden's approach to big tech companies and regulation may differ from both the Trump and Obama administrations.
In the hours after the Associated Press and television networks called the election for President-elect Joe Biden and Vice President-elect Kamala Harris, the duo released a transition website detailing four priority areas: combating COVID-19, economic recovery, racial equity and climate change.
Technology makes an appearance in the transition materials in relation to expanding broadband internet access for Americans—an issue Biden has addressed before—but technology is noticeably absent in any policy or regulatory sense, leaving Biden's big tech agenda unclear. Adding to the list of current unknowns, whether Republicans or Democrats control the Senate—to be decided in a January runoff election in Georgia—could play a major role in shaping how a Biden/Harris administration addresses the tech industry.
"If we have a divided government, I think it's much more likely we land on legislation that is more friendly to industry, and so I think you'd be more likely to see fewer restrictions with how companies can use data," said Matt Schettenhelm, senior analyst for Bloomberg Intelligence.
Republican Senate control would force more consensus building between the parties on privacy- and tech-related legislation, Schettenhelm said.
It also further increases the importance administrative federal agencies, especially the Federal Trade Commission, Federal Communications Commission and Justice Department, will play in carrying out Biden's big tech agenda. Biden appointees at those agencies will be key for Washington tech policy experts as they decipher what that agenda may be, as are Biden's agency review teams, which the Biden transition team released Tuesday.
The teams include several executives from tech companies, including Amazon, Dell, LinkedIn, AirBnB, Uber and Lyft. The teams also feature some alumni of the Obama administration, which was considered relatively friendly with Silicon Valley companies. However, the agency review teams for DOJ and FTC include several tech critics with backgrounds in antitrust and scrutiny of tech firm's business practices.
Based on what he's seen so far, Aaron Cooper, vice president of global policy at BSA | The Software Alliance, said he expects the Biden administration to "take a serious look at how different parts of the tech industry behave." 
That could mean a continuous or expansion of the Trump administration's recent antitrust actions, which includes a DOJ antitrust suit against Google and FTC investigation of Facebook for possible antitrust violations. House Democrats, who will hold the majority, are likely to push for aggressive oversight of tech companies, with a recent 450-page House Judiciary Committee-led investigation into competition in digital markets serving as a blueprint for its priorities.  
Biden has previously voiced discontent with how social media platforms, especially Facebook, police content and mis- or disinformation. In January, he told the New York Times editorial board that he'd "never been a big [Mark] Zuckerberg fan," and called for Section 230 of the Communications Decency Act to be revoked. Section 230 is a federal law that gives legal cover to social media companies and websites for content posted on their platforms by their users. President Trump, too, has called for Section 230's revocation, while an assortment of Democrats and Republican lawmakers have called for changes to the law.
"I don't think you'll see a policy shift toward Silicon Valley or giving tech a free pass," Cooper said. "There's a lot of focus right now on making sure companies are acting responsibly. From an enterprise software perspective, that's something companies take very seriously."
Because there is bipartisan consensus that big tech requires regulation and federal privacy laws need revamping, Cooper said he'll be looking to the "culture within the administration and Congress of people working together" for clues toward how much may be accomplished. Tech policy, he said, is one of the few areas where lawmakers in both parties tend to find significant agreement. The devil will be in the details, he said, and in whether partisan rancor hinders results.
"If there's a really partisan next four years, overall it will be harder to find issues like privacy where we could find bipartisan consensus," Cooper said. "But there's an interest among members of Congress to work together where they can, and you can't say that's plausible about a lot of bills that get introduced into Congress."
While it is anyone's guess how well elected Democratic and Republican lawmakers get along in the coming years, tech policy experts do believe a Biden/Harris administration will attempt to engage industry through public-private partnerships and significant infrastructure investments.
"[Biden] is likely to focus on engaging government as a more active partner alongside industry in spurring innovation—but also as a tougher regulator of many tech industries and technologies," said Robert Atkinson, president of the nonpartisan Information Technology & Innovation Foundation.
 In a report released Nov. 7, ITIF suggests a Biden White House will push for public investment in rural broadband, closing the digital divide and education and training. The report further suggests a Biden/Harris administration will focus its innovation policy "on addressing social policy goals, more than competitiveness, productivity and national security goals."
"A simple way to frame the new administration's likely program on tech, innovation, and related trade policy is: more spending, more regulation, more multilateralism," Atkinson said.