Author Archive
Frank Konkel
Executive Editor, Nextgov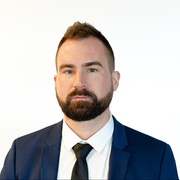 Frank Konkel is Nextgov's executive editor. He writes about the intersection of government and technology. Frank began covering tech in 2013 upon moving to the Washington, D.C., area after getting his start in journalism working at local and state issues at daily newspapers in his home state of Michigan. Frank was born and raised on a dairy farm and graduated from Michigan State University.
CIO Briefing
The appointments position the regulatory agencies to take a more aggressive stance against the tech industry.
CIO Briefing
Pete Buttigieg's addressed challenges and tech issues before senators Thursday.
CIO Briefing
The Biden-Harris administration announced a slew of new science- and cybersecurity-related appointments over the weekend.
---
IT Modernization
The agency's current IT work is guided by a strategic planning document that dates back to 2016.
CIO Briefing
The intelligence agency kicked off the program in December.
CIO Briefing
The bureau is combing through more than 100,000 pieces of digital media and expects to open more cases for a range of crimes including murder, sedition and theft of national security information.
Cybersecurity
A bipartisan group of four lawmakers said the State Department's proposed realignment would only serve to reinforce existing silos.
CIO Briefing
Though the margins are tight, the incoming president may nominate more progressive candidates for certain positions, experts say.
Cybersecurity
The Cyberspace Security and Emerging Technologies Bureau will address national security- and diplomatic-related tech issues.
IT Modernization
The recommendations come as the Social Security Administration embarks on a years-long IT modernization.
IT Modernization
The bill would provide $20 million in annual appropriations for the federal cloud security program.
CIO Briefing
For a second straight year, the Government Accountability Office dealt with fewer bid protests.
Policy
Experts expect momentum in improving service delivery and customer experience to continue under the coming Biden administration.
CIO Briefing
The team will be in charge of communicating with Americans once Biden takes office on Jan. 20.
IT Modernization
After bid protests and litigation, some of the largest cloud contracts the government has attempted can get underway. 
IT Modernization
Agency officials believe positive employee experiences translate to improved service delivery to its veterans.
CIO Briefing
The Veterans Affairs Secretary said the approval of a second vaccine allows the department to inoculate more health care providers and veterans.
CIO Briefing
The Alliance for Digital Innovation unveiled a series of legislative and policy proposals for President-elect Joe Biden to consider.
Cybersecurity
President-elect Joe Biden also promised to elevate cybersecurity "as an imperative" across government.
IT Modernization
Amazon Web Services asks the judge to toss out the contract award while Defense Department lawyers call the company's protest a "prohibited strategic gambit."