Author Archive
Frank Konkel
Executive Editor, Nextgov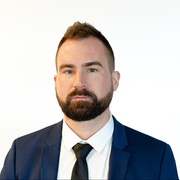 Frank Konkel is Nextgov's executive editor. He writes about the intersection of government and technology. Frank began covering tech in 2013 upon moving to the Washington, D.C., area after getting his start in journalism working at local and state issues at daily newspapers in his home state of Michigan. Frank was born and raised on a dairy farm and graduated from Michigan State University.
IT Modernization
Charles Rettig told senators the agency needs increased resources to address aging tech systems and years of personnel cuts. 
CIO Briefing
The projects address economic, health and safety risks caused by the coronavirus pandemic.
Policy
Gina Raimondo said President Biden's $2 trillion infrastructure proposal will be key in out-competing China.
---
Data
The contract is Palantir's first at the National Nuclear Security Administration.
IT Modernization
The strategic plan will be core to the agency's modernization efforts.
CIO Briefing
The U.S. Census Bureau's customer experience chief encouraged agencies to embrace small gains.
CIO Briefing
The guidance had been eliminated by the Trump administration during the lame-duck session in late December.
Emerging Tech
Multiple drivers are pushing federal agencies and industry toward AI technologies.
Data
The bill outlines "reasonable" duties of care, loyalty and confidentiality for companies to follow or face fines.
CIO Briefing
The survey also showed significant levels of distrust in some emerging technologies.
Policy
The legislation would make changes to Section 230 of the Communications Decency Act.
Policy
The legislation would require companies to write their privacy policies in plain English.
CIO Briefing
Breaking down the tech funding in the American Rescue Act.
CIO Briefing
President Biden tapped former IARPA Director Jason Matheny for roles on the National Security Council and White House OSTP.
CIO Briefing
The federal government turned to technology during an unprecedented 2020 marked by the COVID-19 pandemic.
IT Modernization
The tech group's director said each time an individual interacts with the government is an opportunity.
Cybersecurity
Christopher Wray told lawmakers tech companies are the ones making policies about encryption.
IT Modernization
The fund gets a second chance at a boost after a $9 billion proposal didn't make it to the House-passed bill.
CIO Briefing
A Labor Department Inspector General memo suggests a massive uptick in fraudulent unemployment claims brought on by COVID-19.
CIO Briefing
William Burns also said he'd look to build morale at the agency in part by speaking "truth to power."