Author Archive
Frank Konkel
Executive Editor, Nextgov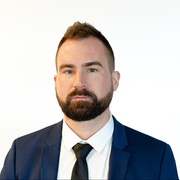 Frank Konkel is Nextgov's executive editor. He writes about the intersection of government and technology. Frank began covering tech in 2013 upon moving to the Washington, D.C., area after getting his start in journalism working at local and state issues at daily newspapers in his home state of Michigan. Frank was born and raised on a dairy farm and graduated from Michigan State University.
Emerging Tech
The Air Force solicitation outlines seven mission areas it's looking to support, including citizen welfare.
IT Modernization
The Defense Department defended its request for a four-month remand while it addresses issues raised by Amazon's lawsuit over the multibillion-dollar cloud contract.
CIO Briefing
The Trump administration needs to clarify relief guidance for defense and intelligence community contractors regarding pay and sick leave, according to Sen. Mark Warner.
---
CIO Briefing
Emergency medical supplies peddled by price gougers were redistributed to front line medical personnel in New York and New Jersey.
CIO Briefing
The Defense Department is ramping up the purchase of certain items, including ventilators, in response to the COVID-19 outbreak.
IT Modernization
Microsoft achieved a provisional authorization to host Defense Department data classified as secret.
CIO Briefing
Portions of the Senate's stimulus bill address immediate technological challenges for government.
CIO Briefing
The Health and Human Services Department warns that scammers are attempting to get real Medicare and Medicaid numbers to fraudulently bill the government. 
IT Modernization
Amazon Web Services said the Pentagon's plan to fix the Joint Enterprise Defense Infrastructure cloud contract is not enough. 
CIO Briefing
Lawmakers continue to push for more telework options for federal employees.
CIO Briefing
During the coronavirus outbreak, the Veterans Affairs Department got a greenlight to rehire experts and the Justice Department clarified its stance on working in states with shelter-in-place orders. 
CIO Briefing
Congress continues to seek answers from the executive branch regarding responses to the COVID-19 outbreak.
CIO Briefing
It's the latest push by lawmakers on the executive branch to be more transparent in its COVID-19 response.  
IT Modernization
California Rep. Doris Matsui doesn't want those who lose jobs during the coronavirus outbreak to lose internet connectivity.
CIO Briefing
An increasing number of senators and representatives calling on President Trump to order telework to eligible federal employees and contractors.
IT Modernization
The IRS isn't capitalizing on its cloud strategy as it should be.
CIO Briefing
The Pentagon plans to revise its JEDI procurement following Amazon's bid protest.
Data
Airline officials that don't comply with a new rule could face $500,000 fines and jail time.
CIO Briefing
The Pentagon's purchase of a cloud-based office suite will be held up again.