New 'Hyperspace Challenge' aims to pair mature space tech with DOD, Space Force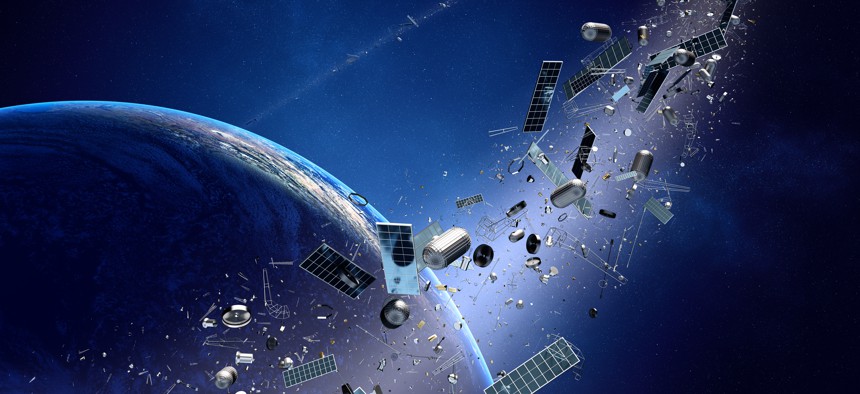 For the first time, the Space Force Rapid Capabilities Office is partnering with the 2023 Hyperspace Challenge accelerator in an effort to identify companies with existing, mature space technology solutions and potentially link them up with the Defense Department and U.S. Space Force.
This year's Hyperspace Challenge marks the sixth iteration of the business accelerator, which seeks to build relationships between emerging industry players and the U.S. government to drive innovation for the growing space domain.  
The current challenge is designed to develop products to increase space visibility to reduce the risks posed by objects in orbit, advancing space vehicle autonomy to reduce ground-operator workload and increasing the lifespan and maneuverability of space-based vehicles.
The three-month accelerator program — a partnership between the Air Force Research Laboratory,  Space Force RCO, the economic development arm of Central New Mexico Community College and the New Mexico Institute of Mining and Technology — culminates with an in-person event to be held Nov. 1-3, 2023 at Q-Station in Albuquerque, New Mexico.
"Hyperspace is always looking for ways to grow," Lauren Hunt, AFRL deputy program manager for the Space Force Accelerators Program, said in a statement. "Our goal is to really deepen connections and relationships among different communities. Every year we try to bring together a diverse group of communities who have different perspectives and concepts, so we can seek out the most innovative ideas. We look at viewpoints we haven't considered before."
According to Matt Fetrow, Space Force RCO communication director, the program specifically seeks companies and organizations that have "mature products and services or technologies" in Space Force RCO's interest areas. Those areas include increasing space visibility and awareness, advancing space analysis and vehicle autonomy and increasing the lifespan and maneuverability of such vehicles.