Author Archive
Frank Konkel
Executive Editor, Nextgov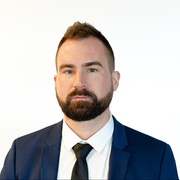 Frank Konkel is Nextgov's executive editor. He writes about the intersection of government and technology. Frank began covering tech in 2013 upon moving to the Washington, D.C., area after getting his start in journalism working at local and state issues at daily newspapers in his home state of Michigan. Frank was born and raised on a dairy farm and graduated from Michigan State University.
IT Modernization
Collectively, the federal government improved its oversight grades in IT modernization.
Cybersecurity
About one-third of the state and federal IT officials who responded said they faced a ransomware attack in the last three years. 
IT Modernization
Microsoft and Defense Department officials will meet for three days to discuss the cloud project despite Amazon lawsuit.
---
Emerging Tech
The company alleges the president's public beef with Amazon CEO Jeff Bezos influenced "substantial and pervasive errors" in the Defense Department's technical evaluation of bids.
IT Modernization
The head of Amazon Web Services isn't pulling punches at the company's global summit in Las Vegas.
Policy
The junior senator from New Hampshire became the caucus' 17th member.
Data
The bill would make companies subject to fines from the Federal Trade Commission if they poorly protect data.
IT Modernization
Cloud-based services continue to change the way organizations offer IT services.
CIO Briefing
President Trump's public remarks are part of Amazon's legal protest of the Pentagon's JEDI decision.
Emerging Tech
The Defense Department is embracing the alternative procurement method but could use more oversight of the deals, a Government Accountability Office audit found.
IT Modernization
Veterans Affairs Department officials testified they're continuing with plans to roll out their new electronic health record system in early 2020.
Cybersecurity
Federal Chief Information Security Officer Grant Schneider outlined the Federal Acquisition Supply Chain Council goals for 2020.
IT Modernization
Amazon will fight over the $10 billion cloud contract that the Pentagon awarded to Microsoft in October.
CIO Briefing
Lessons learned from the 2018 shutdown suggest government contractors should prepare all they can for a potential 2019 shutdown.
Emerging Tech
A report commissioned by industry and government AI leaders highlights national security challenges around artificial intelligence.
CIO Briefing
Companies filed 16% fewer bid protests in fiscal 2019 than the year prior.
Cybersecurity
Research firm Forrester experts criminals and bad actors to weaponized artificial intelligence and machine learning, and the results won't be pretty.
IT Modernization
In a $10 billion upset, after months of legal and Trump-fueled political controversy, Amazon loses out to a competitor.
By

Patrick Tucker and Frank Konkel
Policy
The SHIELD Act would require political campaigns to report offers of campaign assistance from foreign powers to the FBI.
IT Modernization
The Pentagon's acquisition team will continue its review of bids submitted by Amazon Web Services and Microsoft, as the department's deputy secretary of defense takes over the process. 
By

Heather Kuldell and Frank Konkel