Author Archive
Frank Konkel
Executive Editor, Nextgov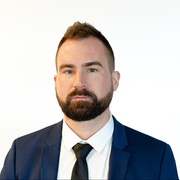 Frank Konkel is Nextgov's executive editor. He writes about the intersection of government and technology. Frank began covering tech in 2013 upon moving to the Washington, D.C., area after getting his start in journalism working at local and state issues at daily newspapers in his home state of Michigan. Frank was born and raised on a dairy farm and graduated from Michigan State University.
Emerging Tech
Proposals for the Defense Intelligence Agency's SITE III contract are due Aug. 21.
Cybersecurity
China is ramping up illegal activity to subvert the U.S. during the pandemic, according to FBI Director Chris Wray.
---
Emerging Tech
The subcommittee wants assurances from Amazon that its Ring doorbell camera isn't being misused by law enforcement.
Policy
The bill follows an audit that found the IRS sent $1.4 billion in stimulus checks to deceased individuals.
IT Modernization
The Navy is running $70 billion in annual financial transactions in Amazon Web Services' GovCloud.
CIO Briefing
The coronavirus has increased uncertainty in the public sector market.
IT Modernization
The agency raises the ceiling again for the popular small business set-aside contract. 
Cybersecurity
Respondents are more worried about their personal safety and the economy.
Emerging Tech
Customers have increased their reliance on chatbots and self-support sessions since the coronavirus began.
CIO Briefing
The JEDI contract will not be awarded until at least August.
Policy
Lawmakers aim to beef up the government's tech prowess and put protections on American intellectual property and talent. 
Emerging Tech
Want to hack a satellite? Come work for the Defense Department, one of its leading talent officials said.
Emerging Tech
The bill would enable the Defense Department to ramp up hiring AI and cyber professionals.
Podcasts
The Veteran Experience Office has been instrumental in ensuring veterans' voices are heard and acknowledged, even amid a global pandemic.
CIO Briefing
IGs may have more work to do regarding the government's coronavirus response.
IT Modernization
In the works since 2018, the Pentagon's Defense Enterprise Office Solutions contract remains on hold.
CIO Briefing
Among many recommendations, the Congressional watchdog suggested IGs only be removed for just cause.
Data
Congress continues to seek answers from federal agencies regarding their response to nationwide protests.
CIO Briefing
The agency is following White House guidance to improve customer service delivery, beginning with getting more input from actual customers.