Author Archive
Frank Konkel
Executive Editor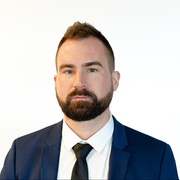 Frank Konkel is Nextgov's executive editor. He writes about the intersection of government and technology. Frank began covering tech in 2013 upon moving to the Washington, D.C., area after getting his start in journalism working at local and state issues at daily newspapers in his home state of Michigan. Frank was born and raised on a dairy farm and graduated from Michigan State University.
IT Modernization
The General Services Administration urged industry partners to comment before the holidays if they have input for the proof-of-concept stage.
IT Modernization
With the U.S. Court of Federal Claims addressing a similar case, the Government Accountability Office dismissed IBM's protest.
CIO Briefing
Eleven agencies increased their grade and 13 remained the same.
---
Emerging Tech
The Center for Data Innovation released a report with six goals and 40 recommendations to keep the U.S. at the forefront of artificial intelligence.
IT Modernization
After a failed bid protest effort, Oracle has taken its issues with JEDI to the U.S. Court of Federal Claims.
Emerging Tech
Technicians have identified a software glitch in the GOES-17 weather satellite it launched in March.
Cybersecurity
The agency identifies four priorities and six goals to address
Emerging Tech
A report from the National Academies of Sciences, Engineering, and Medicine suggests encryption-cracking quantum computers are possible, but won't be built in the immediate future.
IT Modernization
The FBI is the latest intelligence agency to partner with Amazon Web Services.
Emerging Tech
Amazon launched a new service that can port data from commercial satellites directly into its cloud.
CIO Briefing
A subsequent bid protest filed by IBM remains up in the air for the Pentagon's $10 billion cloud contract.
Emerging Tech
The military is spending millions on RFID to track supplies, vehicles and other shipments, and recently exercised a second option on a $102 million RFID contract.
CIO Briefing
The Pentagon's JEDI procurement continues to stir controversy.
CIO Briefing
After weeks of speculation around his performance, John Gibson announced his resignation effective Nov. 30.
IT Modernization
Amazon's presence in the Beltway is set to grow, according to The New York Times.
CIO Briefing
One of the biggest tech acquisitions ever revolves around cloud computing.
IT Modernization
Microsoft firmly committed to supporting the U.S. military but could shift employees who have ethical concerns about some projects to other work.
IT Modernization
The Defense Department's partnership with the General Services Administration leads to a rethought Defense Enterprise Office Solutions competition.
Cybersecurity
The Centers for Medicare and Medicaid Services acknowledged 75,000 people's records were accessed but haven't disclosed who might be behind it.