Author Archive
Frank Konkel
Executive Editor, Nextgov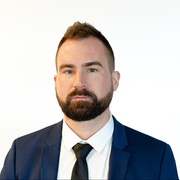 Frank Konkel is Nextgov's executive editor. He writes about the intersection of government and technology. Frank began covering tech in 2013 upon moving to the Washington, D.C., area after getting his start in journalism working at local and state issues at daily newspapers in his home state of Michigan. Frank was born and raised on a dairy farm and graduated from Michigan State University.
CIO Briefing
The group expects the Biden administration to expand IT modernization efforts, in part to respond to COVID-19.
IT Modernization
The agency has awarded a contract to bring foundational cloud services from multiple cloud service providers into the intelligence community.
CIO Briefing
Government management experts offered advice to the incoming presidential administration regarding how to continue customer experience progress.
---
IT Modernization
The legislation would ensure the General Services Administration's IT modernization initiative continues to the next administration.
Emerging Tech
The Select Committee on Artificial Intelligence outlined ways agencies can approach commercial cloud computing for research and development. 
CIO Briefing
The Department of Veterans Affairs announced partnerships with other agencies Tuesday in an effort to prep for a possible COVID-19 vaccine distribution.
IT Modernization
The cookbook is meant to serve as a resource for CX practitioners across government.
Policy
A split Congress makes major internet policy changes even more unlikely.
Policy
The federal government continues to run monthly budget deficits in the hundreds of billions of dollars.
Policy
Washington policy experts believe President-elect Joe Biden's approach to big tech companies and regulation may differ from both the Trump and Obama administrations.
CIO Briefing
The latest award comes with a significantly lower projected ceiling than previously cited.
CIO Briefing
The coronavirus pandemic had little impact on agencies' scores, according to Forrester's 2020 U.S. Federal Customer Experience Index.
CIO Briefing
But one in three says bad internet connections would be a deal breaker.
Emerging Tech
It's an important discovery that could impact future Moon missions.
CIO Briefing
Proactive federal agencies are recruiting where the talent is: online.
CIO Briefing
Cross-pollination and communication among agencies are helping build the discipline of customer experience across government.
Emerging Tech
The legislation would remove liability immunity from Section 230 of the Communications Decency Act.
CIO Briefing
Working from home introduces new challenges for employees.
CIO Briefing
The budget deficit tripled to a record $3.1 trillion—another all-time record.