Author Archive
Frank Konkel
Executive Editor, Nextgov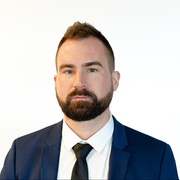 Frank Konkel is Nextgov's executive editor. He writes about the intersection of government and technology. Frank began covering tech in 2013 upon moving to the Washington, D.C., area after getting his start in journalism working at local and state issues at daily newspapers in his home state of Michigan. Frank was born and raised on a dairy farm and graduated from Michigan State University.
IT Modernization
The tech group's director said each time an individual interacts with the government is an opportunity.
Cybersecurity
Christopher Wray told lawmakers tech companies are the ones making policies about encryption.
IT Modernization
The fund gets a second chance at a boost after a $9 billion proposal didn't make it to the House-passed bill.
---
CIO Briefing
A Labor Department Inspector General memo suggests a massive uptick in fraudulent unemployment claims brought on by COVID-19.
CIO Briefing
William Burns also said he'd look to build morale at the agency in part by speaking "truth to power."
CIO Briefing
The pair asked cable, satellite and streaming TV companies about conspiracy-related content ahead of a Feb. 24 hearing.
CIO Briefing
CISA announced a new deputy director, executive assistant director for cybersecurity and executive assistant director for infrastructure security.
Data
The agency aims to set expectations around who can manage, view and access veteran data.
IT Modernization
The Veterans Affairs Department told auditors it will move on with deployments while addressing test findings. 
CIO Briefing
Neera Tanden cited cybersecurity as one of her top priorities and pushed for Congress to add to the Technology Modernization Fund.  
CIO Briefing
The lawmakers want timelines and operational details from 22 government agencies and offices leading up to the Jan. 6 breach of the building.
CIO Briefing
A Forrester report offers suggestions for tech leaders looking to develop a modern tech strategy that allows for emerging technologies.
IT Modernization
It's the most the federal government has ever spent on cloud computing services.
CIO Briefing
Overall, more than one in three feds attribute burnout to COVID-19 circumstances.
IT Modernization
The milCloud 2.0 contract offers an expanded suite of cloud offerings and services to defense agencies.
IT Modernization
The department still urgently needs an enterprise cloud and indicates it may consider other options.
By

Frank Konkel and Mila Jasper
CIO Briefing
The funding would come from President Joe Biden's $1.9 trillion COVID-19 relief plan.
CIO Briefing
The IRS announced its first senior leadership position under the Taxpayer First Act.
Cybersecurity
Whoever is behind the site is using the Federal Trade Commission's logo and address.
Cybersecurity
While the agency had six major privacy incidents, the privacy office fell short in numerous areas.