Author Archive
Frank Konkel
Executive Editor, Nextgov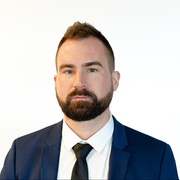 Frank Konkel is Nextgov's executive editor. He writes about the intersection of government and technology. Frank began covering tech in 2013 upon moving to the Washington, D.C., area after getting his start in journalism working at local and state issues at daily newspapers in his home state of Michigan. Frank was born and raised on a dairy farm and graduated from Michigan State University.
Cybersecurity
The National Security Agency has a new state-of-the-art center and a new attitude about sharing its threat information.
Emerging Tech
The nation's weather agency is looking for new tech ideas that could beef up its data collection and forecasting efforts.
IT Modernization
Officials from the U.S. Patent and Trademark Office, Transportation Security Administration and Office of Federal Student Aid explained what's worked in improving customer experience.
---
IT Modernization
The General Services Administration will rework the Defense Enterprise Office Solutions contract to address a bid protest.
Cybersecurity
A Nigerian national appeared in court Thursday facing charges over a $1 million phishing scheme that targeted vendors under the General Services Administration.
CIO Briefing
Alan Thomas, GSA's top acquisition executive, is leaving the agency for a private-sector position.
Cybersecurity
Old exploits never die, according to a recent industry report.
CIO Briefing
More than two dozen high impact service provider agencies shared their current and future investments.
Cybersecurity
The IRS' bring-your-own-device program could increase the risk of data leakage, according to the Treasury Inspector General.
Emerging Tech
The chief information officers from the departments of Health and Human Services, Justice and the General Services Administration offered emerging tech ideas to feds.
CIO Briefing
Michael Wooten, the new administrator for the Office of Federal Procurement Policy, wants contracting professionals to meet 21st-century tech challenges head-on.
CIO Briefing
GSA will usher certain agencies through Paperwork Reduction Act regulations to meet the administration's customer experience goals.
IT Modernization
The Government Accountability Office will make a decision on the protest by Dec. 18
Data
Pew Research Center's study is the latest to conclude Americans are growing more comfortable with having their faces scanned.
Emerging Tech
A Hawaii lawmaker said Congress needs more focus—and expertise—on the many threats China poses to the U.S.
CIO Briefing
A bill to modernize constituent services is now the law of the land.
CIO Briefing
They drive every decision Navy Federal Credit Union makes regarding their members.
IT Modernization
The Pentagon's IG is reviewing complaints from multiple sources.
IT Modernization
The Pentagon defended its JEDI acquisition Friday and pushed back against "myths" and misinformation.
Policy
The next step for one bill is President Trump's desk.