Author Archive
Frank Konkel
Executive Editor, Nextgov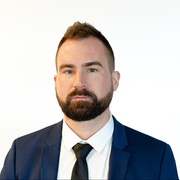 Frank Konkel is Nextgov's executive editor. He writes about the intersection of government and technology. Frank began covering tech in 2013 upon moving to the Washington, D.C., area after getting his start in journalism working at local and state issues at daily newspapers in his home state of Michigan. Frank was born and raised on a dairy farm and graduated from Michigan State University.
Policy
There is still a chance federal contractors unpaid during the 35-day shutdown could get back pay.
CIO Briefing
Once again, only the National Park Service scored on par with the industry average.
IT Modernization
Cloud computing is changing the way U.S. spy agencies meet their missions.
---
Data
Salesforce is positioning itself as more of a federal player with its purchase of Tableau.
Cybersecurity
A Defense Department inspector general audit says JRSS isn't working like it is supposed to.
Policy
The Government Accountability Office also flagged a lack of oversight for many of the department's mid-tier programs.
Cybersecurity
The National Security Agency is warning Microsoft Windows administrators to patch and update systems due to a new vulnerability called "BlueKeep."
IT Modernization
The agency can tap a pool of 22 vendors for modernization initiatives.
IT Modernization
The $35 million is a middle ground funding number between what the administration proposed this year and what the fund received last year.
CIO Briefing
VA is on a mission to improve the veteran experience across every service it provides.
CIO Briefing
The Office of Personnel Management wants agencies to prepare for the workforce of the future.
CIO Briefing
The Pentagon's nerd squad is rethinking how it hires talent in fields like cybersecurity, computer science and user experience design.
IT Modernization
A limited review by the inspector general found the agency had paid of unallowable costs.
CIO Briefing
Congress wants to eliminate tens of millions of dollars wasted annually on benefits payments to the deceased.
Policy
The CASES Act is one of several customer experience-related bills Congress is considering.
Data
Officials hope improving the customer experience for citizens will boost the participation rate for the Census Bureau's biggest undertaking.
IT Modernization
Oracle filed a 125-page amended complaint with the U.S. Court of Federal Claims.
IT Modernization
An open source tool called LEAF is saving the Veterans Affairs Department time, resources and perhaps millions in taxpayer dollars.
CIO Briefing
The White House recognized two dozen federal employees for delivering outstanding public service.
Policy
The bill, which cleared the Senate in 2017 and the House in 2018, again has House sponsors.