Author Archive
Frank Konkel
Executive Editor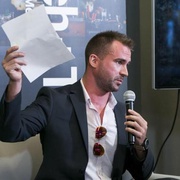 Frank Konkel is Nextgov's executive editor. He writes about the intersection of government and technology. Frank began covering tech in 2013 upon moving to the Washington, D.C., area after getting his start in journalism working at local and state issues at daily newspapers in his home state of Michigan. Frank was born and raised on a dairy farm and graduated from Michigan State University.
CIO Briefing
A combination of factors will see federal agencies trying to spend as much as 40 percent of their budgets in the final two months of the fiscal year.
IT Modernization
It's the first protest against the $10 billion cloud contract so far.
Emerging Tech
The second satellite in NOAA's $11 billion GOES program continues to experience issues with its most important instrument and officials still aren't sure what's wrong.
CIO Briefing
Respondents found some recurring challenges were offset by an improvement in acquisition talent.
IT Modernization
The plans would force government to get digital, as well as improve the way it provides services to citizens.
By

Aaron Boyd and Frank Konkel
CIO Briefing
A new report rates how federal agencies provide customer experience.
IT Modernization
The government wants to get a better grip on the money it invests in IT and digital services.
IT Modernization
Officials say the Defense Department's multibillion Defense Enterprise Office Solutions contract is expected to be bid out in the fourth quarter of this fiscal year.
IT Modernization
For the first time, the Pentagon's JEDI cloud procurement has hit a time snag.
IT Modernization
Documents indicate the Army's National Ground Intelligence Center aims to provision secret and top secret cloud services from the Amazon-developed C2S Cloud.
IT Modernization
The cloud offering is close to meeting stringent requirements to host secret and top secret classified data.
CIO Briefing
Eleven agencies dropped and five agencies improved in Congress' latest FITARA scorecard.
IT Modernization
The announcement could improve the company's chances for the Defense Department's JEDI competition.
Emerging Tech
The Pentagon's JEDI cloud will be designed to store the government's most sensitive classified information, including nuclear secrets.
IT Modernization
A memo from the Pentagon's chief information officer issues a timeline for some agencies to migrate to the cloud.
Emerging Tech
Executives from nearly 40 companies will discuss ramifications and regulations of artificial intelligence with White House officials.
IT Modernization
A group representing 80 technology companies is asking Congress to make sure the cloud procurement is a transparent process.
IT Modernization
Amazon and Google are taking on defense contractors in a heated battle for billions in government contracts.
CIO Briefing
This cloud is focused on collaboration and business tools.