Author Archive
Frank Konkel
Executive Editor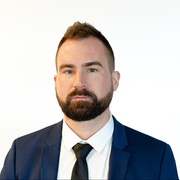 Frank Konkel is Nextgov's executive editor. He writes about the intersection of government and technology. Frank began covering tech in 2013 upon moving to the Washington, D.C., area after getting his start in journalism working at local and state issues at daily newspapers in his home state of Michigan. Frank was born and raised on a dairy farm and graduated from Michigan State University.
Emerging Tech
Here are some of the interesting projects Congress funded at civilian agencies.
Cybersecurity
Under Congress' budget deal, the Homeland Security Department will receive $33 million to combat foreign influence campaigns and defend election security in fiscal 2019.
IT Modernization
PTC Cloud Services joins an elite group of cloud offerings to meet some of the Defense Department's most stringent security requirements.
---
Data
GOES-17 is operational and monitoring weather in the Pacific and western United States.
Cybersecurity
A study says the U.S. is above average when it comes to cybersecurity, but it's not the best nation.
Emerging Tech
The company called for "open, honest and earnest dialogue" instead of a ban.
Emerging Tech
One of the Pentagon's new research programs could see biosensors, actuators and even artificial intelligence implanted in soldiers to speed up the body's healing processes.
CIO Briefing
The nonprofit, nonpartisan group urged Congress and the president to come together.
Emerging Tech
Groups are speaking out against a congressional proposal to up spending on surveillance tech on the border.
IT Modernization
The Defense Department expects multiple providers to support the different kinds of clouds of its missions.
IT Modernization
The company's offerings are to support disaster response and military efforts in remote or network-deprived locations.
CIO Briefing
Tech and defense contractors share lessons learned during this lengthy government shutdown.
CIO Briefing
Rebooting the government after a shutdown is not an immediate process and contractors are waiting for invoices to be paid.
CIO Briefing
Some agencies saw double-digit growth in pursuit of modern systems.
Emerging Tech
Top U.S. intelligence officials had a lot to say about tech at the Senate Select Committee on Intelligence hearing.
CIO Briefing
After a strategy change late last year, the Information Technology Industry Council has picked a new chief executive officer.
CIO Briefing
Small government contractors are choosing between laying off employees and going out of business.
Cybersecurity
Disruptive technologies will democratize capabilities previously available only to nation-states with plenty of resources.