Customer satisfaction with government jumps again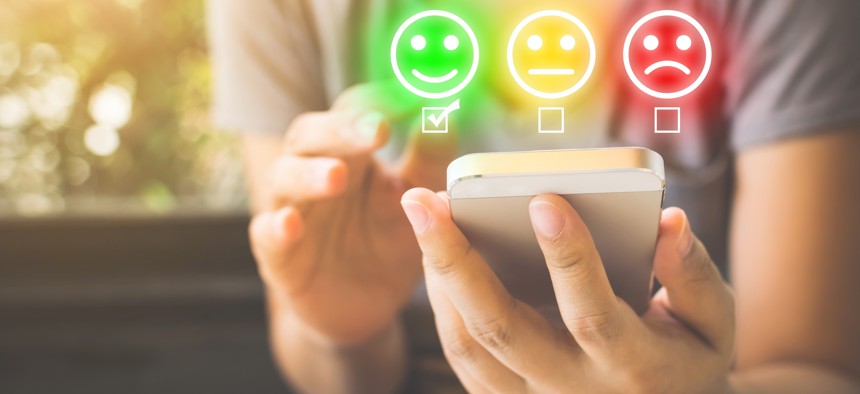 Citizen satisfaction increased almost 3% in 2023, according to the latest data from the American Customer Satisfaction Index.
Customer satisfaction with U.S. federal government services jumped 2.9% to a score of 68.2 out of 100 this year, according to the American Customer Satisfaction Index Federal Government Report 2023.
Released Nov. 14, the report suggests the COVID-19 pandemic severely challenged federal service delivery and subsequently led to 2021 marking the lowest satisfaction score — just 63.4 — in more than 20 years. Last year, as federal services normalized in the wake of the pandemic, customer satisfaction jumped nearly 5%.
"Collectively, these two large gains have returned citizen satisfaction to levels not seen since long before the onset of the COVID-19 pandemic," Forrest Morgeson, associate professor of marketing at Michigan State University and director of research emeritus at the ACSI, said in a statement. "The data suggests that citizens are happier with their federal government interactions than at any time since 2018."
The ASCI Federal Government Report indicates gains were made by government agencies across four performance areas: process, information, customer service and websites.
From 2022 to 2023, the single largest improvement was in website perception, up 13%, while professionalism of customer service improved 8.3% and efficiency and ease of government processes ticked up another 6.1%.
The report indicates that while satisfaction remained steady at a score of 71 year over year among respondents who identified as Democrats, it improved among Republicans — up 1.5% to 67 — and Independents — up 4.8% to 66.
"Improvement among these political groups is thus largely responsible for driving the overall improvement in citizen satisfaction with the federal government," the report states.
The ASCI Federal Government Report 2023 is based on surveys and interviews with more than 800 federal government service users. The report comes as the Biden administration tweaks policy to promote better customer experience across the federal government and as lawmakers attempt to pass legislation that would require agencies to designate a senior official to implement customer service improvements.