How the U.S. Postal Service is doing cloud 'right'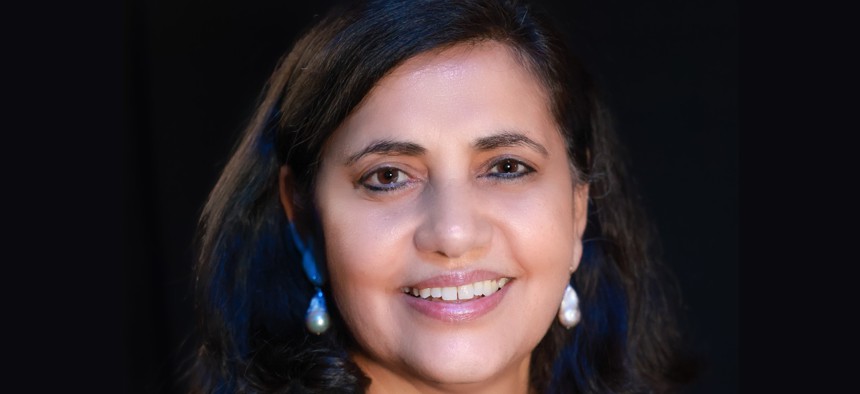 Founded in 1775, the U.S. Postal Service is among the oldest federal agencies, yet its recent modernization efforts have it positioned perfectly for today's digital age. While its mail carriers deliver nearly a half billion mail pieces each day, 52 million Americans digitally preview their mail through the Postal Service's Informed Delivery service, and another 10 million Americans visit usps.com each day. Its sprawling collection of more than 31,000 post offices nationwide is now buoyed by a growing catalog of more than 900 applications and an equally impressive 110 petabytes of data on everything from mailing addresses to delivery times.
Cloud computing underpins the Postal Service's recent modernization effort and its ability to deliver a digital experience to customers. Nextgov/FCW discussed these efforts with Postal Service Chief Information Officer Pritha Mehra in an Oct. 19 interview, which has been edited for clarity and length.  
Nextgov/FCW: Pritha, let's get into the Postal Service's cloud journey. Over the last few years, I've heard it described internally as "cloud-right" as opposed to what we typically hear on the federal side, or "Cloud-Smart." So tell us a little bit about that.
Mehra: We started the cloud journey pretty early on. And the way we're doing this cloud journey is no lift and shift or any of that stuff. We basically look at business objectives. So what are our mission critical systems, applications and business needs? And then based on those business needs, we decide where we want to go.
And one of the first things I did as a CIO was build an architecture team. Because architects are really important. We used to have eight architects; we now have over 50 because they're the ones that really drive it. So I don't really care whether it's cloud, or here or there, we care about what the mission critical system or mission or application or business needs are that we're trying to solve.
And then the other thing we do, and we've started doing really well, is understanding the best of breed in the market. We have a multi-cloud environment, we have all three large players, and we have to because, depending on the [software-as-a-service] product you're buying — whether it's payroll, whether it's HR, they're going to run on the cloud environment they have, and we have to make it work.
Nextgov/FCW: How do you make the decision on which cloud provider to go with for each application?
Mehra: We rely on Gartner a lot, I will tell you we start with always looking at the magic quadrants and we do extensive research. One of the things we've changed in our organization: the whole [request for information, request for proposals] process. Instead of doing an RFI — request for information — we invite the best in class to come in and chat with us. And we ask them to share the solutions with us. We bring in all tech experts, so that informs what we're going to ask for in the RFP.
And one of the things you have to do in your own organizations is commit to change. Because we always say, "hey, we are the government, we do things our way." One of the things we've been doing in the CIO organization is firstly learning the business of the business, and then telling them they have to change. Like, I am not going to allow you to buy a SaaS product, and then customize the hell out of it. So, let's learn how the best in breed are running their logistic systems, how they pay their providers, and that's what we're going to do. We don't really say, 'hey, I want to go to cloud A or cloud B or cloud C. That's never the discussion. The discussion always is, what is the business need that you are trying to solve? And based on that, let's select the best business value proposition.
Nextgov/FCW:  One of those efforts I think that might be worth highlighting is Informed Delivery, which is a service the Postal Service unveiled a few years ago. I'd love to hear how that's changed.
Mehra: [Informed Delivery] takes pictures of your mail piece, and every day you can see what packages of mail are coming to your house that day. We have 59 million subscribers. And you know, we issue a crazy amount of emails every day showing you pictures of your mail pieces, and we want to do this by 10 o'clock in the morning.
So we decided to take that aspect of it to the cloud and there are some lessons on that. One is to understand the cost drivers in cloud. So sandboxing, to understand, they'll give you a price, but you had better assess your own price. So we actually ran a pilot, where we had [two] cloud providers run an application of generated emails and we benchmarked everything. And that's how that's how we chose the cloud provider that we did actually, because they were clearly ahead in a lot of the benchmarking in the composition, the timing of the emails, and the costs — the costs that we were provided versus the cost that we actually calculated through the calculators, and there was a marked difference. So it is really important to understand your entire data journey in the cloud, the egress costs, to get a full picture of your departments.
Nextgov/FCW: What are some more practical tips for IT executives or CIOs? 
Mehra: One of the things we do really right is what we call an architectural assessment. We draw out the current state, we understand all the network paths, we understand all the integrations, we understand all the data that has to move back and forth. And then we design the future state.
The other thing is: it's important to do this with the right team. So in our partnership model we have architects, we have our infrastructure network people, we have a [chief information security officer] who has to be there from the start, and then the business. And we work jointly with the business to establish joint goals of what they want to achieve.
Nextgov/FCW: You said you don't do lift and shift. Is there a specific reason for that?
Mehra: I would lose my job if I did lift and shift. I have 950 applications. I am not about to ship them all to the cloud. Because when you think about moving to the cloud, and you really want to do it right, you have to rewrite your applications. Some of them are doing their job and doing that perfectly well. For me to move them, I would have to rewrite them, and for what value? And again, we don't ever look at it as moving to the cloud. We look at it as modernizing an ecosystem.
Nextgov/FCW: I understand you recently stood up a Chief Data and Analytics Office?
Mehra: The primary goal of this group is to drive and leverage data to the hilt to promote it. We are bringing a common understanding of data, the nomenclature, the categorization of data, and then how are you driving the business value? What are those critical metrics that should flow through the entire organization, from a national view, to a user view, to an operational view, to you know, someone in the field. And that's been very interesting for us to do bringing the structure, again, working very closely with our business partners, our logistics providers. So that's what the CDU is doing now: establishing enterprise data strategies.
Nextgov/FCW: Let's conclude by talking about how you're using artificial intelligence.
Mehra: I think if you don't adopt it, you'll be left behind. So you have to bring machine learning and AI into the fold. And we have to do it responsibly in the government organization. So we've set up a group where we're actually defining the principles and the management strategies around it. We've been using machine learning in many different ways, language learning models for call centers, predicted delivery models for telling you where your packages are when you're expecting to get them.
So, what we're doing is essentially setting up the sort of structures behind how to use it. We're setting up sandboxes, but very regulated, because you want to be really clear, we don't leave it and open it up to the public anytime soon. It's really to drive the mission value. And there's so many applications for it. So we are committed, I mean, we already have a lot of it in our environment when it comes to machine learning. And I do believe that that's going to help us moving forward.