DHS Digital Service is Taking Paper Out of the Immigration Process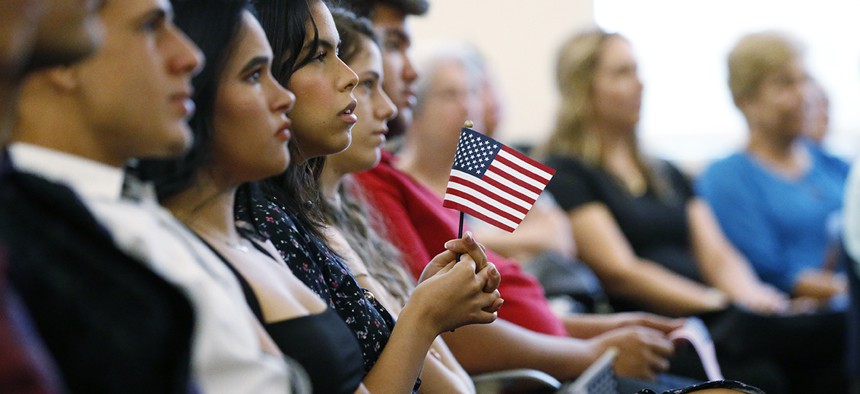 The Digital Service works side by side with agency employees to tackle some of their most backlogged processes.
As lawmakers and White House officials butt heads over border walls and immigration policy, a small group of developers is working to make the process of entering the country faster for newcomers and easier for the feds who vet them.
For more than three years, the Homeland Security Department Digital Service team has worked behind the scenes to modernize the government's system for admitting immigrants and asylum seekers to the U.S. As a branch of the White House U.S. Digital Service, the team can largely steer clear of the immigration debates that today consume mainstream politics and focus on developing new technologies that benefit everyone, said Executive Director Stephanie Neill.
"We still have the same mission: help improve the delivery of government services to people," Neill told Nextgov. "We don't look for partisan work. We look for efficiency-based improvements where … everybody wins. That's the biggest impact that we can have and where we can provide the most unique value."
Unlike USDS components at the Veterans Affairs Department and other agencies, Neill's team rarely owns its own projects. Instead, developers work side-by-side with Homeland Security personnel on modernization efforts, acting more as reinforcements than a standalone unit.
Neill said this structure allows the digital service team to "short circuit" bureaucracy and maintain a direct line with both agency leaders who call the shots and rank-and-file employees who run everyday operations. It also creates an environment where Digital Service members can teach Homeland Security's component agencies to innovate their own processes instead of simply taking the technologies they're handed.
"We try to ensure the program is becoming more sustainable and [components are] moving themselves forward," she said. "We hope that one day we're no longer needed by the government [because] the government is amazing at building technology and services for people."
Passing on Paper
Between 2006 and 2015, U.S. Citizenship and Immigration Services poured some $1 billion and more than a decade into building the Electronic Immigration System, or ELIS, a case management platform that would digitize the myriad forms and applications related to naturalization, green cards and other immigration benefits. But when DHS Digital Service joined the project in 2015, only five percent of total benefits were processed electronically, Neill said.
Over the next three years, the team helped USCIS digitize legal permanent resident card renewal and the naturalization process, bringing proportion of electronic processing up to 50 percent, she said. The team is currently working to raise that figure to 80 percent by allowing people to apply for green cards via the ELIS platform.
But beyond digitizing documents, Neill said the group has also automated many manual elements of the process.
After analyzing applicant data, the team found more than half the people applying for renewed green cards could sail through without any intervention, so they built a system to automatically approve those who met the criteria. Whereas it used to take up to four months to authorize renewals with the paper process, today some qualified applicants are receiving their new cards within hours, she said.
Now the team is looking for ways to bring similar speed to asylum process.
USCIS currently faces a backlog of some 300,000 asylum applications, and asylum seekers can wait up to four years for a government interview, according to Neill. To reduce that wait time, her team is building a platform to help offices schedule and assign interviews with federal investigators, a process that today is largely done using local spreadsheets, she said.
They're also working on a tool that would simplify the process of writing assessments after each interview. Today, Neill said, reviews are typically written using Microsoft Word templates loaded with boilerplate legal language, but the new tool would ask investigators questions in plain language and automatically plug their answers into the review form. It would also let officials quickly review the document for errors, which would significantly shorten the process.
Neill estimates the first version of the tool would cut review write-ups from four hours to one hour, but she said the team ultimately aims to get it down to 10 minutes.
Fighting Fires
Beyond immigration, DHS Digital Service is also putting the finishing touches on a platform that would help the Federal Emergency Management Agency process disaster relief grants.
FEMA gives out more than $10 billion in grants every year to cover damages from fires, hurricanes, floods and other natural disasters, but it uses 10 different IT systems to manage the awards, Neill said. The systems themselves are so outdated that in some cases, FEMA must spin up wholly new platforms to award and monitor relief funds, she said.
In the coming weeks, her team is preparing to debut a fire grant management platform that would allow FEMA to confirm people received and used the funds. Previously the agency had to build a system for process such "closeouts" from scratch every year, she said, but officials could use the new platform indefinitely.
The pilot only covers a narrow slice of the disaster grant program, but it will ultimately subsume each of the 10 unique systems FEMA uses today, she said. The agency told Congress the central platform would be up and running by 2022.
However, Neill admits it's difficult to plan for the digital service to plan so far in advance. While the team spends most of its time focused on a handful of projects, the agency still calls on them to put out fires and take up new initiatives as priorities change, she said.
But regardless of where her team concentrates its efforts, Neill prides herself in the long-term impact its work will have.
"It's one thing to come in as a private industry person and get some feel-good wins," she said. "It's another thing [when] you're actually working with people who have dedicated their lives to this and helping them make the difference that they want to make."