Lawmaker: Don't Let "Rudderless Leadership" Cripple VA Health Record Overhaul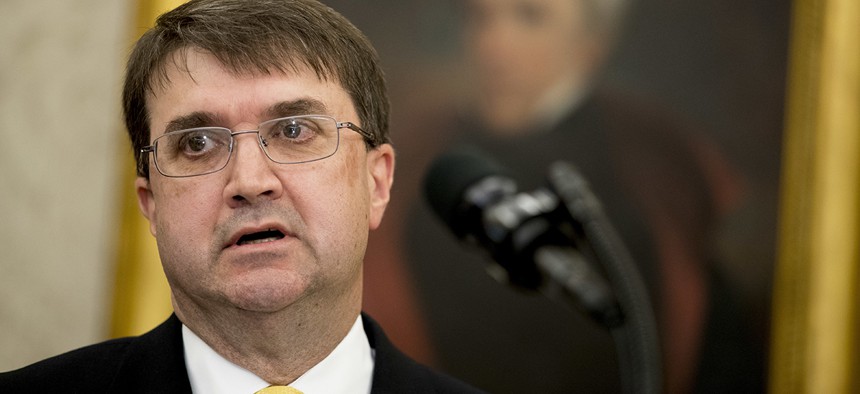 The program's chief administrator resigned less than two months after taking charge of the project. Another top official left her post days earlier.
One lawmaker is demanding answers from the Veterans Affairs Department after two officials leading the agency's multibillion-dollar electronic health record overhaul resigned last week.
"It would be a tragedy for the program to be undermined by personality conflicts and bureaucratic power struggles before it even begins in earnest," Rep. Jim Banks, R-Ind., said Friday in a letter to VA Secretary Robert Wilkie. Banks chairs the House subcommittee charged with overseeing the IT overhaul.
The letter came the same day Genevieve Morris resigned as Chief Health Information Officer of the Electronic Health Record Modernization office a little over a month after VA appointed her to manage its multibillion-dollar EHR project. Days earlier, Ashwini Zenooz, the chief medical officer in charge of implementing the new system, announced she would leave her post next week.
The departures come during a critical planning period when VA is working to finalize the new platform for an initial launch on Oct. 1.
Banks voiced concerns about the program's "deteriorating and rudderless leadership" and called on VA to be more forthcoming with Congress about the modernization effort. Despite multiple requests, he said he has yet to meet with officials in charge of the program.
"I am dedicated to pursuing a constructive oversight agenda to encourage VA to make the right decisions, but any engagement is difficult without stable leadership," Banks wrote. He requested Wilkie provide an unredacted organizational chart of the Electronic Health Record Management Office, including contractors and vacancies, by Sept. 7.
VA Press Secretary Curt Cashour told Nextgov the VA appreciates the congressman's views and will respond to him directly.
After wasting more than $1 billion over six years on failed attempts to overhaul its outdated EHR system, VA in May signed a 10-year, $10 billion deal with Cerner Corp. to put the agency on the same health record platform as the Pentagon. Meanwhile, VA will spend about $1 billion per year to keep its old system, VistA, up and running, according to Government Accountability Office calculations.
VA plans to begin rolling out the platform at three facilities in the Pacific Northwest in October and have everything fully up and running by March 2020, then-acting Secretary Peter O'Rourke told Congress in June. Officials planned to spend August and September developing a project management plan with Cerner, but agency leaders seem to have butted heads over the program's trajectory.
"Over the last few weeks, it has become clear to me that VA's leadership intends to take the [electronic health record] modernization effort in a different direction than we were headed," Morris said in her resignation letter, which she posted to Twitter.
This isn't the first time the IT overhaul has stirred controversy within the agency.
In a report published earlier this month, ProPublica revealed the three-man cabal of private advisers to President Trump tried to derail the project based on a personal disdain for Cerner's software. VA officials said disagreements over the program might have even led to the firing of former Secretary David Shulkin.  
Wilkie tapped John Windom, executive director of the EHR Modernization office, to replace Morris in an acting capacity.
"VA will benefit from John's strong background on this project as it begins the transition to the new system for the benefit of veterans' care in the future," Wilkie said in a statement.
The inaugural hearing of the House Veterans' Affairs Technology Modernization subcommittee is scheduled for Sept. 13. In a Stars and Stripes op-ed, Banks said the panel will focus on the role of the Interagency Program Office in holding the VA and Defense Department accountable for health record interoperability efforts.