GAO: Optimize Data Centers or Lose Them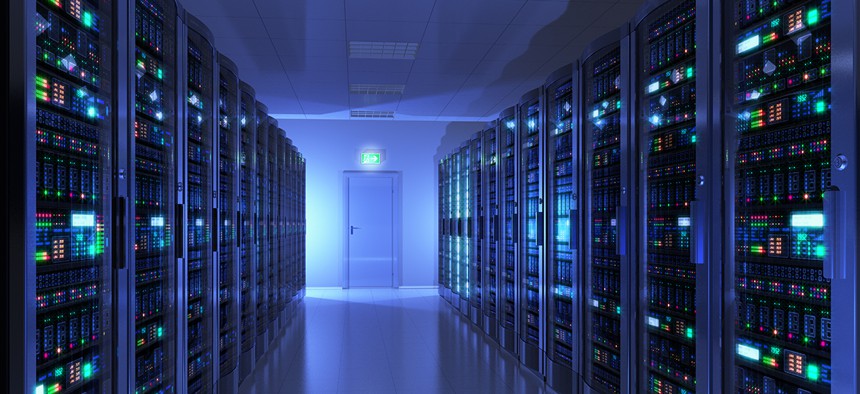 Progress on closing data centers is mixed and the government's optimization efforts are worse.
If federal agencies can't get better at optimizing its data centers, maybe they need to get out of the business and into the cloud, said one of the government's top tech oversight officials Thursday.
Dave Powner, director of IT management issues for the Government Accountability Office, said the government has saved $2.5 billion closing and consolidating approximately 4,400 of its 10,000 data centers.
Yet, four agencies—the Commerce, Homeland Security, Defense and Treasury departments—account for 95 percent of those savings, and Powner said "there is about $5 billion on the table" projected to be closed.
» Get the best federal technology news and ideas delivered right to your inbox. Sign up here.
As mandated by the Federal Information Technology Acquisition Reform Act, agencies have to submit data center closure reports to the Office of Management and Budget, but Powner said the dozen agencies that have done so total only $600 million in savings. Ten agencies didn't report any out-year savings, and two—DOD and the Office of Personnel Management—didn't even bother submitting plans.
If progress on data center closures is mixed, the government's optimization efforts are decidedly worse, with only two agencies—the Environmental Protection Agency and the Social Security Administration—meeting even three of the five optimization metrics laid out by the White House's Data Center Optimization Initiative.
Much of the progress agencies are slated to make on both fronts is slated to occur in 2018, the same year provisions on data center consolidation and PortfolioStat in FITARA will sunset, Powner said.
And that's a problem.
If data center-related provisions within FITARA expire, agencies lose a big legal incentive to continue optimization and closure efforts, and Congress loses a tool it's used to push IT reform in recent years.
"It's a fundamental question whether that is enough time to close these data centers," said Powner, speaking Thursday at a forum held by MeriTalk.
Powner recommended Congress extend the provision two years to "see where we're at in 2020," which would be exactly 10 years after the government's original data center policy, the Federal Data Center Consolidation Initiative, took shape.
"If agencies can't optimize these data centers by 2020, 10 years into it, should they be in the business of maintaining data centers?" said Powner, referencing cloud computing. When agencies use cloud, they don't need to own and maintain as many of their own data centers, since hardware and maintenance is typically handled by cloud service providers.
"It's a fundamental question I think agencies need to ask," Powner said. "Maybe they shouldn't be in the business and let someone else do it for them. The data is clear here."
Rep. Gerry Connolly, D-Va., who co-authored FITARA, told Nextgov on Thursday afternoon he "would completely support" extending the sunset of such provisions and said it would be "self-defeating to have a sunset that could potentially damage" the progress Congress has led in IT reform.
"We've gotten good at identifying how many data centers we have, but we haven't gotten as good yet at consolidating and optimizing them," said Connolly, who is the vice ranking member of the House Oversight and Government Reform Committee.
Connolly added the data center consolidation initiative's original intent was to get rid of stovepiped data centers and move to cloud computing where it makes sense to do so.
Getting out of the data center business typically means exploring the use of cloud computing for various applications, like infrastructure-, email-, platform- and software-as-a-service offerings.
The federal government has moved in that direction, as evidenced by the 2017 IT budget requesting $7.3 billion for provisioned services like cloud computing. Moving to the cloud is by no means an easy feat, but it can result in significant savings. Federal Communications Commission's cloud transition cut its legacy IT spending by 35 percent through a combination of slashed real-estate costs, improved IT inventory and reduced contracting positions.
Should agencies lose the legal incentive to optimize data centers, the alternative could be "ugly," Powner said, especially for taxpayers.
Powner used the critical measure of server utilization as one example where agencies fall woefully short of delivering returns on taxpayer dollars. GAO reports stretching back to 2012 reported some agencies achieving only 5 percent server utilization, meaning servers were chugging electricity at 100 percent but only delivering 5 percent returns to mission.
In its optimization policy, OMB set server utilization targets of at least 65 percent for agencies by 2018 and requiring them to install automated monitoring tools in data centers—also by 2018.
Eight of 24 agencies say they'll achieve OMB's server utilization metric when the data center provision in FITARA is scheduled to sunset. And while four agencies—NASA, the National Science Foundation, SSA and the U.S. Agency for International Development—have installed automated monitoring tools in all their data centers, progress is generally atrocious across government.
Of the 5,600 data centers open data centers remaining across all agencies, about 1,000 are outsourced, while the other 4,600 are agency-owned and maintained. Of those 4,600 data centers, only 120—or 2 percent—have automated monitoring tools installed.
The House Oversight and Government Reform Committee doesn't weave these optimization metrics into its FITARA scorecards, but if it did, Powner said "it'd be an ugly picture" that only gets uglier if agencies aren't incentivized to make progress.
"Right now, only two agencies are doing well on optimization metrics, but by 2018, one-third are doing pretty good," Powner said. "Again, 2018 keeps coming up. It's another reason we probably need to extend that provision."
And if Congress happens to extend the data center provision within FITARA and progress in data center optimization and elimination remains poor, the government needs "to look long and hard about owning data centers."