Border wall: tech not included (yet)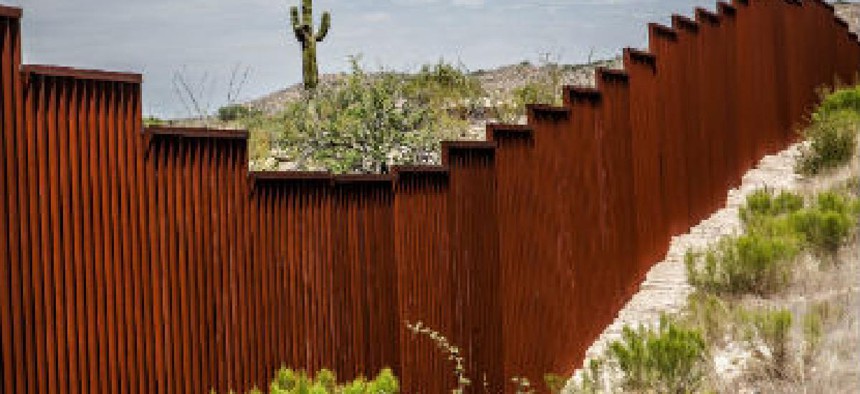 The recently released requests for proposals for border wall prototypes don't contain a lot of particulars  about the IT infrastructure that will support them, but they left the door open for contractors to fill in details in future task orders.
Contracting documents released by the Department of Homeland Security indicate that contractors selected to participate in prototypes may be asked to propose future requirements including "supporting tactical infrastructure and technology along the southwest border."
That technology could include fiber optics, communications towers, "remote video surveillance systems, ground sensors, etc."
The RFP for the solid concrete wall prototype was one of two issued by DHS and Customs and Border Protection on March 17. The other prototype includes a "see-through component/capability to the wall that facilitates situational awareness."
The prototypes, 18 feet tall and descending at least six feet underground, will include attributes such as anti-climbing features and an aesthetically pleasing appearance, according to contracting documents.
There were a few broad IT and technology-oriented details. For the solid concrete wall, for instance, the telecommunications towers  that would provide tactical communications for border patrol command and control and safety could range from 80 feet tall to 100 feet tall, that RFP said.
The additional task orders for support technology would fit with DHS and congressional calls for more technological layers to support the physical barrier.
In January, DHS Secretary John Kelly told his Senate confirmation panel that a wall, by itself, "won't do the job" of preventing illegal immigration across the border. He said the physical barrier should be augmented with technology, such as aerial observation platforms, sensors, surveillance towers, unmanned airborne drones and simple human patrols to form "a layered approach" to border security.
Rep. Will Hurd (R-Texas), whose district includes more than 800 miles of U.S.-Mexico borderland, has also called for a sector-by-sector, technologically layered approach to border security.
Meanwhile, potential contractors north and south of the border are facing some political pressure not to bid on the project.
A group of Democratic California legislators and Mexico's finance minister separately warned companies working on the project of potential negative consequences.
Three California state legislators introduced a bill on March 20 that would require the state's pension funds to divest from companies involved in building the border wall. The bill, they said in a joint statement, would require the California Public Employee Retirement System  and the California State Teachers Retirement System -- the nation's first and second largest pension funds -- to liquidate investments in companies involved in the construction of the wall within a year.
According to the statement, CalPERS investments are valued at nearly $312 billion and CalSTRS investments are valued at nearly $202 billion.
The bill also requires the two pension funds to provide a list by Jan. 1, 2019, of companies they have liquidated investments with.   
The legislation, which sponsor Assemblyman Phil Ting, (D-San Francisco) and his Democratic co-sponsors Assemblymembers Lorena Gonzalez Fletcher, (D-San Diego) and Eduardo Garcia, (D-Coachella), dubbed the "Resist the Wall Act," was offered as an amendment to California Assembly Bill 946.
Reuters reported on March 22 that Mexican Economy Minister Ildefonso Guajardo warned Mexican companies to steer clear of the project. The report said that two Mexican cement companies had shown an interest in providing materials for the project.
Reuters quoted Guajardo as saying, "We're not going to have laws to restrict [companies], but I believe considering your reputation it would undoubtedly be in your interest to not participate in the construction of the wall."
In the RFP text, the agency may have anticipated the political pressure represented by the California bill and Mexican government's comments.
Its review of interested vendors' past performance and qualifications not only includes questions about technical experience with planning and building "tactical infrastructure," but also about company experience handling controversial projects.
In Sections L and M of the concrete wall RFP, CBP provides some sample questions that it said could come up in some form during vendor evaluation.
"Describe your experience executing high profile, high visibility and politically contentious design-build projects," reads one.
CBP's RFPs put development on a fast-track. The agency wants concept papers from interested vendors by March 29, followed by a phased evaluation process that would result in a notice-to-proceed with prototype construction within 30 days for successful vendors under indefinite delivery/indefinite quantity task orders.
Both RFPs designate heavy use of U.S.-sourced construction materials in their respective "Buy American" clauses, but they don't preclude materials from elsewhere.