Bipartisan Bills Aim to Expand Federal Quantum Research and Grow Future Workforce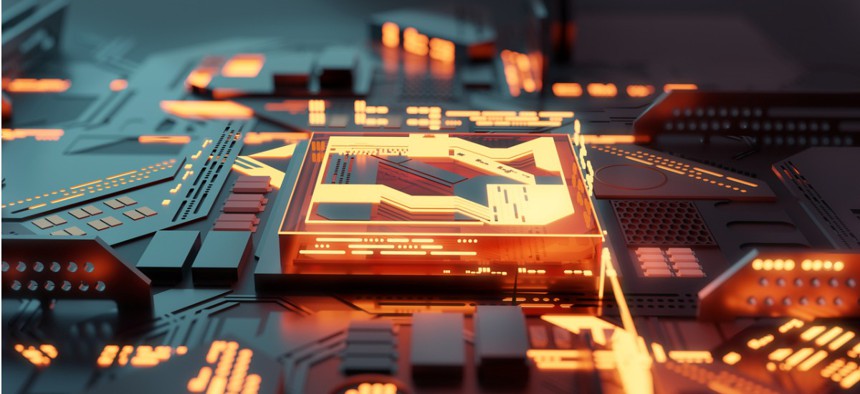 The U.S. must keep an edge in this increasingly competitive realm, according to the lawmakers who introduced the legislation.
Federal quantum information science-centered research and moves to expand the country's pipeline of workers for the high-demand field would be further prioritized under two bills Sens. John Thune, R-S.D., and Maggie Hassan, D-N.H., partnered up to put forward late last week. 
Broadly, Thune's Quantum Network Infrastructure and Workforce Development Act would direct government-led studies into quantum-based information transmission, and how to prepare students across grade levels for this emerging realm. Hassan's Quantum for Universal Advancement in Nationwide Technology Use and Modernization—or QUANTUM for National Security Act—largely focuses on driving QIS advancements and workforce improvements under the Pentagon's umbrella.
"Quantum mechanics play a critical role in our national security and economy—and will be at the forefront of innovative defense technologies that will help to maintain our military edge over China," Hassan said in a statement Friday, adding that she's glad to join "Thune in introducing these bipartisan bills that will strengthen [Defense and Energy departments'] efforts in quantum research and help encourage more young people to get into this critical field so that we can create jobs and keep America safe, secure, and free."
QIS marries concepts of how things operate at the subatomic level with theories on storing, moving, computing or measuring information. It's still nascent, but many predict it will pave the way for unprecedented breakthroughs spanning major industries, like an unhackable internet or GPS in disconnected places. Congress in 2018 passed the National Quantum Initiative Act to "provide for a coordinated federal program to accelerate quantum research and development" and ultimately promote American security. That legislation assigned specific jobs for the National Institute of Standards and Technology, Energy Department and National Science Foundation, among others.
According to Thune, these two new "bills build upon the success of the NQIA by supporting existing efforts and accelerating critical growth in the field."
The 25-page Quantum for National Security Act would mandate the Government Accountability Office to produce a comprehensive assessment of that initiative's effectiveness. On top of other provisions, the legislation would also explicitly incorporate Defense Department research endeavors into the NQIA program and enable new fellowships around QIS technology at the Pentagon. The bill was referred to the Armed Services Committee.
"We are in a race against our adversaries to gain supremacy of this technology and maintain our military advantage over these nations," the lawmakers wrote in a backgrounder on the bill. 
Referred to the Commerce, Science, and Transportation Committee, the 14-page Quantum Network Infrastructure and Workforce Development Act would require the undersecretary of Commerce for Standards and Technology to lead research on the making and standardization of quantum networking technologies and applications. It additionally would establish a program at DOE to advance quantum communications development. Among other inclusions, the bill would also direct the National Science Foundation conduct a study on quantum education gaps in K-12 education, and to implement a "Next Generation Quantum Leaders Pilot Program" through its existing Q-12 Education Partnership.