White House, NSF Launch Partnership to Boost K-12 Access to Quantum Education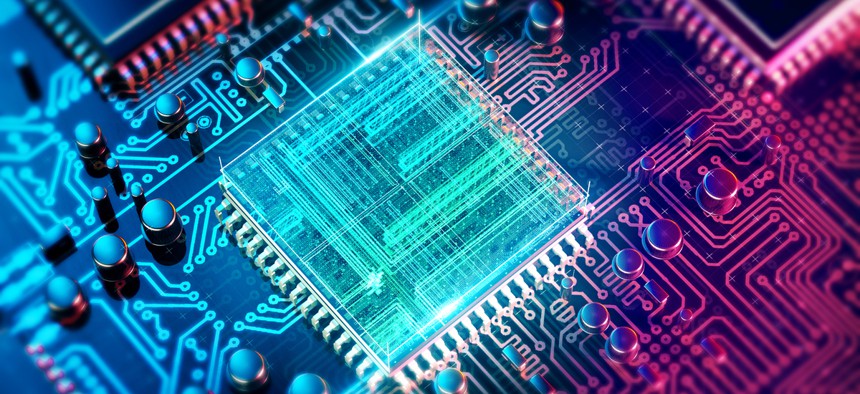 Founding members from industry weighed in on how they aim to contribute.
A new initiative unveiled by the White House Office of Science and Technology Policy and National Science Foundation Wednesday intends to spur students' interest in quantum information science as early as grade school and broaden access to QIS studies throughout K-12 education.
While seemingly nascent to some, quantum computing and information science are steadily on the rise—forcing the U.S. in recent years to reckon with the need to address education gaps that could crucially limit the development of the nation's quantum-ready workforce.  
Building on evolving government-led efforts and teaming with more than a dozen quantum-driving academic and industry leaders, the entities set in motion the National Q-12 Education Partnership, which will foster new tools and materials for K-12 classrooms, in hopes of sparking interest and eventually boosting the range of students prepared to participate in quantum career fields. NSF intends to award nearly $1 million across QIS education efforts through the work, some of which will support the also newly-announced Q2Work Program. As a member of the Q-12 Education Partnership, the program will help facilitate the community developing assets and help introduce age-appropriate QIS resources into classrooms and other learning environments. 
"Quantum information science is a critical industry of the future where America must lead the world, and yet students don't typically learn about QIS until college," U.S. Chief Technology Officer Michael Kratsios said in a statement. He added that under Trump's direction, "now we will be among the first in the world to make QIS education tools and resources available to K-12 students and educators nationwide."
The partnership will unite public, private and academic sector quantum players to cohesively produce and disseminate learning materials and mechanisms to educators across the country and ultimately help them create new courses and opportunities to inspire students to engage with quantum fields. Enabling "a foundation for classroom and curricula materials," according to its site, the effort will also encourage "hands-on experiences with quantum tools in the classroom and through online venues." Organizations looking to get involved and educators and students who are interested in learning more about the in-development materials are also invited to chime in on the site. 
Led by Emily Edwards from the University of Illinois Urbana-Champaign and Diana Franklin from the University of Chicago, Q2Work will act as a coordinating member of the partnership and launch digital tools, collaborative exchanges, and other outreach to amplify the efforts. The program will also broaden learning opportunities to help grow the participation of underrepresented groups in the field.
Partners named as founding members of the Q-12 Education Partnership include: Amazon Web Services; American Physical Society; Boeing; Google; IBM; IEEE-USA; the International Society for Optics and Photonics, or SPIE; Lockheed Martin; Microsoft; Montana Instruments; The Optical Society, or OSA; Rigetti; University of Illinois Urbana-Champaign; University of Chicago; and Zapata Computing.
"It's important to keep in mind that quantum computing is still in early development," IBM Quantum Education Lead Abe Asfaw told Nextgov Wednesday. "There is a need to understand quantum physics, mechanics, chemistry, and computing at all education levels, and in industry."
The company has already unleashed a range of quantum-focused education programs that incorporate access to devices, teaching support, and events such as hackathons, according to Asfaw. IBM launched an open source quantum software platform known as Qiskit, and released the Qiskit Textbook and Qiskit Global Summer School to help outsiders learn quantum computation using the resource. 
"Specifically, for Q2Work, we're making our Quantum Educators program available to K-12 schools, which provides prioritized use of IBM quantum systems via the cloud for instructors and their students," Asfaw said. The company will also support teaching across K-12 through "gamified interactive learning embedded within the Qiskit textbook," and collaborate closely with the Q2Work academic partners to extend quantum education within grades before college.
An official from Rigetti also confirmed to Nextgov Wednesday that the quantum-focused developer was invited by OSTP to join the new partnership—and intends to provide access to quantum systems via aggregators or distributors servicing education needs. Through the effort and in support of workforce development to sustain U.S. leadership in QIS, the company also aims to expand hands-on training through internships and other work-study opportunities, the official said.  
The partnership follows a range of quantum-boosting pursuits that the White House has spearheaded over the last couple years. The National Quantum Initiative Act signed by President Trump in 2018, for example, included directions to "expand the number of researchers, educators, and students" trained in quantum information science and technology. More recently, OSTP and NSF released a list of nine "key concepts for future QIS learners." IBM was part of the interagency working group that defined the concepts, which Asfaw said "are foundational to Q-12 and Q2Work."
"Quantum computing, as a field, will only grow with interdisciplinary education—across courses as seemingly disparate as business and chemistry, or physics and finance," he noted. "Making 'quantum' ubiquitous in diverse disciplines is how we will discover and develop applications for business and science that have a quantum advantage."
The initiative also comes as other countries—China, in particular—are already strategically stepping up to leverage and mature quantum education and technology. 
"The United States urgently needs qualified quantum scientists, engineers, and technicians, and that need is rapidly increasing as the quantum economy expands," Paul Stimers, executive director of the Quantum Industry Coalition, told Nextgov Wednesday. "We need a strong U.S. pipeline, and we also need to be able to recruit and retain quantum leaders from other countries."
Stimers called the partnership an "excellent first step in addressing the urgent need for more qualified quantum workers," and noted that he and the coalition—which encompasses quantum computing, communications, and cryptography companies—welcome the administration's focus on developing a robust workforce.
"More will be needed, including education as well as immigration reform," Stimers said, "but this is a great start."