How the U.S. Made Hops, Skips and Leaps in Quantum Computing in 2019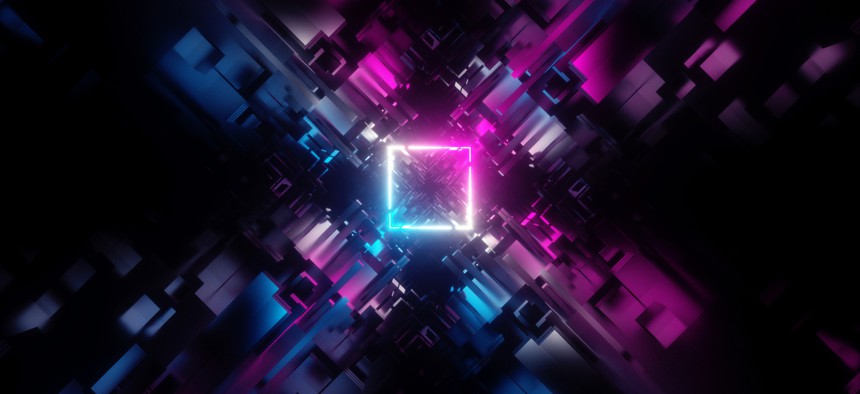 Strategic focus and investments across government and industry catalyzed monumental leaps in quantum and high-performance supercomputing over the course of 2019.
In a recent conversation with Nextgov, the Office of Science and Technology Policy's Assistant Director for Quantum Information Science Jake Taylor reflected on America's investments and achievements across quantum computing over the past year, how U.S. efforts measure up on the global landscape and the supercomputing strides the government aims to accomplish in 2020.
"It's actually a little bit funny right, because we hear a lot in the press about the 'global race,'" Taylor said. "But it's not a race at the present time—it's a quest to try and be able to build these things."
While traditional computers use inputs, instructions and outputs that are all sequences of 1s and 0s and individually called "bits," quantum computers use "qubits," which can take on other complex computing values, and offer an advanced set of calculation possibilities. At the end of 2018, the president signed the National Quantum Initiative Act into law, dedicating more than $1 billion to bolster the research and development of quantum technologies in America over the next five years. The law also put forward a 10-year plan to "accelerate development of quantum information science and technology applications," and this year, the administration saw some of those quantum aims come to fruition.  
"That really was the capstone of an effort to codify a big expansion in quantum information science, which includes sensors, networking and computation," Taylor said. "It was a strong bipartisan-supported bill run through the House and Senate and signed by the president to say that the nation as a whole needs to do more in this space, we need to in a coordinated manner and that civilian agencies will take a leadership approach—and in the course of the last year, we went from having a legislated mandate to do this, to implementing the main tasks of that effort."
In March, the OSTP officially launched the National Quantum Coordination Office, which was also called for by the law. The office oversees interagency coordination of the government's quantum programs, connects a range of stakeholders and supports access and use of federal research and development infrastructure. More than ten agencies currently conduct research and development in quantum information science, and according to Taylor, the coordinating body sits within OSTP and supports them in a "light-weight but powerful manner" as they work to implement the act. 
He said the National Institute of Standards and Technology, the Energy Department and the National Science Foundation are the act's implementing agencies and have therefore been ramping up their quantum efforts. The year also enveloped an increased coordination of quantum efforts across the defense and intelligence domains, as well as the establishment of a quantum economic development consortium. 
After asking the public to help inform its national quantum computing policy in June, the administration in September also established the government's first National Quantum Initiative Advisory Committee. Two co-chairs and up to 21 committee members are tasked with advising the president and Energy Secretary and provide critical insights regarding the nation's efforts to maintain and accelerate leadership in the quantum space. According to the executive order that established it, bringing together a versatile group of experts to advise federal insiders on a wide range of critical quantum matters is meant to help the administration "ensure continued American leadership in quantum information science and technology applications."  
"The stand up of advisory committees takes time, and we are making progress on that," Taylor said.
And 2019 also ushered in one monumental, albeit controversial, quantum advancement: In October, tech-giant Google announced its own quantum computer, Sycamore, proved the theory of quantum supremacy by performing a calculation in 200 seconds that the company said would take a "state-of-the-art classical supercomputer" approximately 10,000 years. Immediately after the announcement, the administration emphasized that the federal government was instrumental in the company's achievement. 
"To prove the theory of quantum supremacy, Google's research team built upon foundational research at government laboratories," federal Chief Technology Officer Michael Kratsios noted in an op-ed, entitled "How America Achieved 'Quantum Supremacy.'"
The company launched quantum efforts at the University of California at Santa Barbara, with research support from the Intelligence Advanced Research Projects Activity and NSF. A Google spokesperson also told Nextgov that NASA, in particular, was the main developer of the simulator that was able to validate the supremacy claim using Oak Ridge National Laboratory's Summit supercomputer. The company has also been working directly with the NIST as it's exploring applications of the budding technology. Regarding the achievement, Taylor said it's also important to recognize that Google didn't make it known through a press release, but by publishing the feat in a distinguished scientific journal. 
"We can certainly have a scenario in the future in which advances are determined more as marketing than they are as scientific," Taylor said. "Where we are right now is actually this recognition that this is really a research domain—and companies and the government investing in it see that benefit."
Before the year came to a close, the government also launched an international agreement with Japan to advance—and mutually benefit from—emerging breakthroughs in quantum information science and technology. The U.S. Embassy in Tokyo's acting deputy chief of mission and Japan's director-general for science, technology and innovation policy signed the Tokyo Statement on Quantum Cooperation in late December, to formalize the nations' commitment to jointly harness scientific collaboration on topics across the quantum landscape. 
The traditional high-performance computing landscape saw a great deal of investment in 2019, as well. In March, Energy announced plans to launch Aurora, America's first exascale supercomputer, with performance capabilities of at least one exaflop, which is a quintillion—or a billion billion—calculations per second. The system is housed at Argonne National Laboratory in Chicago, and was the result of a $500 million partnership with Intel and subcontractor Cray Inc. Months later, Energy also announced a separate partnership with Cray to create the "world's fastest exascale supercomputer," Frontier. The system, valued at $600 million, is set to be housed at Tennessee's Oak Ridge. Both are anticipated to work at full capacity by 2021. 
In August, the National Nuclear Security Administration announced it will also gain its first exascale high-performance supercomputer—El Capitan—in late 2022. The system, valued at $600 million, will support the agency in ensuring America's nuclear weapons are secure and reliable in the absence of underground testing. In the same month, the Air Force also announced with Oak Ridge, that under a $25 million contract with Cray Labs, it would acquire HPC11, a high-performance supercomputing system that aims to improve weather forecasting for military operations across the globe. And, following a $60 million award from NSF, the Texas Advanced Computing Center at the University of Texas at Austin in September unveiled Frontera—the fastest supercomputer at any university and the fifth most powerful supercomputing system in the world.
Going forward, the government will put the systems to work to drive unprecedented innovation by accelerating the convergence of HPC, data analytics and AI at exascale. Taylor envisions a future where the quantum and HPC computers and components will complement one another and lead to powerful new discoveries. He also highlighted that OSTP updated the national strategic computing initiative in November, with insight from the office's new director Dr. Kelvin Droegemeier. 
"In the last year we have seen tremendous change in the high-performance computing landscape and with [Droegemeier] on board we went back and looked at what are the directions we need to go to ensure that the nation is a leader in HPC—and the future of computing," Taylor said. 
Officials convened a National Science and Technology Council fast-track action committee that's honing in on what needs to be done over the next 20 years to secure America's position as a top technological innovator in the computing space. Insiders are also assessing different integrations of cybersecurity into high-performance computing, both at how to best secure the systems and leverage them to improve the national cyber protections. And Taylor also emphasized the need for a whole-of-society approach to solutions and reinvestment in the basic very future-looking research and development. 
"We are getting near the end of Moore's Law, we are getting to the end of how much performance we can get out of the same basic silicon processing we have been using," he said. "In 2030, we don't know what that's going to look like—and that's something where industry, government and academia need to get together to continue to make progress on it." 
He noted that America's supply chain and scientific efforts are "global in the space" and also a bit unique in quantum, because the vast bulk are in the private sector. So the collaboration and efforts officials pursue are really about growing the economy, and bolstering the future industry through working with "allies and like-minded colleagues." 
Taylor said in 2019, there was "a tremendous uptick of American institutions diving more deeply on how they build the partnerships that they need," and anticipates that to continue into next year. In the realm of quantum information science, he said many of the agencies' efforts will move from the proposal stage to funded research. 
"The time between funded research and game-changing results is long, so I want you to think of a five-year horizon, not a one-year horizon for game-changing research," he said. Still, he believes the blossoming partnerships and "mixing pot of ideas" will lead to further advancements, perhaps quicker than anticipated.
"I'm really excited to see what comes out—and [the U.S.' coordinated multi-stakeholder approach] may accelerate that five-year timetable—I just don't know," he said.