Air Force and Oak Ridge Get Supercomputer for Better Weather Forecasts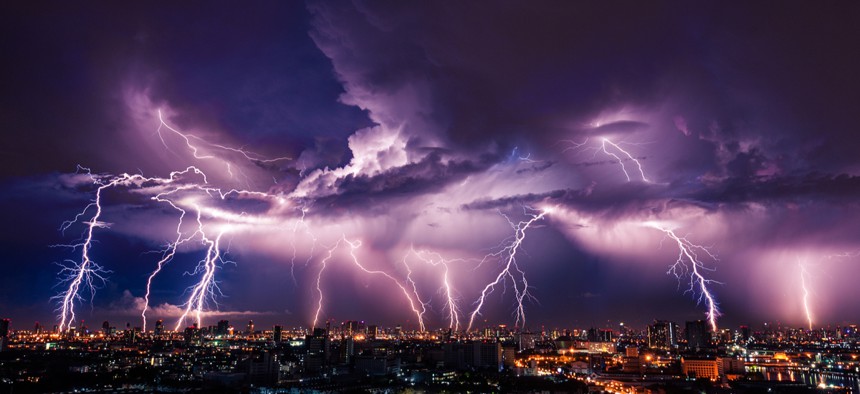 Through a strategic partnership unveiled Wednesday, the U.S. Air Force and Oak Ridge National Lab will acquire a high-performance supercomputing system from Cray Inc. that aims to improve weather forecasting for Air Force and Army operations across the globe.
Under the $25 million contract, the new system—called HPC11—will bring supercomputing-as-a-service to the Air Force's 557th Weather Wing, which creates and supplies comprehensive terrestrial and space weather information to the two military branches. 
"The system's performance will be a significant increase over the existing [high-performance computing] capability and will provide Air Force weather operators with the ability to run the next generation of high-resolution, global and regional models, and satisfy existing and emerging warfighter needs for environmental impacts to operations planning," Steven Wert, an Air Force official and member of the senior executive service said in a statement.
The system is expected to help the Air Force execute its mission more effectively by offering new features that support the military's complex weather prediction workloads. Official expect the system to improve forecasts and weather threat assessments that insiders rely on.  
Supercomputer manufacturer Cray also recently announced it's delivering the world's fastest supercomputer to the Energy Department by 2021, which it plans to outfit with a first-of-its-kind storage system that can hold more than an exabyte of data.
"This is a great example of the upcoming Exascale Era bringing a new set of technologies to bear on challenging problems and empowering the Air Force to more effectively execute on its important mission," Cray's President and CEO Peter Ungaro said.
 The system is expected to be delivered at the end of the year and accepted in early 2020. 
The company also announced Wednesday that the Defense Department selected it for two contracts—together valued at $46 million—to provide supercomputer systems to accelerate research and development at the Army Research Lab, and the Army Engineering and Research Development Center.