White House Establishes National Quantum Coordination Office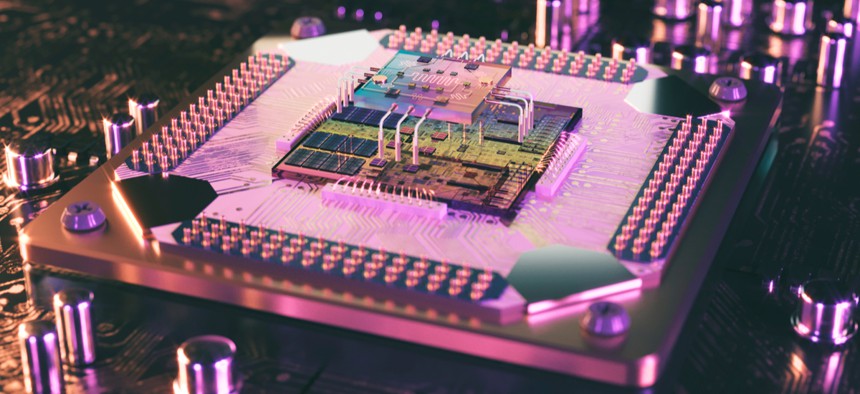 The new office will help coordinate quantum efforts across the government and private sector.
The White House Office of Science and Technology Policy officially launched America's first National Quantum Coordination Office Monday.
According to a statement from OSTP, the new office will "work with Federal agencies in developing and maintaining quantum programs, connecting with stakeholders, enabling access and use of [research and development] infrastructure, and supporting the National Science and Technology Council's (NSTC) Subcommittee on Quantum Information Science."
Details around the proposed functions of the office were initially introduced in the National Quantum Initiative Act, which the president signed late last year in an effort to boost the development of quantum technology in the United States.
"There's no better time and place to be engaging in quantum [research and development] than right now in the United States," OSTP Director Kelvin Droegemeier said in a statement.
The National Quantum Initiative Act dedicates more than $1 billion to bolster the research and development of quantum technologies in the United States over the next five years. It also lays out a 10-year plan to "accelerate development of quantum information science and technology applications," and ultimately seeks to create a coordinated framework across federal research labs, academia and the private sector to support advancements in quantum tech.
The Quantum Coordination Office will oversee interagency coordination of the program.
The race to build fully-functioning quantum computers is on and America's competitors are already investing billions in developing the new technology, which is expected to eventually transform all industries across the global economy.   
"Quantum computing offers a completely new testbed, using unique behaviors of quantum systems to run calculations, take measurements, transport information, and solve problems in ways that conventional computers, sensors, and systems cannot," Energy Department Under Secretary for Science Paul Dabbar said in a statement. "The National Quantum Coordination Office will help DOE and the nation maintain our leadership in hardware and software for this new generation of quantum computing."
Jake Taylor, OSTP's assistant director for quantum information science, will serve as the interim director of the new office.