Veterans Affairs Department Expands 5G Footprint to Miami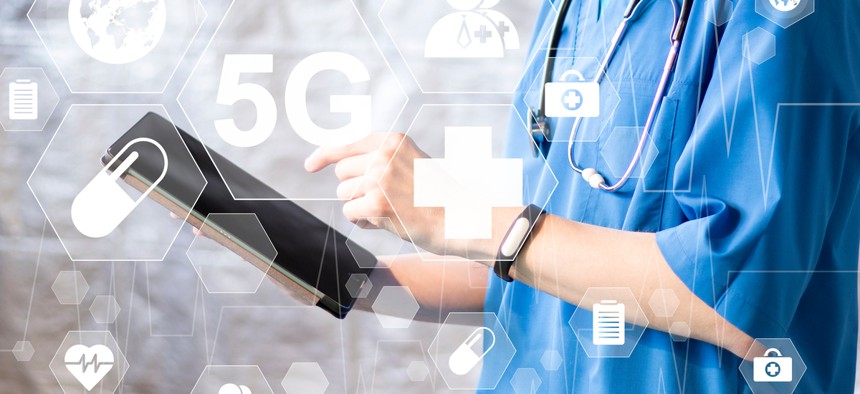 The agency's latest next-generation wireless network was recently deployed by T-Mobile.
T-Mobile recently launched its first custom, hospital-based 5G installation across and around the Miami Veterans Affairs Healthcare System.
The deployment marks the latest move by the Veterans Affairs Department to advance its delivery of health care services through next-generation wireless capabilities. Specifically, 5G radios in the facility enable T-Mobile's "Ultra Capacity 5G" coverage, which offers speeds that are said to be 7.5 times faster than contemporary LTE.
"Medical teams will be able to quickly access high bandwidth files such as imaging results, labs and medical charts without having to be tethered to a computer," officials wrote in a press release Thursday. 
VA's first foray into 5G came in early 2020 when the department kicked off Project Convergence to pilot emerging use cases supported by the nascent connection capabilities inside its health care facility in Palo Alto, California. Verizon supplies the 5G network there, which underpins and enables clinically relevant applications and products from Microsoft and Medivis. Almost year after launching that pursuit, VA last month confirmed a collaboration with AT&T to expand that initial 5G footprint to its Seattle-based Puget Sound Health Care System.
The effort in Florida is the first VA-centered 5G installation steered by T-Mobile, though the telecommunications company presently provides in-building 4G connectivity across more than 50 VA health care systems—and that number is set to grow this year.
"Groundbreaking collaborative partnerships like this play an important role in our success moving forward and we are grateful to T-Mobile for their continued commitment to the partnership with VA," Executive Advisor to the VA Secretary Deborah Scher said in a statement.
VA previously turned to T-Mobile for 70,000 lines of wireless service to help veterans access care through the department's online telehealth platform. Such digital visits surged during the COVID-19 pandemic, but wireless-based, 5G solutions offer faster speeds and lower latency benefits to boost those sorts of services.
"T-Mobile has a strategic vision aligned with the VA to deliver the best technology giving veterans every advantage in quality care, both on-site and through telehealth appointments," the company's Vice President for Government David Bezzant said.