VA Partners with AT&T to Extend its 5G Experimentation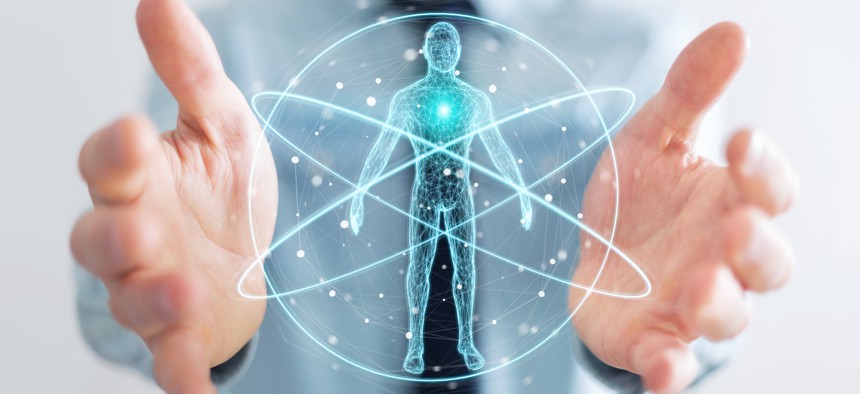 A fresh installation was many months in the making, officials explained.
The Veterans Affairs Department officially expanded its 5G footprint to its Seattle-based Puget Sound Health Care System, through a partnership with AT&T. 
At that health care hub, the agency will steer further technology-enabled experiments with telemedicine, wearables, virtual reality and more—in work that comes almost a year to the date that VA began strategically piloting the next-generation telecommunications technology with Verizon in a California hospital.
This latest move also marks "the first time 5G has been made available" beyond siloed segments, and across the entirety of a large VA health care and training facility, Assistant Vice President-Civilian for AT&T Public Sector and FirstNet Garrick Yahnke explained. 
He, and Daniel Mesimer, director of WAN/LAN Infrastructure Engineering and Provisioning Solution Delivery in VA's Office of Information and Technology, IT Operations and Services, briefed Nextgov on the entities' unfolding plans and broader collaborative vision to push forward 5G-enabled health care applications.
The Path to Piloting
Fifth-generation wireless-based solutions offer faster speeds, lower latency benefits and mobility that VA aims to leverage to enhance and upgrade the care it provides now—and treatments it could offer in the future.
"5G is the new platform for innovation and discovery worldwide," Mesimer noted, adding that it's "part of our VA modernization strategy." 
Recognizing the trending tech's potential, the department launched an effort in early 2020—deemed Project Convergence—to dive deep into 5G use cases inside its health care facility in Palo Alto, California. In that pursuit, Verizon provides a 5G network backbone, which underpins clinically relevant, technological applications and products from Microsoft and Medivis. VA did not abandon that innovation-spurring experimentation when the COVID-19 pandemic disrupted its entire system, shortly after the initial pilot set in motion. 
And in November, the department confirmed it was preparing new, next deployments—including this one in Seattle.  
"Our program with AT&T at Puget Sound, like our program in Palo Alto, aligns with our strategy to explore the potential of technology to help us improve the services we provide to veterans," Mesimer explained this week.
In this fresh effort, VA staff will test out a variety of medical use cases with AT&T's 5G and multi-access edge computing, or MEC technologies. According to AT&T's release, MEC is essentially "a computer and cellular network architecture that brings real-time, high-bandwidth, low-latency access to latency dependent mobile applications."
An existing mobility agreement between AT&T and VA was the springboard for discussions that led to this adoption and broader public-private partnership, through which the former is investing labor and equipment. 
"AT&T has been providing wireline and wireless services as well as other innovative capabilities to the [VA] for a long time," Yahnke said, adding that the newer program traces back to conversations that started "well over a year ago." 
At this point, the company has now completed its installation of a 5G Distributed Antenna System, meant to be used with other 5G-enabling components. Coverage currently reaches Puget Sound's recently opened Mental Health and Research building. 
And AT&T has plans to unleash MEC and 5G millimeter wave spectrum and technologies later this year, significantly heightening speeds.
"This solution required installation of new wireless infrastructure throughout the facility," Yahnke said. "It took us approximately a full year to plan and then deploy the equipment necessary to create a systemwide 5G solution that covers the entirety of the VA's Puget Sound Health Care System geographical footprint."
In the Pipeline
It's still relatively early into the Pacific Northwest-located health care system's comprehensive 5G adoption, but VA's sights are already set on testing out a number of emerging services. 
Some of the uses the department plans to explore include wearable technologies enabled by denser coverage area, medical device connectivity for tracking people and assets, augmented and virtual reality for patient care and clinician training, large file transfers and telemedicine boosted by 5G. 
"Our strategy is to first have the 5G and MEC infrastructure in place so that we can begin to see what is possible," Mesimer said. 
He further pointed to varied partnerships as a key feature of VA's connectivity-pushing pursuits.
"All mobile technologies are limited in coverage models," Mesimer noted. "VA seeks to have multiple 5G carriers to ensure 100% coverage of the VA footprint and to provide the opportunity of carrier diversity for high availability models."
For its part, AT&T's "hope and goal with this program ... is to explore and learn how [its] 5G and MEC capabilities can be used as the underpinnings of solutions that can help transform health care delivery and outcomes," Yahnke said.
This work will help further lay the foundation for future capabilities of mobility networks meant for VA use. Going forward, the federal department will evaluate the baseline of system capabilities and continue its overall 5G-centered activities with the Veteran Health Administration's Innovation Ecosystem. 
And, VA's team will "seek to map early capabilities to minimum viable product deliveries in the 5G product space," Mesimer confirmed.