Treasury Bureau to Outfit Onsite Employees with Contact-Tracing Wearables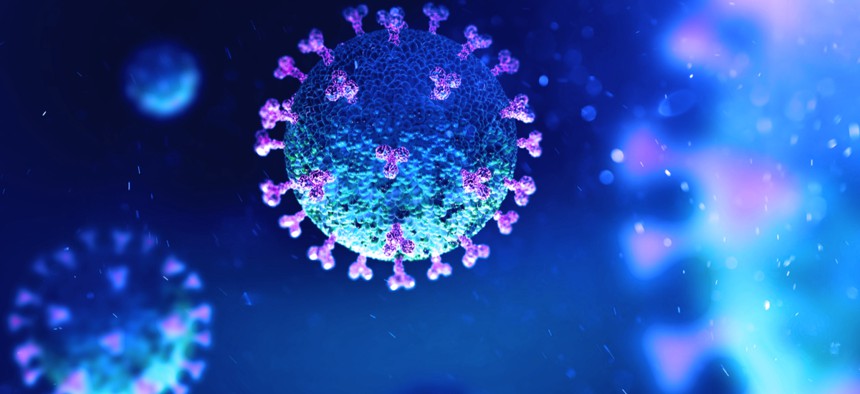 The goal is to proactively prevent COVID-19 outbreaks within its facilities.
The Treasury Department's Bureau of Engraving and Printing is set to outfit some in-office employees with 4G-supported social-distancing devices to pinpoint possibly high-risk, germ-spreading interactions as part of a contact-tracing program it launched almost a year into the modern pandemic.
When clipped to workers' shirts, lanyards or belts, the wearable tools can essentially track and passively capture the proximities between users. On top of providing real-time audible and visual alerts when wearers are six feet or less apart, they come alongside a service that will notify management about who violated protocol—and when.  
These technology-backed contact-tracing solutions will be put to use at the federal money printer's East and West Currency facilities through a contract it speedily awarded to the commercial vendor Triax Technologies, according to a redacted justification and approval notice Treasury published late Tuesday.
"Mitigating the possible spread of COVID-19 in the facilities has presented BEP with a number of challenges and delays," officials wrote in the document. "Contact tracing will help minimize risk to our workforce as we move through the next phases of the reopening plan and strategically reintroduce employees back into the facilities."
The bureau isn't the first federal entity to turn to this sort of movement-tracing and exposure notification program to proactively mitigate potential coronavirus outbreaks among personnel, and recent research suggests some government employees are onboard. 
Launched on Feb. 2, BEP's new contract will expire on the first day of February next year—and at that point, officials will extend services through an open competition, if needed. But for this work, the bureau conducted market research late last year and identified multiple potential partners. It said only one—Triax—could quickly provide a means to meet all of the unique information technology requirements listed.
"The need for the service is of such compelling urgency that current policies could impact future efforts as announcements of COVID-19 reports rise throughout the bureau and surrounding states of the DC area where employees live," the notice said, detailing how BEP followed an appropriate, quicker acquisition process to meet the dire need.
Full cost of the wearables, site survey, monitoring devices, installation, testing, analytics and dashboards Triax is providing is redacted in the document. Also left out is how many and who will wear the tracking tools, though officials noted one of the reasons Triax was chosen is because it was the only vendor that could immediately provide 1,000 wearables within 15 days of the award. And the company was the sole one to offer BEP the option to rent those alerting devices as opposed to buying them, officials said. 
Security was also at the core of the bureau's move to tap Triax.
BEP was firm on its initial mandate that there be no direct access between the tools and its vast network. Offering the only options to meet that need, Triax technologies' use a cellular 4G LTE data network and the Amazon Web Services cloud without any direct links to BEP's internal systems. 
"Access to the BEP network increases the risk of unauthorized access to personally identifiable information," the notice said.