NIH, FDA and VA 3D-Printing Collaboration Turns to Ventilator Parts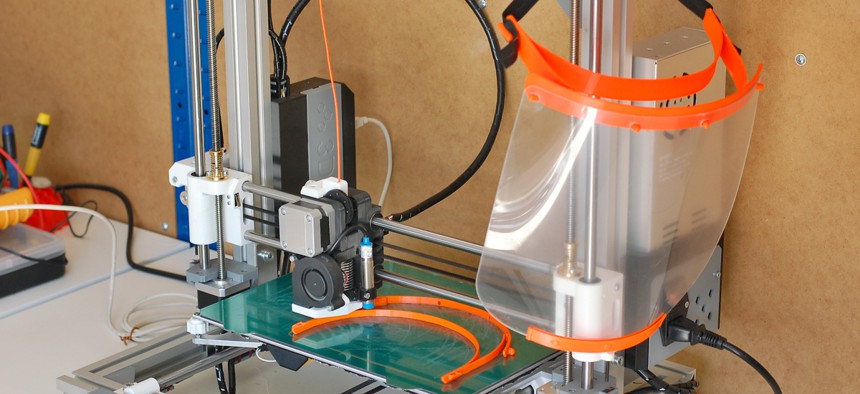 So far, about a dozen designs for personal protective gear have gotten the OK for clinical use.
The 3D-printing partnership between National Institutes of Health, Food and Drug Administration, and Veterans Affairs Department already produced 12 personal protective equipment-type designs reviewed for clinical use—in a matter of weeks—for those on the frontlines of the COVID-19 pandemic. 
Though most of the to-be 3D-printed items validated so far are face masks, shields and related facial protective and comfort-wear, this week the VA plans to divert a portion of its resources to begin testing something new: designs for 3D-printed ventilator parts. 
"It's interesting. It's almost like there's waves. Each week, there is a different wave or a theme [of designs to assess]," Dr. Beth Ripley, chair of the Veteran's Health Administration's 3D Printing Advisory Committee and VA's representative for the partnership, told Nextgov Monday. "And when we think about this, it's being driven off of a few things—and the most important is what the need is."
Ripley, who also serves as enterprise lead of VHA's 3D Printing Network, detailed the efforts underway, including a glimpse into what the VA's adapted design-testing processes look like. She also highlighted some challenges that the early days of interagency collaboration ushered in, and ways the work might steer the future of medical 3D-printing and manufacturing.
"I think it's been clear that by working together, we can do so much more in an impactful way—and faster," Ripley said. 
In March, VA, FDA and NIH joined the collaborative memorandum of understanding agreement to formalize a unified approach to solicit, create and test 3D-printed designs of items that could potentially be disseminated to meet the heightened demand spawned by the novel coronavirus. It works like this: People with 3D designs of helpful items can submit them via the NIH's 3D Print Exchange online tool. From there, device designs that have passed through VA clinical evaluation protocols, which were created in collaboration with FDA to ensure safety, are marked as "Reviewed for Clinical Use" on the NIH 3D Print Exchange. Those devices "meet FDA standards under existing regulations or guidances," Ripley said. The non-profit accelerator America Makes also acts as a sort of matchmaker between those with significant 3D-printing capabilities to produce the items and medical facilities that urgently need supplies. 
Ripley said that 3D-printing-focused officials from the three federal agencies, NASA and beyond have been connecting at conferences and following the same work for years, noting that it's a relatively "tight-knit community." In that light, it was unsurprising that this group banded together through the MOU to combine each of their own related strengths in response to the global health crisis. But Ripley also emphasized "just how rapidly" the interagency agreement came together in a time of chaos and emergency. She said the MOU was received by agency officials on a weekend and "signed into action" by Wednesday.
"You know, I sometimes feel like the government can be slow or methodical, but I think here we've really jumped to action—and done so in a big way," Ripley said.
To date, those submitting designs range from people whose "day job is something else and they just have an affinity for this, all the way up to large-scale corporations," she added. But the speedy effort and evolving submissions did not come without any initial hiccups at first launch. 
"We broke the website from the amount of response," she explained. Though the NIH 3D-print exchange site was an existing tool, some technical issues were experienced when it first shifted to support COVID-19 submissions. "We actually kind of got off to a rocky start. I don't think we anticipated all of that interest," Ripley said. "So some people will tell you, they endured, you know, that 'wheel of death' while things tried to load up."
There's now hundreds of submissions on the website, which has since been "boosted up" and receives tens of thousands of views from visitors daily, according to Ripley. There, they can access a range of resources, including the designs that have made it all the way through the process.  
"We have 11 designs as of now that have been approved for clinical use," Ripley said on Monday. On Tuesday, 12 were listed as reviewed and recommended on the site. Those include a face mask, face shields and a range of tension relief bans and extenders, which Ripley noted are "ingenious" little devices that can take the pressure off of the ears and faces of the health care professionals who have to wear them for long periods. The recommended designs have a banner on the NIH site that indicates that they have "undergone review in a clinical setting and [are] recommended when fabricated as instructed." 
Further, federal officials have also reviewed five designs that are "optimized for community use," meaning they may not be suitable for health care facilities, but they can be used by the general public. "It's kind of something for everyone," Ripley said.   
The fresh, fast approach to innovation also paved the way for VA to incorporate unconventional testing methods in its safety evaluations. Insiders work arm in arm with FDA and other clinical experts and professionals for the safety assessments of the many designs.
"There's a lot of testing that normally happens in a laboratory somewhere, but we don't necessarily have access to all of that, nor the time for some of those tests," Ripley explained. "So we had to think about real-world environments." With face shields for example, the ultimate goal is for the devices to protect clinical personnel from liquids entering their mouth, eyes or anywhere else on their faces. In one of the many tests the 3D-printed products had to make it through, Ripley noted that VA's researchers did their best to "simulate chaos" that might mimic fluids flying toward those that would be wearing the shields. 
"We actually have syringes—20 [cubic centimeter] syringes—filled with liquid and we just fire water at each other," she explained. Researchers also tested the face masks breathability by wearing them while running up and down the stairs for two minutes at a time. "If you can't breathe through it, well, it doesn't matter that no COVID-19 can get through," Ripley said.
This week, VA began the design and testing of replacement hoods for powered air-purifying respirators, or PAPR, which protect staff on the frontline from respiratory hazards. Ripley added that the agency also aims to ramp up the assessments of various ventilator parts. Importantly, ventilator pieces that deviate from the norm would need an emergency use authorization, or EUA, from the FDA to guarantee their safety and efficacy. 
"There are other ventilator parts, however, that do not require an EUA," Ripley explained. "And a lot of those are popping up onto the site."
The "beauty of the MOU," she said, is that it enables all three agencies to combine their know-how on regulations, what works best for clinical use, as well as how to explain the relative risks and benefits of some parts to the public. Ripley noted it's a complicated process. 
"So what we've been doing is putting together you know, the right clinical experts that really understand these machines, the right engineers, the right safety personnel, et cetera," Ripley said. "That team has been assembled and we will be testing this week a couple different designs."
Even though agency insiders are using 3D printing "as a start" to address the PPE needs amplified by COVID-19, Ripley said it's not the fastest manufacturing method. 
"So some of the work we're doing right now is taking the best designs and translating those over to faster, more efficient manufacturing technologies," she explained. For example, at least one of the approved designs was sent over to private-sector companies to create injection molding tools, which will in turn enable them to use advanced technologies to make thousands for a few dollars a piece—much quicker than they could be printed.
"So we're also very involved in thinking about scale and how do we use 3D printing early on to iterate prototypes and come up with the best designs and tests—and then move it into other manufacturing tech," she said. 
While Ripley and her team would have liked to test and clear all the designs they're receiving, she said the ultimate responsibility is "to get it right." One of the main challenges early on, she noted, is designing for perceived needs that may or may not be real. The private collaborator, America Makes, has a website where hospitals and other health care organizations can communicate their needs, and another for 3D printing manufacturers to register to help meet those demands. "So they have a good feel for what some of the needs are, that are coming in just from what people are requesting," Ripley said. At the same time, the Federal Emergency Management Agency also supplies "a lot of great data on this," she added.
Before the pandemic, Ripley and other officials in the VHA's 3D Printing Network used the technology to produce customized braces, replicas of body parts to help inform patients on their treatments, and more. Although the MOU-driven effort has "really kind of hijacked" their collective minds and resources, she believes the overall experience and many lessons being learned around supply chain logistics, quality and safety, and thinking collectively with other federal officials will inform much of the agency's future work and "really going to drive forward medical 3D printing."
"So no, we're not doing a lot of our day jobs right now," Ripley said. "But will we do our day jobs a lot better afterwards? Yes, I think so."