NavalX Innovation Office Really Wants the Navy to Be More Agile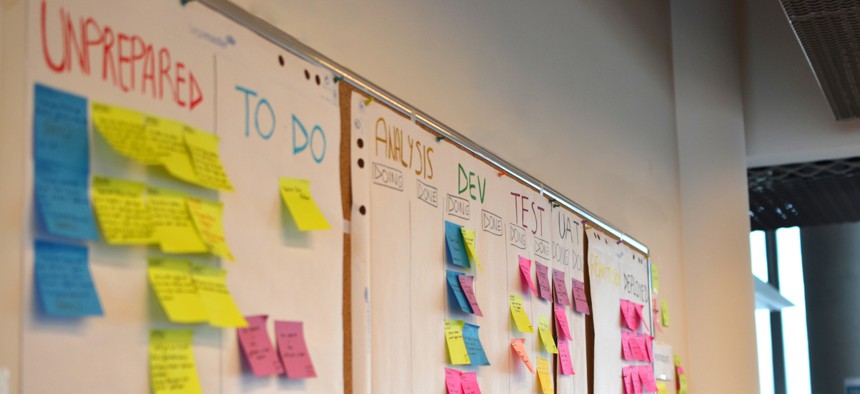 The Navy's newest innovation office, NavalX, was stood up seven months ago to act as an innovation incubator. But, unlike other innovation outfits in the military, NavalX is focused on transforming the workforce, not the technology.
"NavalX is quite a bit different from those other organizations," NavalX Director Capt. Frank Futcher said Tuesday during a spotlight talk at the Nextgov Modernization Roadmap event. "We're not scouting technology. … Our focus is much more on the workforce and how we can deliver mechanisms and tools to that workforce to make them more agile."
Futcher cited other military innovation offices such as SOFWERX (which brings together military, industry and academia to work on hard problems for Special Operations Command), AFWERX (a similar program run by the Air Force) and the Defense Innovation Unit, which works with industry to bring new technologies to the military.
"We live in an environment today that is very complex, filled with uncertainty," he said. "There's a lot of talk about change. Our goal is: How do we adapt to that change? NavalX is trying to essentially find a lot of tools and methods that allows our workforce to be more agile, move a little bit faster and adapt to those changes in environment."
Last month, the office began to expand out of its headquarters in Alexandria, Virginia to five additional locations: San Diego; Orlando; Newport; Rhode Island; Keyport, Washington; and Crane, Indiana.
As the new office and outposts get rolling, its leaders want to make sure everyone is aware of one trait: agility.
Even the office's web presence belies its intent. The website is under the secretary of the Navy's domain, under a page titled "agility"—secnav.navy.mil/agility—and the contact email is agility@navy.mil.
"That's what my boss, [Assistant] Secretary [of the Navy for Research, Development and Acquisition James] Geurts uses that term a lot," Futcher said. "How I define it for my team and the folks I talk to is about learning and discovery."
As part of its mission, the NavalX office is working to find innovative solutions to the service's workforce problems while simultaneously pushing out best practices that will enable other parts of the Navy to do the same. Futcher said the office has been putting together playbooks, which themselves are designed to be agile.
"Our playbooks today are on Intellipedia—essentially like Wikipedia," Futcher said. "When you pull it up, it looks exactly like Wikipedia and it functions like Wikipedia. So, the workforce—the user community that is trying to actively migrate applications to the commercial cloud—they can, in real time—be updating lessons-learned and challenges."
The NavalX team recently published the first chapter of a cloud migration playbook, which they hope others throughout the Navy will use and update.
"We did not try to build a perfect playbook and then roll it out in a buttoned-up package. That's how the Navy does a lot of software today," Futcher said. "We're trying to do this differently. We put the basic framework out there. … What we're trying to do is get the user community and folks who are actively going through this process of migration so they can see, hey, we're building this playbook while, essentially, sailing the ship."
Along with the cloud playbook, the team has already published wikis on agile scrum development, building analytics teams, using other transaction authorities for procurement and crowdsourcing. Futcher said the next most-requested playbook is on quickly getting authority to operate, or ATO, for new systems, a cybersecurity requirement that often slows critical deployments.
"Navy has been innovative in many ways over time. But that innovation has tended to be siloed," he said. "So, NavalX mission is to find those individuals—those siloes of innovation—capture what they're doing, share them with the rest of the Navy and then, hopefully, that allows other parts of the Navy to learn and move faster."
Editor's note: This article was updated to correct the location of NavalX's Tech Bridges.