It's Official: Defense Department Will Use Other Agencies' Cloud Security Assessments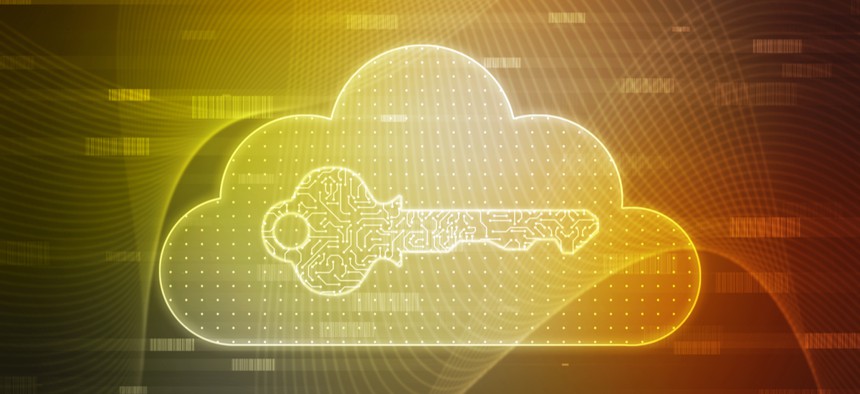 The Defense Information Systems Agency announced a provisional authorization Thursday that will speed up cloud deployments by eliminating some of the Defense Department's oversight over security authorizations.
Defense components had been waiting on the rule, which will allow them to purchase and deploy cloud products and services at the moderate security level—impact level two—without having to ask for written permission.
"This authorization allows for data designated publicly releasable or IL2, to be stored in the cloud on authorized FedRAMP offerings without waiting for DOD to issue a specific authorization document," said Roger Greenwell, the risk management executive and authorizing official at DISA. "We worked with officials from the DOD, Chief Information Office and mission partners on the drafting of the policy, and believe this approach provides significant benefit to both the DOD community as well as the cloud industry."
Previously, Defense offices were required to do their own security assessments on systems, issuing a program- or department-level authority to operate, or ATO. But this system worked directly against the promise of the Federal Risk and Authorization Management Program, or FedRAMP, which was designed to facilitate the certification process and allow agencies to reuse the ATO work done at other departments.
The reuse issue—called "reciprocity"—has been a sticking point since FedRAMP was launched in 2011. Since that time, administration officials and lawmakers have pushed agencies to reuse more ATOs whenever appropriate.
"What was supposed to be an expedited process—six months, maybe costing a quarter of a million dollars—instead, in many cases, took years—and takes years—and can cost companies millions of dollars, the very opposite of what FedRAMP was designed to achieve," Rep. Gerry Connolly, D-Va., said during a hearing July 17 held by the House Oversight Subcommittee on Government Operations. "We can't leverage the potential of cloud computing if the processes are slower than the speed at which the technology itself advances."
Jack Wilmer, Defense Department deputy chief information officer for cybersecurity, previewed the pending rule during the hearing.
"We are fully committed to reciprocity. There's a massive incentive for us in having that reciprocal arrangement with FedRAMP," Wilmer said. "Going through those 325 [controls] at the moderate baseline, as an example, which is something that the FedRAMP program takes on for us, is something we no longer have to do in order to leverage those cloud services."
The blanket agreement comes with some caveats, however. The rule only applies to solutions approved at the moderate baseline through FedRAMP and listed in the program's marketplace. Even then, Defense offices can only reuse authorizations from companies whose data centers are physically located in the U.S. or its territories.
The covered products also have to maintain their FedRAMP ATO and agree to continuous monitoring.
"If the FedRAMP [Joint Authorization Board] or agency authorization is suspended, revoked, restricted or limited in any manner, the DOD IL2 reciprocity for that [cloud service offering] is considered suspended and will be explicitly revoked until all issues with the authorization are mitigated in accordance with policy," according to a release.
As of the July hearing, the department had approved the reuse of 140 moderate-level ATOs, only 20 of which required additional reviews, according to Wilmer.