CISA Is Using Drones to Help Secure Critical Infrastructure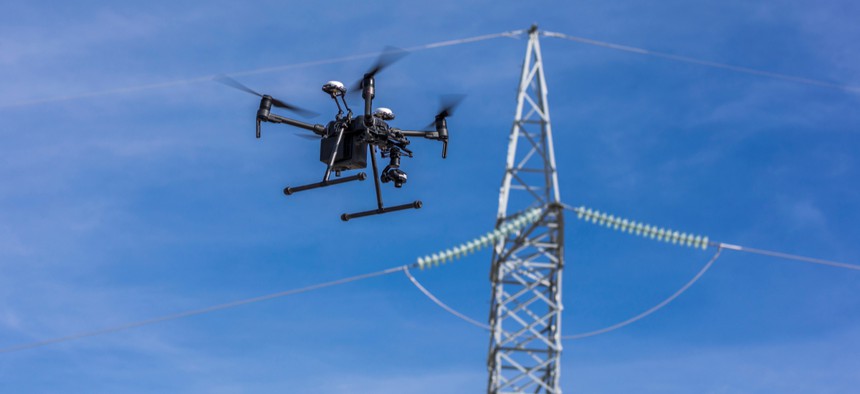 The aircraft will be used to both shoot footage of security exercises and simulate real-world drone attacks, officials said. 
The Homeland Security Department plans to start using drones when training government personnel and private companies to secure critical infrastructure.
The Cybersecurity and Infrastructure Security Agency is bringing on a trio of small unmanned aircraft to enhance its Infrastructure Stakeholder Security and Exercise Program, an effort meant to prepare nationwide partners for attacks on critical infrastructure. The drones will be used to capture footage of training exercises as well as simulate attacks by unmanned aircraft, according to the agency.
"Small unmanned aircraft systems provide CISA the opportunity to offer better exercises to the critical infrastructure security and resilience stakeholder community," CISA officials wrote in a privacy impact assessment for the program. The agency purchased the drones from a U.S. manufacturer, they said, avoiding potential security and espionage concerns related to foreign-made aircraft.
By offering a literal bird's-eye view of security exercises, drones can help participants better analyze and improve their response strategies, officials said. And as commercial drones surge in popularity, responders must be prepared to face the new threats they present.
By attaching explosives or other dangerous devices to a commercial drone, bad actors can turn a cheap piece of consumer tech into a weapon of war. In recent years, lawmakers and federal officials have started taking drone threats more seriously, but as with any new tech, the threats will evolve with the tools themselves.
In the assessment, CISA officials said they will use the drones to simulate attacks on crowded stadiums and other critical infrastructure, strapping "suspicious payloads" to the aircraft and training security personnel to respond.
Officials also said they were taking precautions to ensure the drones used in security exercises don't inadvertently gather data on unsuspecting bystanders. The aircraft are only intended to capture footage of people participating in the exercises, each of whom will be required to consent to the data capture in advance, according to CISA. The drone cameras won't be powerful enough to collect detailed images of individuals, officials said, but the agency plans to alert nearby businesses and residents whenever it's using drones in the area.
"Periodic audits will be conducted to ensure that the [aircraft are] being used appropriately and that the data is properly used and does not contain any inadvertent [personally identifiable information]," they said.