First National Standards Strategy Aims to Keep U.S. Competitive in Emerging Tech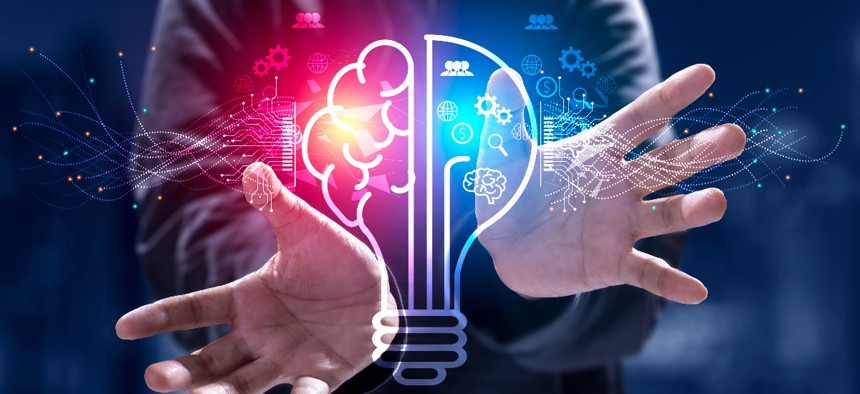 Unveiled Thursday, the strategy promotes private sector and international collaboration with federal officials as emerging technologies continue to advance. 
The White House unveiled a new coordinated plan Thursday to support U.S. leadership in emerging technology fields through the development of standards that will dictate how critical and new technologies operate on a global level.
Spearheaded by the National Institute of Standards and Technology, the framework will support the interoperability and connectivity of devices running on emerging tech and systems. A senior administration official told reporters on a briefing call that the goal of the new standards strategy is to support American businesses competing in the international tech marketplace.
Emerging technologies the strategy aims to standardize include: artificial intelligence, biotechnologies, communication systems, semiconductors, quantum information, digital identity infrastructures, clean energy generation and GPS. 
"We will ensure that we focus on supporting the development of this next generation of technologies to benefit not only the United States, but like-minded nations," the official said. "Standards enable us to develop technology that is safe, that can be marketed worldwide, and that can interoperate with other systems. Standards also can help manage risk, security and quality in the development of new technologies."
Four key components broadly compose the national strategy. The first will focus on investing in standards creation through greater research and development funding. The second will emphasize the private sector's participation in the development process, namely through reducing barriers and improving communication from the government.
"This…effort will not displace the private sector or dictate to them; the government will increase our involvement in standards activities when the government is the official representative. And we want to focus on technology areas where there is significant national security interest," the official said, noting that private sector engagement will help keep future emerging tech standards "technologically sound and trustworthy" to foster strong U.S. industry competitiveness.
The third pillar aims to grow a standards workforce that can keep up with new technology innovation. And the final fourth principle will prioritize integrity and inclusivity within standards development. 
The strategy highlights "greater cooperation with our allies and partners to support a robust standards governance process," the official said. "So we will work together to advance our shared interest in an open, consensus-based standards system and support a robust standards governance process."
Over the coming months, NIST and partner agencies will begin to implement the national strategy through international efforts, with bilateral conversation occurring between entities like the US-EU Tech and Trade Council, along with other federal organizations.
Establishing a standards playbook for emerging technologies amid their rapid advancement has been touted as a necessary step for the U.S. to establish a competitive foothold in emerging technology sales and further innovation. 
Earlier this year, a White House advisory council recommended more blanket standards for the cybersecurity sector specifically to strengthen the nation's security posture as a whole, releasing the National Cyber Strategy to bolster these efforts.