COVID-19 Exposes Need to Modernize U.S. Public Health Data System, Experts Say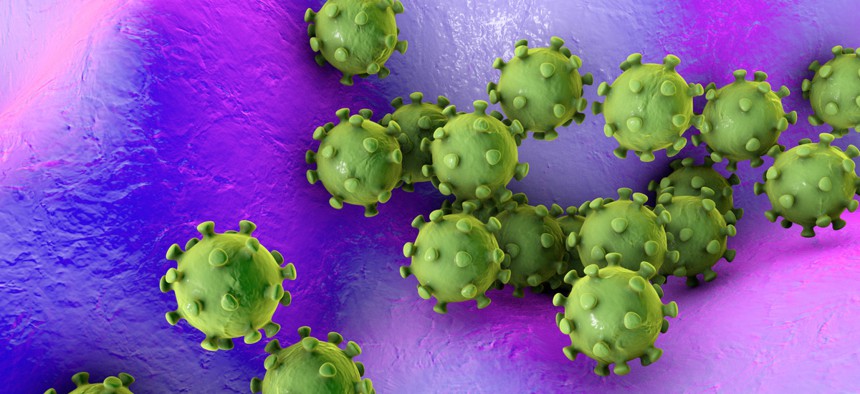 Federal agencies should develop clear standards for data sharing on cross-cutting issues in order to understand the pandemic better.
The COVID-19 death toll in the United States crossed the 200,000 mark last week, and public health experts Tuesday blamed lack of strong data sharing standards as one of the key reasons the federal government has struggled to formulate an effective response to the pandemic.
At a Tuesday webinar, legislators, public health officials and data experts gathered to discuss the need for new policies around public health data. Charles Rothwell, former head of the Health and Human Services Department's National Center for Health Statistics, said he wished he had anything positive to say about the federal government's health data standards. 
Rothwell said there is great potential to leverage electronic health records to track the health data of millions of Americans. This would give health officials a much better understanding of how the coronavirus is operating in the U.S.
"Yet the standards are so weak that it's hard to aggregate this information together and come out with useful information that you can count on," Rothwell said. "Standards are absolutely needed." 
Rep. Scott Peters, D-Calif., in August introduced a bill that would create common data standards for public health information and establish a working group within the Centers for Disease Control and Prevention charged with making ongoing recommendations to improve health data standards.
The bill, known as the Health STATISTICS Act, creates a demonstration program that would use government datasets to analyze how crosscutting trends, like food insecurity or housing instability, are linked to COVID-19 outcomes. 
Rep. Will Hurd, R-Texas, used the example of school lunch data during the webinar as an example of the kind of information governments need in order to ensure U.S. citizens can receive the services they depend on during the pandemic. 
"The records to keep track of this are super old, super outdated," Hurd said, adding that the data is not in readable formats and it was siloed. This presents a challenge for delivering simple government services that have direct effects on public health outcomes. 
The Health STATISTICS Act is co-sponsored by Reps. Lucy McBath, D-Ga., Anna Eshoo, D-Calif., and Brian Fitzpatrick, R-Pa. At the webinar, Peters said the goal is to use data to form a better understanding of why COVID-19 is lethal in some patients and not others. 
Peters said this legislation builds on the Foundations for Evidence-Based Policymaking Act, signed into law by President Donald Trump in 2019. The Evidence Act pushes agencies to use data to improve the services they provide to citizens. 
Jose Arrieta, who recently left his role as chief information officer for HHS, said data quality comes from dialogue with stakeholders. In order to create actionable information from public health data, federal agencies and state and local governments must have discussions about what the data means. 
"That will certainly create tension, because there's going to be points of disagreement on either side," Arrieta said. "But you're much better off at crowdsourcing that insight," than trying to derive meaning in isolation. 
Arreita added there will inevitably be a need for clarification when it comes to governance, but that push and pull is what creates good policy.  
Right now, federal agencies aren't doing enough to coordinate with state and local governments on public health data. Rothwell said this has been a consistent problem throughout his 40-year career. In particular, federal agencies need to do a better job sending usable public health information back to state and local governments. 
"We weren't doing a good job with opioids, we didn't do a good job when we had the hurricanes in Puerto Rico, we're not doing as good a job as we should be doing now," Rothwell said.