House Lawmakers Press HHS Secretary for Details on Contact Tracing Programs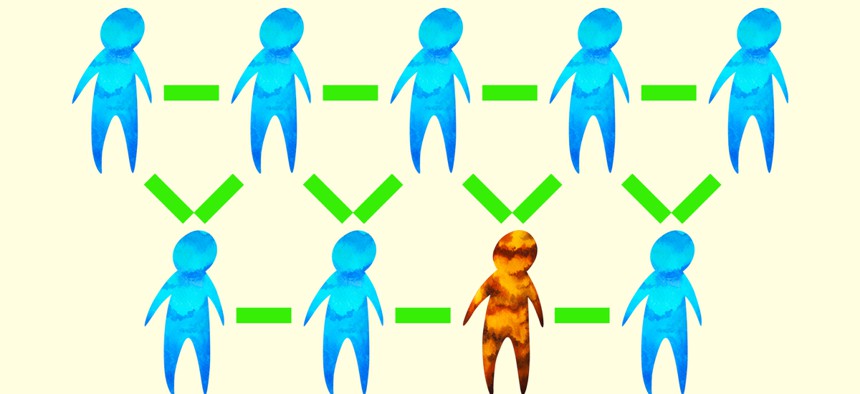 States are turning to smartphone apps and other digital tools that could compromise privacy, the lawmakers wrote. 
Leaders of key committees in the House of Representatives want Health and Human Services Secretary Alex Azar to shed light on the Trump administration's plan to coordinate contact tracing efforts to track the coronavirus and how Americans'  privacy would be protected.
"State and local governments are trying to fill the Trump Administration's leadership void, developing plans for expanding their health departments' workforces and deploying novel digital contact tracing tools," reads a letter Azar received today from House Energy and Commerce Committee Chairman Frank Pallone, D-N.J., Rep. Anna Eshoo, D-Calif., who chairs the committee's panel on health, and Rep. Diana DeGette, D-Colo., who chairs the committee's panel on oversight and investigations.   
Traditionally, "contact tracing" is done by individuals who have appropriate training and knowledge to interview those who have tested positive for an infectious disease about their recent social interactions. The trained contact tracers would then reach out to those persons in the infected person's circle, as appropriate, with quarantining instructions while withholding the identity of the infected person or their whereabouts. 
But there is a severe shortage of such trained individuals—thanks to budget cuts at the Centers for Disease Control and Prevention—and some states are turning to smartphone apps and other digital tools, the lawmakers note. While applications using sensitive geolocation data to track the spread of the coronavirus could help public officials focus efforts to safely lift lockdown orders, some experts fear they'll compromise the privacy of individuals or organizations.
Due to the timeliness of the situation, the lawmakers requested Azar respond to a series of questions by May 14. 
"The lack of a unified national strategy," their letter reads, "risks creating confusion and inefficiencies, and raises potential privacy concerns as technology is increasingly used in contact tracing without federal coordination and oversight."
The lawmakers asked whether HHS or another agency is "considering using or recommending any digital contact tracing tools or other technology, such as smartphone applications that use location data or Bluetooth signaling, to assist in COVID-19 contact tracing efforts."
If that's the case, they want to know which tools those are, and for the administration to share the results of any evaluations that have been conducted related to privacy and data security, and the necessary rate of adoption for the tools to be effective.
If the administration is not considering using or recommending the use of any such digital contact tracing tools, the lawmakers also want to know why that is.