Author Archive
Mariam Baksh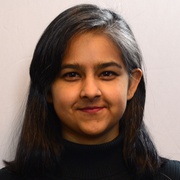 Cybersecurity
Chris DeRusha's resume includes cybersecurity adviser roles at the White House, DHS and Ford Motor Company.
Cybersecurity
The Cyberspace Solarium Commission is now pushing the Biden administration to require the same thing for companies serving the Defense Department.
---
Cybersecurity
Official says a selection of the first contractors to be audited will be vetted by members of the new administration.
Cybersecurity
Here are the news and updates you may have missed.
By

Heather Kuldell and Mariam Baksh
CIO Briefing
Sen. Josh Hawley blocked quick confirmation of Alejandro Mayorkas.
Cybersecurity
The agency is seeking comment on a software-heavy update of its cybersecurity best practices.
Cybersecurity
Basic cyber hygiene isn't so basic when it comes to remote environments.
Cybersecurity
Anne Neuberger aimed to share more information about cybersecurity vulnerabilities with the public.
Cybersecurity
The official also said there's a need for the fusion of responsibilities assigned to a trilogy of government agencies.
Cybersecurity
A new rule would require more from third-party service providers, too.
Cybersecurity
The SolarWinds hack seems to be breathing new life into the supply chain security effort.
Cybersecurity
The agency also highlighted new indicators of compromise and recommendations for mitigating follow on activity involving Microsoft Cloud users.
Cybersecurity
The outgoing administration added items to federal agencies' to-do lists, noting rising threats to the sector.
Cybersecurity
The Cyber Unified Coordination Group believes fewer than ten government agencies were compromised in what is an ongoing intelligence operation.
Cybersecurity
In the wake of the recent hack, Microsoft President Brad Smith said contractual obligations hurt cross-government sharing following breaches.
Cybersecurity
The Defense Department's main effort to protect its supply chain from cyber threats charged ahead through the pandemic but not without controversy.  
Emerging Tech
The command of the military branch in charge of looking ahead is soliciting prototypes for a major knowledge-transfer initiative.
Cybersecurity
Operational cybersecurity hygiene is one thing, criteria for using open-source code is another, one expert says.