Author Archive
Mariam Baksh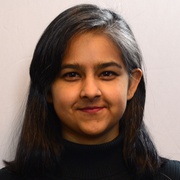 Policy
The bill cleared committee with one conspicuous hold out over an unsustainable proliferation of government secrets.
Cybersecurity
The new recommendation comes in an annex the Cyberspace Solarium Commission released in light of the pandemic. 
Cybersecurity
The official said the agency is focused on protecting the voting infrastructure, not the president's claims about mail-in voting fraud. 
---
Cybersecurity
State officials say duplicative and fragmented requests are sapping their resources.
Cybersecurity
The agency is tasked by an executive order to develop profiles for the technology based on its cybersecurity framework to inform agencies' procurement. 
Cybersecurity
A patch for the vulnerability the hackers are targeting has existed for almost a year.
Cybersecurity
Agencies received lower scores for holding contractors responsible for privacy requirements.
Cybersecurity
A request for information targets potential vendors to provide a platform that would support and monitor agencies' efforts.
Cybersecurity
The Pentagon and others want to move beyond activities focused on excluding Huawei and other equipment deemed tools of foreign adversaries from the ecosystem.
Cybersecurity
With data collection for the 2020 census underway, the bureau is thinking about how artificial intelligence and other capabilities might help address sore points.
Data
The Federal Trade Commission is seeking comment on a decade-old rule that has never been enforced.
Cybersecurity
The group seeks experienced professionals to help shape an ecosystem of education and training possibilities for aspiring cyber auditors. 
IT Modernization
COVID-19 sped up some agencies' cloud migration and amplified calls for cybersecurity assurances.
Cybersecurity
Bipartisan support for the bill is driven by a workforce development component.
Emerging Tech
The new project will help develop interoperability among various components of the emerging network architecture.
Podcasts
The Defense Department's Katie Arrington, and representatives from across the federal contracting community share perspectives on a new era dawning in U.S. cybersecurity policy.
Cybersecurity
The legislation tries to breathe life into a "moonshot" idea first proposed by tech industry leaders. 
Cybersecurity
The agency says protection of privacy and civil liberties will be a guiding principle.
Cybersecurity
The National Cyberspace Solarium Commission recommended the position be Senate-confirmed and coordinate civilian and defense cyber operations.
Cybersecurity
An appropriate balance of staff is needed to ensure contractors don't end up making policy in mission areas including cybersecurity, auditors said.