Author Archive
Mariam Baksh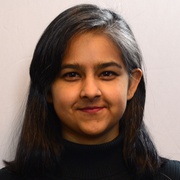 Cybersecurity
An amendment on the Senate-side bill would grant the agency subpoena power over internet service providers.
Cybersecurity
A process for vetting algorithms and their input data is needed to build confidence in the tech but is still very far off.
CIO Briefing
One observer says prospects look dim for contractors requesting an extension on compliance with provisions in the National Defense Authorization Act.
---
Cybersecurity
Almost half of the controls in an overarching shared system were assessed as deficient.
Emerging Tech
Comments to the NTIA also say the administration shouldn't choose winners and losers to compete with Chinese telecoms giant Huawei.
CIO Briefing
Also new in the bill is a provision allowing the government to share negative information about contractors with their companies.
Cybersecurity
CISA director sees an opportunity to seize on increased remote work to make the cybersecurity community more diverse.
CIO Briefing
Applications are now available for aspiring assessor organizations, which will also need to have their security certified.
Cybersecurity
The legislation includes some recommendations from the Cyberspace Solarium Commission, but not the main one. 
Policy
The Justice Department-led commission cited Chinese cybersecurity laws in spurning an undersea cable that would vastly improve the speed and capacity of data transfers to the region.
Cybersecurity
The agency now notes end-to-end encryption may not be an option for some use cases. 
Cybersecurity
The effort is meant to help small- and medium-sized companies get more bang for their cybersecurity buck.
Cybersecurity
Senator asks the director of national intelligence why his office hasn't implemented a basic anti-phishing tool like the rest of the government.
Cybersecurity
The move aims to facilitate full U.S. participation in international standards-setting bodies.
Data
A new GAO report shows the bureau continuing to struggle with privacy and data security issues.  
Emerging Tech
The case demonstrates law enforcement could be up to the challenge of tackling the anonymity tool, one expert says.
Policy
Lawmakers call for research into artificial intelligence, quantum computing and 5G networks to counter near-peer adversaries.
Cybersecurity
The bipartisan report says a recent executive order on the issue doesn't go far enough.
Cybersecurity
Officials are also still hammering out conflict-of-interest issues, as watchdogs flag failures in Defense acquisition practices.
Policy
The bill cleared committee with one conspicuous hold out over an unsustainable proliferation of government secrets.