Senate Stimulus Bill Includes Resources for Federal Telework and Contracting Community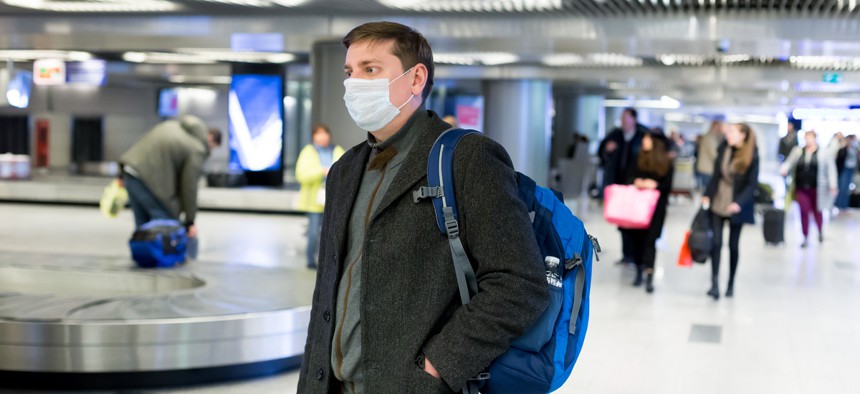 Portions of the Senate's stimulus bill address immediate technological challenges for government.
The Senate's $2 trillion stimulus package—which the House is expected to take up Friday morning—will improve the federal government's immediate technological response to the COVID-19 outbreak and infuse resources for the federal workforce and contractors.
Emergency supplemental funds publicly released Wednesday by the Senate Appropriations Committee—ahead of the full bill, which was made available Thursday—provides agencies the option to modify terms and conditions of existing contracts and reimburse contractors for paid and sick leave during the crisis.
The supplemental mirrors recent guidance from the Office of Management and Budget and the Office of Personnel Management, which directed agencies to "be flexible" and increase telework or remote work options for contractors.
"The nearly $2-trillion package to combat the economic fallout of the COVID-19 virus outbreak will give government agencies flexibility to offer contractors reimbursement for paid and sick leave caused by an inability to access their worksite or telework due to their job duties," the National Defense Industrial Association said in a statement. NDIA is a nonprofit comprised of more than 1,700 corporate members. "This legislation is a positive step in the process of ensuring the defense industrial base can weather the pandemic's disruptions."
The National Treasury Employees Union, which represents 150,000 employees in 33 agencies, also supported aspects of the stimulus bill. In a statement, NTEU President Tony Reardon said the bill addresses concerns the union previously raised over shortages of supplies, including hand sanitizers and disinfectant wipes, and general cleanliness of federal buildings.
"Congress clearly recognizes that hundreds of thousands of federal workers are essential to our nation's response to the global pandemic, because this bill provides agencies critical funding to improve the safety of federal buildings where employees are still working," Reardon said in a statement. "And for those employees who are able to work from home, this bill targets much-needed funding for technology to improve their remote access."
The supplemental includes $275 million for coronavirus prevention in buildings managed by the General Services Administration, for deep cleaning, enhanced screening at entrances and space management issues. In addition, the bill includes $178 million for the Department of Homeland Security to purchase personal protective equipment for frontline employees, including Customs personnel at ports of entry. The bill further provides the IRS $250 million to cover costs of extending the tax filing season.
Mike Hettinger, founder of the Hettinger Strategy Group and former House Oversight staff director, said the supplemental attempts to address the very real challenges of shifting millions of federal employees and contractors to remote work. OPM will receive $12 million to expand telework, digitizing the paper-based retirement application and case management processes. Meanwhile, the Defense Department—with a workforce preparing to telework for weeks or months, if necessary—would get $300 million to purchase technology to increase its bandwidth, Hettinger said.
"One of the things we have learned in the last few weeks is that more needs to be done to ensure we are ready now and in the future, as networks and remote connections have reportedly been severely stressed. That said, it is encouraging to see the supplemental appropriations bill recognize the need to modernize our technology platforms to facilitate remote access and employee telework," Hettinger said. "The legislation will fund IT modernization initiatives aimed at improving remote access, security and connectivity in support of telework across nearly all federal agencies.  This is a huge step in the right direction."
Hettinger added that he was "disappointed, although not surprised," that $3 billion proposed in the House stimulus bill for the Technology Modernization Fund was not included in Senate's supplemental.