Pentagon Launches Coronavirus Mythbuster Site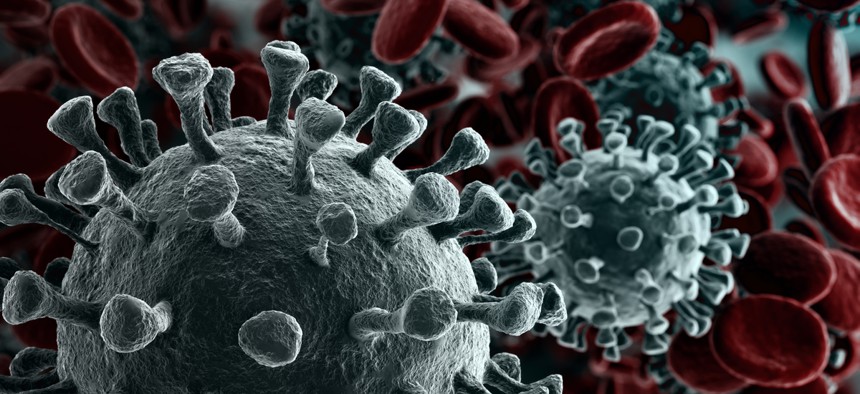 The Defense Department created a web portal to fact-check bad information circulating about the coronavirus and the military's response.
The Pentagon recently launched an online resource—named Rumor Control—to help quell the myths and incorrect information that have been swirling around the novel coronavirus pandemic. 
"We look at multiple news sources around the world, as well as social media, and we noticed that some incorrect information was getting attention," Defense Department Spokesperson John Supple recently told Nextgov regarding the inspiration behind the new resource. "Rumors can easily circulate within communities during a crisis, and we wanted to provide a trusted source of information to stop the spread of disinformation."  
On Rumor Control, people can scroll through a variety of "myths" related to COVID-19 and the government's response to it, such as "the U.S. military is implementing martial law," "U.S. service members visiting China were the source of the coronavirus outbreak" and "all routine appointments at military hospitals and clinics are cancelled." Immediately below each myth, the department offers links to facts to counter false claims. 
In terms of the choices behind the disinformation included on the site, Supple said the department "picked the false rumors that seemed to be getting the most attention in the media, specifically social media." He also added that officials will update the site "as often as it seems necessary." 
Defense Secretary Mark Esper first announced that the resource was coming during a virtual town hall in late March. There, he said Defense officials were observing "many sources" of dis- and misinformation related to COVID-19, and while some originated simply from concerned Americans, others might be generated by "countries who want to sow chaos with the United States, who are injecting this into the ecosystem, if you will."
Reiterating those previously raised concerns, Matthew Ferraro, an attorney at WilmerHale LLP who studies, writes, speaks and counsels clients on the risks disinformation poses to businesses, brands, and markets, told Nexgov Friday that "the spread of the coronavirus has been accompanied by a related contagion—the global proliferation of false information about the disease, its origins, and cures." The World Health Organization called what's going on an "infodemic," Ferraro noted and he added that from his observations, the vast virus-centered disinformation content is being used to serve multiple purposes. 
"First, disinformation about the pandemic is being used to commit fraud by marketing fake cures for the coronavirus or nonexistent supplies through shady websites," Ferraro said. 
On top of that, bad actors who potentially range from regular cyber criminals to nation-states have also been using disinformation in cyberattacks. "They have done so reportedly by impersonating global or national health agencies to send malware and viruses in the form of links or attachments to unsuspecting individuals, releasing malicious apps, or enticing unsuspecting people to enter personal information or credit card numbers into phony websites that promise coronavirus related products or information," Ferraro explained.
And beyond that, mis- and disinformation around COVID-19 may also serve geopolitical purposes. 
"For example, there are recent reports of efforts by China's media and some in its diplomatic corps to spread a baseless conspiracy that the virus originated with the U.S. Army," Ferraro noted. "That seems to be an attempt to undermine U.S. prestige, rally China's domestic audience around its central government, and promote skepticism of American influence among its Asian allies."
Coronavirus-driven disinformation has been circulating for a while now, and while this online resource is relatively new, Defense's Supple said agency officials began working on the entire coronavirus section of the department's website on Jan. 29. The agency's "entire design team" later contributed to Rumor Control and the site's other subpages, he said, and in addition to that, six content managers have "spent hours updating and editing" the site's content. 
It seems to be paying off.
"On the Rumor Control subpage alone, we are getting tens of thousands of pageviews, and the average time on page is more than three and a half minutes," Supple said.
Ferraro also made a point to note that aside from Defense, several other federal agencies have responded quickly to the pandemic-related disinformation. He highlighted how the Federal Trade Commission and Food and Drug Administration have issued alerts on pandemic disinformation targeting individuals and businesses and sent warning letters to some companies allegedly engaged in wrongdoing. The Justice Department has also announced that it is prioritizing the detection, investigation and prosecution of all criminal conduct related to the coronavirus pandemic, including disinformation being spread to sell fake cures, engage in fraud, push phishing emails, and use malware inserted onto mobile apps, he noted.
Ferraro added that, so far, the early iteration of Defense's new Rumor Control resource "looks good."
"The U.S. military remains one of the most trusted institutions in the country," Ferraro said. "And I think this tool can help dispel rumors and myths with helpful facts from a credible source."
RELATED PODCAST