Playing Defense Against Chinese Tech Threats 'Will Only Get Us So Far,' Lawmaker Says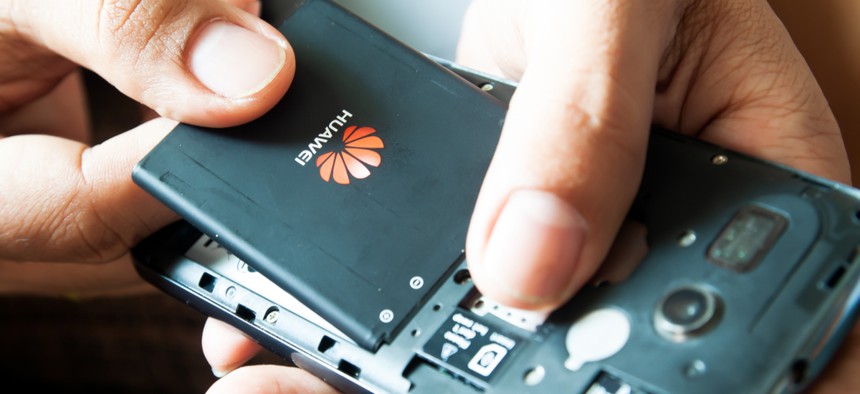 Rep. Mike Gallagher said the government needs to take a more active role in curbing the global rise of Huawei and other Chinese tech companies.
One lawmaker on Wednesday urged federal leaders to take a more active approach to combating the national security threats posed by Huawei and other Chinese tech giants.
Those efforts could include government funding for 5G infrastructure construction projects around the world, which would help prevent Chinese firms from gaining "a stranglehold" on the global market, according to Rep. Mike Gallagher, R-Wis., who recently co-founded a federal commission to address foreign cyber threats. 
"We can defend our own networks and try to slow down Huawei's global takeover, but ultimately we're going to need proactive solutions to better support the viability of western aligned alternatives," Gallagher said on a call with reporters. "It's safe to say we can't afford to be complacent, and I think we need to find creative ways to make non-Huawei bids more competitive internationally because the international competition is the ballgame."
Over the past year, the government has enacted multiple measures intended to essentially blacklist Chinese companies from the U.S. market. In 2018, Congress banned federal agencies from doing business with five Chinese firms, including Huawei and ZTE, and in May the Trump administration signed an executive order prohibiting U.S. companies from buying products from any group deemed a national security threat. 
The Commerce Department has also issued measures banning American firms from doing business with more than 100 Huawei-affiliated groups, though on Monday, officials gave industry extra time to cut ties with the firm.
While these sorts of policies will help protect the U.S. from cyber espionage and other threats posed by Chinese tech companies, "defensive measures … will only get us so far," Gallagher said. The country also needs its international allies to help keep Chinese threats at bay, he said, but today, many of those countries see Chinese companies as a cheap way to advance their tech infrastructure.
Products built by Huawei and other firms are already hugely popular in Asia, and the companies are using low prices to make inroads in other markets, like Europe and Africa. Unless the government acts soon to boost the American telecom sector's global competitiveness, Gallagher worries the country may find itself relegated to a second-rate technological power.
"Huawei is going to be a decisive front in the battle for technological supremacy," he said. "If we don't accept some short-term pain to forestall Huawei's takeover [of] the global telecom market, we're in for a world of long-term pain when western alliance suppliers don't have enough of a market to stay in business."
During the call, Gallagher also addressed a recent Defense Department Inspector General report that found the Pentagon spent some $33 million last year on Chinese tech that contained known security vulnerabilities. The audit revealed the department has historically delayed cutting ties with companies deemed unsafe by government security leaders until mandated by Congress or pressured by high-profile cyber incidents.
"It's a flashing red warning sign that even in the most sensitive parts of our government, we aren't taking cybersecurity as seriously as we should," Gallagher said during the call. "We need a mentality change when it comes to both [commercial] and traditional acquisition programs to ensure that security is not just an afterthought, but a foundational component of acquisition policy."