Lawmaker: Congress Will 'Mess Up' Tech Regulation Without Help from Industry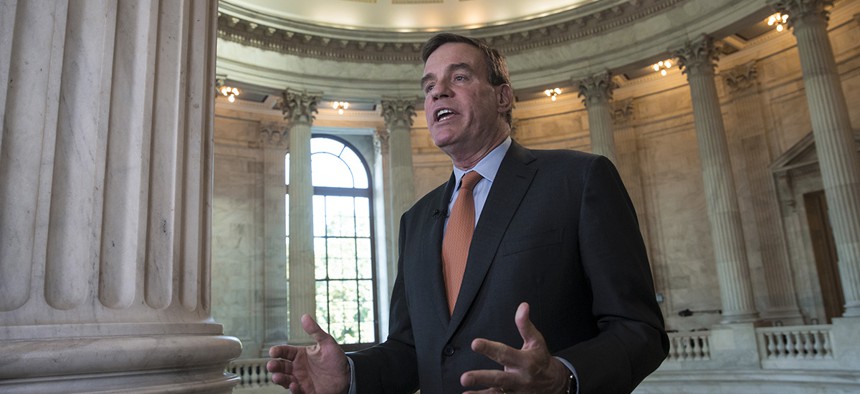 Leaving Congress alone to regulate the tech industry may not be the best idea.
As Congress weighs different measures to protect the quality and security of citizens' online lives, one lawmaker warned Facebook, Google and other tech titans they could face heavy-handed consequences if they don't come to the table.
But it's not lawmakers' spite that will do the damage. It's their incompetence.
"If you leave us to do this on our own, we're gonna mess it up," Sen. Mark Warner, D-Va., said Tuesday on a panel hosted by Axios. "Partner or beware, because if you don't partner, chances are we will have some incident … and [Congress] will then overreact. Let's get ahead of ourselves."
High-profile data breaches and cyber incidents have spurred lawmakers to begin exploring ways to rein in the largely unregulated tech industry, protect users' data and privacy and close online loopholes adversaries could exploit to sway American elections.
But while many lawmakers have a desire to regulate big tech, they might not have the background needed to properly do so. In April, Facebook CEO Mark Zuckerberg's high-profile testimony on Capitol Hill put lawmakers' lack of tech-savvy on fully display, and that ignorance should "scare the heck out of" his peers in Silicon Valley, Warner said.
Beyond potential regulation, partnerships between government and tech groups are needed to keep pace with nations like China that are funnelling significant resources to researching innovative technologies like 5G broadband, artificial intelligence and quantum computing, he said.
His remarks come days after the revelation that Facebook handed over large amounts of personal data—largely without users' consent—to not only developers like Cambridge Analytica but also mobile device manufacturers like Apple and Amazon.
As vice chair of the Senate Intelligence Committee, Warner has helped lead the investigation that found Russians used social media to meddle in the 2016 election, and he noted Facebook's silence about manufacturer partnerships throughout the process reinforces his own distrust of the company.
While Warner stressed the need to see the Senate investigation to the very end, he lamented the fact that focusing on 2016 race interference prevents lawmakers from preparing for more innovative attacks on upcoming elections.
One major threat Warner highlighted is so-called "deepfake technology," which allows users to superimpose other people's voice and image onto a different body. He said online bad actors could use such software to impersonate candidates or even manipulate business proceedings, but there's currently no strategy to combat those efforts.
"We're still chasing 2016 technology," he said. "We don't even have our arms around [that]."